courtesy of on.cc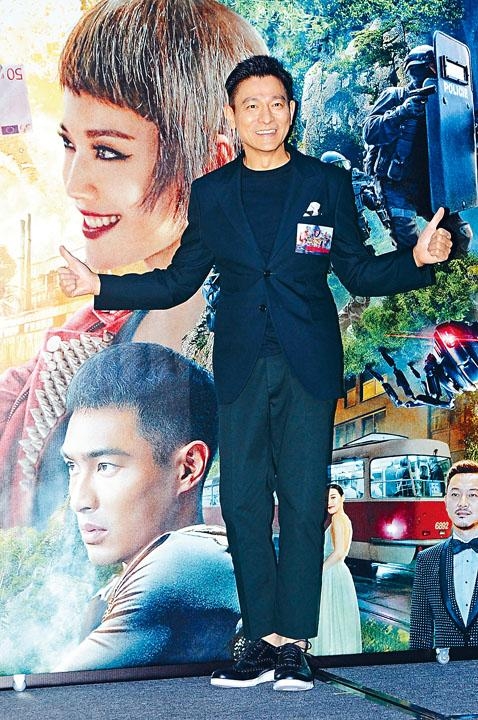 courtesy of singtao.com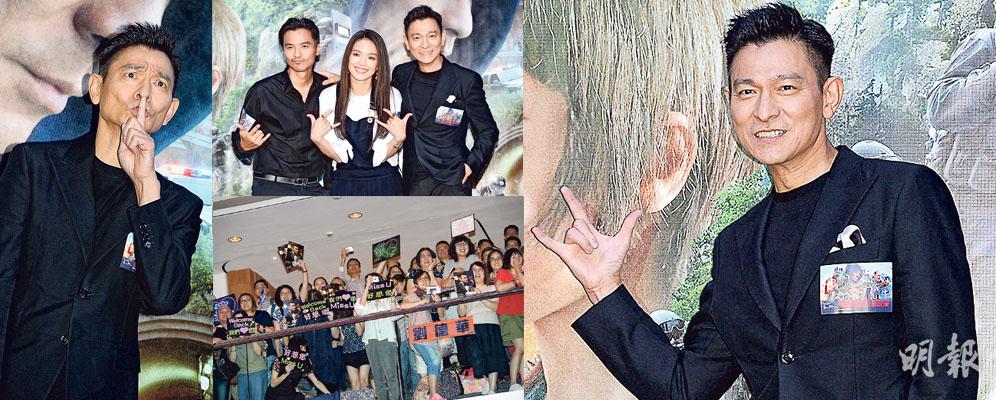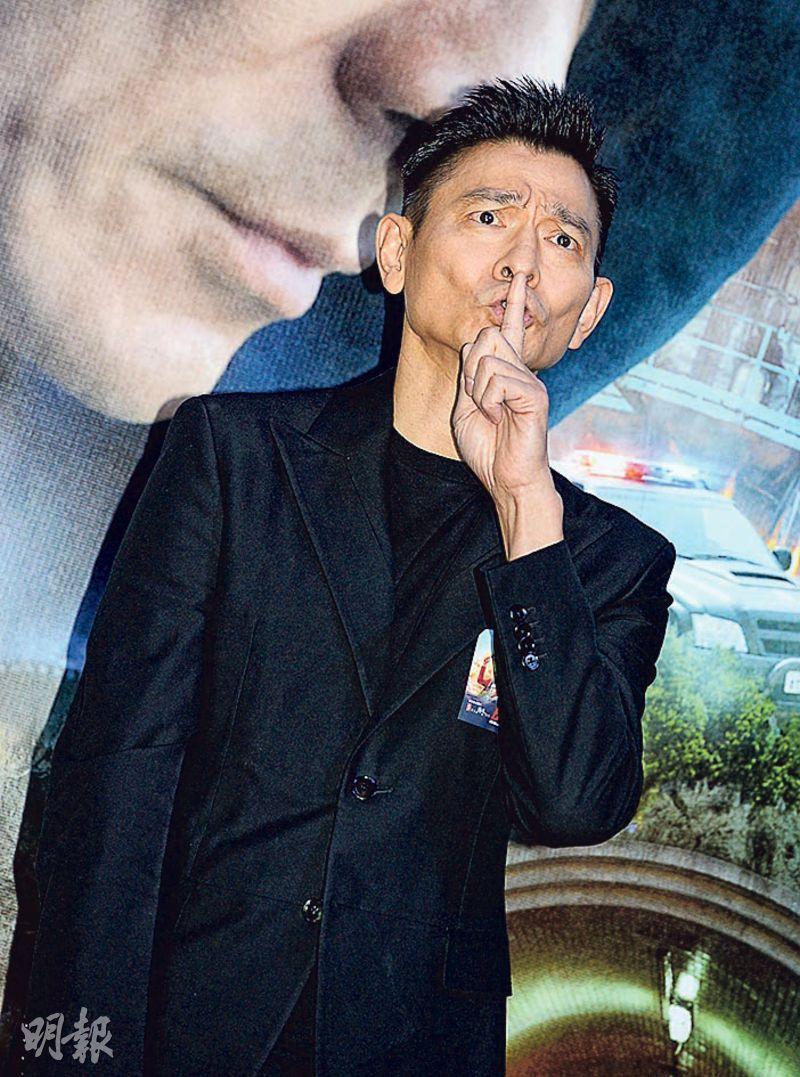 Andy Lau pleads with fans to be a little more quiet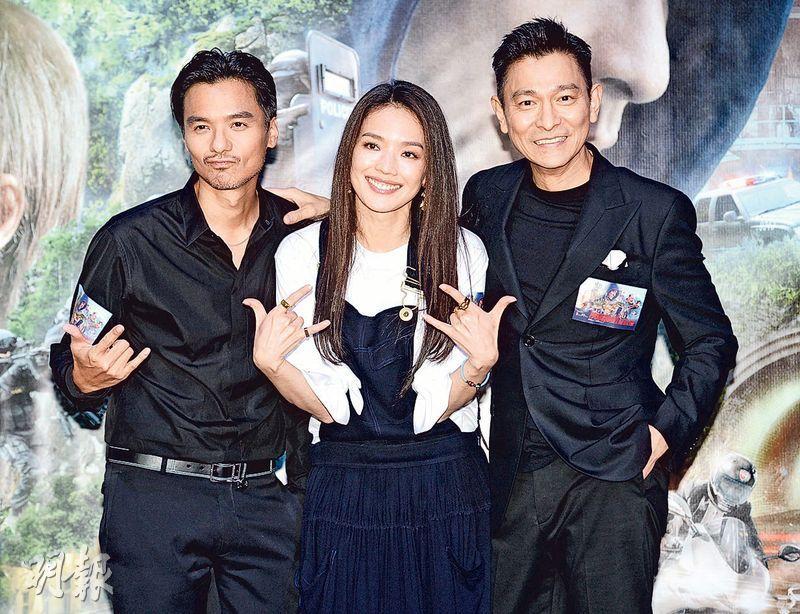 Shu Qi says Andy Lau is more handsome. Husband Stephen Fung won't be jealous.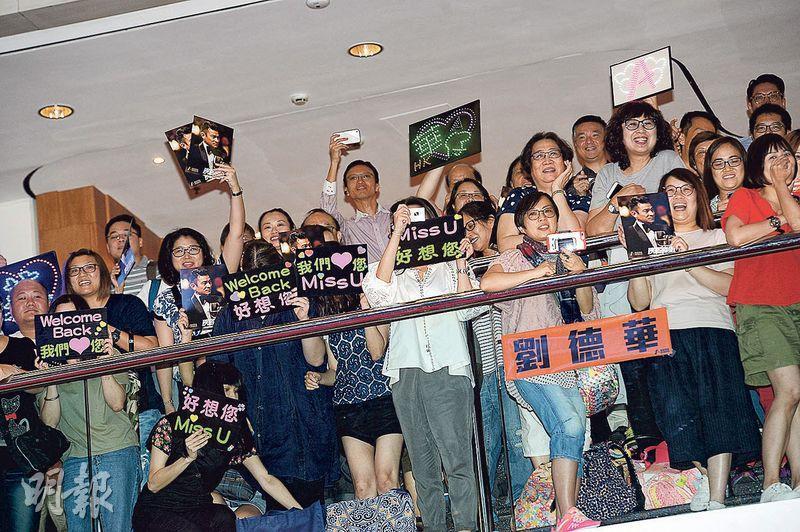 courtesy of mingpao.com
Andy Lau Tak Wa earlier in the year fell off a horse during a commercial shoot and was hospitalized for serious injuries. After rest and recovery he officially returned recently. Last night she appeared in Hong Kong with co-star Shu Qi for the Stephen Fung Tak Lun directed THE ADVENTURERS (HUP DOH LUEN MUN) premiere. Dressed in black, Wa Jai was back to form, full of positive energy. Over 500 fans looked on and glad to see their idol appear. They even gave Wa Jai a "Return of the King" welcome, as they would scream with Wa Jai's every move. Wa Jai also got teary eyed from the fans' passion.
Full of smile, Wa Jai often waved to the crowd. Because the fans kept screening, Wa Jai said, "Stop for a second, let the host ask the question. Everyone haven't screamed for a long time. Relax, from today on I will come out everyday. You can scream again." Wa Jai admitted that the fans' passion moved him. Even Shu Qi was moved. Would Wa Jai come out everyday? He said, "It was just talk." What would he like to say to fans? Wa Jai got teary eyed and said, "I want to tell them I am fine, I hope to see everyone. Seeing them I feel much better."
Seeing the Hong Kong audience again, Wa Jai smiled and said, "Actually I have been communicating with everyone online. The doctor was afarid that when I attend public events the fans would be too passionate and hurt me. So the agreement with the company is that I can promote and I can't go out. After the Beijing and Taiwan promotions, everyone has been great to me. When I was promoting in Taiwan, because the doctor didn't permit me to attend the premiere, the fan club fans built a red carpet for me to walk on. They really are very funny, so now I convinced the doctor to let me come out."
Wa Jai recovered faster than expected. He admitted that the doctor of course was more conservative initially. Now he has recovered one or two months faster. His body used to be very agile. Now he is able to handle basic movement, mainly his muscles, bones and body are already over 95% recovered. Only his L5 and L6 spinal columns have cracked and fractured, so his nerves suffered a little damage. He said, "For complete recovery, the soonest would be a year, otherwise two. Because there is no drug to take, I have to wait for it to heal on its own. If it doesn't that it stays like this."
Would he be able to perform extraneous exercises? Wa Jai answered, "I can, but when I movie I feel like I was in bandages. That would affect stunts though, the only impact is I haven't stretched my legs for half a year. I used to be able to spread them but now I can only bend them because I have to be very careful with the injured area. I don't dare to stretch at home. I have to do it on a physical therapist's watch." To speed up his recovery, while at the hospital Wa Jai everyday learned to get on the treadmill. The most important was the stairs training. HE said, "I had to climb 28 floors of stairs before getting home. In order to go home I could only walk like my life depended on it. Everyday I had to walk the full 120 stairs. It really was rather strict."
Wa Jai also was active with his physical therapy for another reason -- he wanted to be able to pick up his daughter as soon as possible. He said, "I still had to wait 4 months before I could hold her!" He kept doing deep lunges and lifting weights. Before going home he even had to learn to use a wheel chair because he was the only men at home. Did her daughter's heart ache when she saw him like that? Wa Jai nodded, "She did, but she was still little!" Did Wa Jai learn anything from this injury? Wa Jai stated, "I did a lot of very scary and difficult stunts without any problems before, this time the horse didn't run either but it seemed to be mad. I got off and left the horse once, but because I still had a little more to shoot I got back on. A lot of things are destined. However this time while I was at the hospital I had nothing to do, so I did a physical examination and discovered some old wounds. I found out that they wouldn't get better. Then I started training my muscles because athletes with similar injuries could continue to run by relying on the muscles." However, Wa Jai said that he did not exercise as much as he used to, he mainly did cardiovascular exercises.
After the accident Wa Jai admitted that he was afraid of horses. He thought about whether to get a double for horse riding scenes then use the computer to put his face in them. Since the injury Wa Jai revealed that actually work was not affected too much. After the commercial he was going to rest before preparing for his concerts. Now his concerts would hopefully start in the Mainland in the second half of next year first and postponed to the year after in Hong Kong as he still wanted to keep the cross year schedule. Has he fully resumed work? He said that for now he still did not have any new assignment or film offer. Would his commercial see the light of day? Wa Jai said that it would not. He would not have any horse scene that would remind everyone. He worked on this commercial once a year, he would wait and see how the next one would be arranged.
Wa Jai described his character as the most handsome thief in his life. Stephen Fung Tak Lun said that he would make Wa Jai as cool as he could be. Wa Jai joked, "I don't know why I am so cool." When he heard fans screamed "handsome", he said, "That's why people say you can work on acting, but you can't work on being handsome." Shu Qi felt that what Wa Jai said was classic.
Shu Qi and Fung Tak Lun appeared in Hong Kong together for the first time after their marriage. When asked if they would appear on screen together next time, Shu Qi said, "There isn't any need to make a commercial, we would try not to be actors together." When asked whether she felt Wa Jai or her husband was more handsome, Shu Qi picked Wa Jai. Fung Tak Lun agreed and would not be jealous.