Shu Qi calls her husband Stephen Fung middle aged
courtesy of on.cc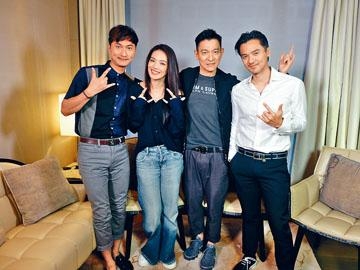 courtesy of singtao.com
Andy Lau Tak Wa, Stephen Fung Tak Lun and Shu Qi recently have been promoting their film THE ADVENTURERS (HUP DOH LUEN MUN) frequently. Working together again, the trio's chemistry remained. During the interview Wa Jai suggested for Shu Qi to direct next time and he and Fung Tak Lun to act. Shu Qi could not be more excited and immediately thought of making BICHUNEN (MEI JUNG NIN JI LUEN), but for now it was just talk. Wa Jai was everyone's idol in the film. Not only was director Fung Tak Lun under his spell, even Shu Qi admitted that she gave up resting for Wa Jai to make this film. Wa Jai joked, "Please raise my chair!"
Shu Qi even said to Wa Jai, "Was Tony Yang very calm when he performed with you? Actually after watching you act, he immediately came out and told me he was very nervous to act with you in such close proximity. I almost laughed myself to death!" Fung Tak Lun was asked why he would choose Tony Yang? He said, "Because not everyone looks like Brother Wa!" Shu Qi said, "Oh! You are calling Tony Yang not handsome!" Fung Tak Lun had an awkward look. Shu Qi then said, "Because the director wanted someone ordinary!"
Shu Qi has worked with Fung Tak Lun and Wa Jai long ago. Meeting again years later, Wa Jai who stated that he wanted to direct was ask if he would work with Shu Qi and Fung Tak Lun again as a director. He honestly said, "Yes, I have thought about that for years. Just thinking about it is useless, I really have to!" Wa Jai then asked Shu Qi to direct. "Why don't you direct and ask me and Fung Tak Lun to be your actors!" Shu Qi who was still complained about how tough it was to direct suddenly jumped up at Wa Jai's suggestion. "That's good, I would make BICHUNEN!" Wa Jai cracked up. "Fung Tak Lun and I are of different eras, why do you have to force him into the same era as me?" Shu Qi said that did not matter while Fung Tak Lun looked helpless.