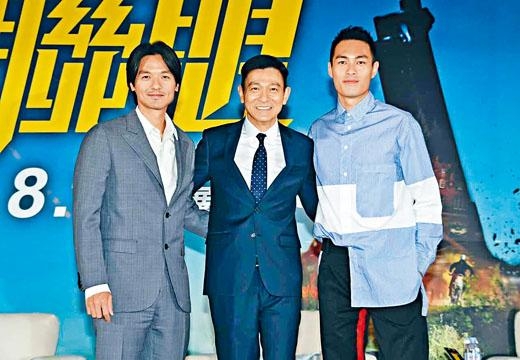 Tony Yang praises Shane as a master photographer
courtesy of singtao.com
The Andy Lau Tak Wa produced and starred, Stephen Fung Tak Lun directed THE ADVENTURERS (HUP DOH LUEN MUN) worked with Hollywood director of photography Shane Hurbut. Wa Jai felt honored. This time not only a professional drone photography team was used to shoot explosions and chase scenes, the film also had a "secret weapon" in the Freefly Movi system. During the shoot it could easily move with actors Lau Tak Wa and Shu Qi to bring the audience an unique experience.
The Fung Tak Lun directed, Lau Tak Wa produced and starred THE ADVENTURERS also had Best Actress Shu Qi, international film star Jean Reno, Taiwan god Tony Yang, Mainland stars Sha Yi and Zhang Jingchu. In the story Lau Tak Wa, Shu Qi, and Tony Yang formed a "thief alliance" and battled wits with the police in Europe and elsewhere while opposing a criminal organization. The shoot had a lot of thrilling and exciting scenes. Hollywood cinematographer Shane Hurbut personally shot the film for the visuals and visual enjoyment to appear in front of the audience perfectly.
Wa Jai talked about the film's production process. He stated that he was very honored to be this film's producer. Actually this time the team was very strong. The cinematographer Shane Hurbut has participated in NEED FOR SPEED, ACT OF VALOR and other big Hollywood productions and is full of production experience. Shane used high tech equipment to coordinate with the exciting scenes. Aside from using a professional drone camera team he also had the "secret weapon" Freefly Movi system that was able to easily move with the actors during the shoot.
Shu Qi felt that result was different from other action films. Fung Tak Lun said that after reading the script he had to start preparing for the film at least 6 weeks earlier. Tony Yang also praised that Shane brought them a lot of unexpected photographic language.