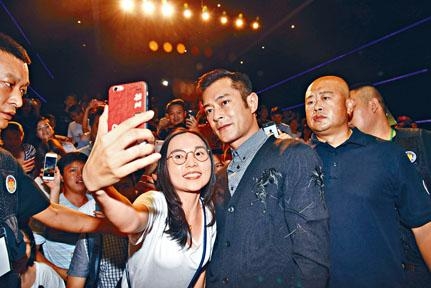 courtesy of singtao.com
The film PARADOX (SAT POR LONG TAM LONG) will officially open in the Mainland on the 17th. Although films of the same period performed strong, but PARADOX also performed well at the box office. Two days ago Paco Wong and Louis Koo Tin Lok, who was promoting in Shenzhen, thanked the Mainland audience for their support, sincerely thanked Soi Cheang Po Shui as well as gave credit to director Wilson Yip Wai Shun because he really knew how to capture the audience's emotions. With the skills of action director Sammo Hung Kam Bo, they successfully created an action film with blood and tears.
Koo Tin Lok was asked how many hundred millions would PARADOX's box office have to reach before he would perform THE MOON REPRESENTS MY HEART live? Goo Jai was somewhat embarrassed and Paco spoke up for him. "Singing is just for fun, the most important is the audience's support!" Indeed, Goo Jai with numerous female fans during his Shenzhen promotion had "Goo fans" at each cinema. Aside from praising how handsome he was and making their love known, a female fan even had a tattoo of "Goo Fanatic" on her arm. Goo Jai's arms must be tired from receiving all the flowers and gifts. Many fans who were unable to buy a ticket surrounded the shopping center just for a glimpse of their idol!