courtesy of on.cc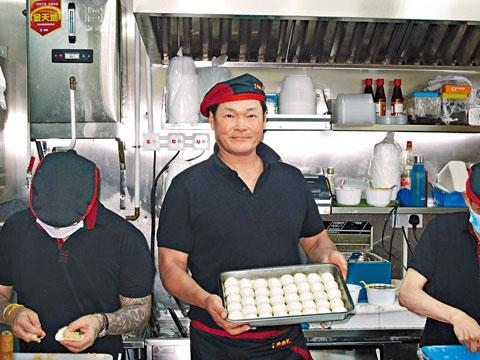 Michael Chow opens a Shengjian Bao shop and is not afraid of competition from Oscar Siu
courtesy of singtao.com
Michael Chow Man Kin opened a Shengjian Bao shop in Tin Hau. Yesterday the new shop officially opened. Michael this time with friends invited over HK$ 1.5 million on the new shop and planned to open another in Mongkok. Speaking of Oscar Siu Yun Bong's success with his Shengjian Bao shop, was he worried about the competition? He said, "Everyone had different taste, should no one open a burger shop with McDonald's around? You can provide different choices to the public."
After 18 years away from the film industry, Michael revealed that later he will participate in the Philip Yung Tsz Kwong directed new film. In it he will play four great inspectors with Tony Leung Chiu Wai, Aaron Kwok Fu Sing and Patrick Tam Yiu Man. Michael said that Yung Tsz Kwong saw his car commercial and immediately invited him to perform. Although he did not have much of an acting bug, this time he ran into a good script and thus he agreed to perform.
After years away from film, was he worried that he would not be used to it? He said, "No, people grow up. In addition I become handsome and stable. With more life experience, the acting will be better too."
Speaking of old flame Shirley Kwan Suk Yi's guilty plea to assault, Michael said that they have lost contact for years. He joked, "If I make a kung fu film, I can get her for the fight scenes."