Sam Hui invites Lillian Chan to the stage
Alan Tam and the "So Uk Estate Bad Girl" get along famously
Overzealous fans scratch Alan Tam's hand
Scott and Ryan Hui says their father is very nice
Hacken Lee picks his wife to the show
Wong Cho Lam, Leanne Li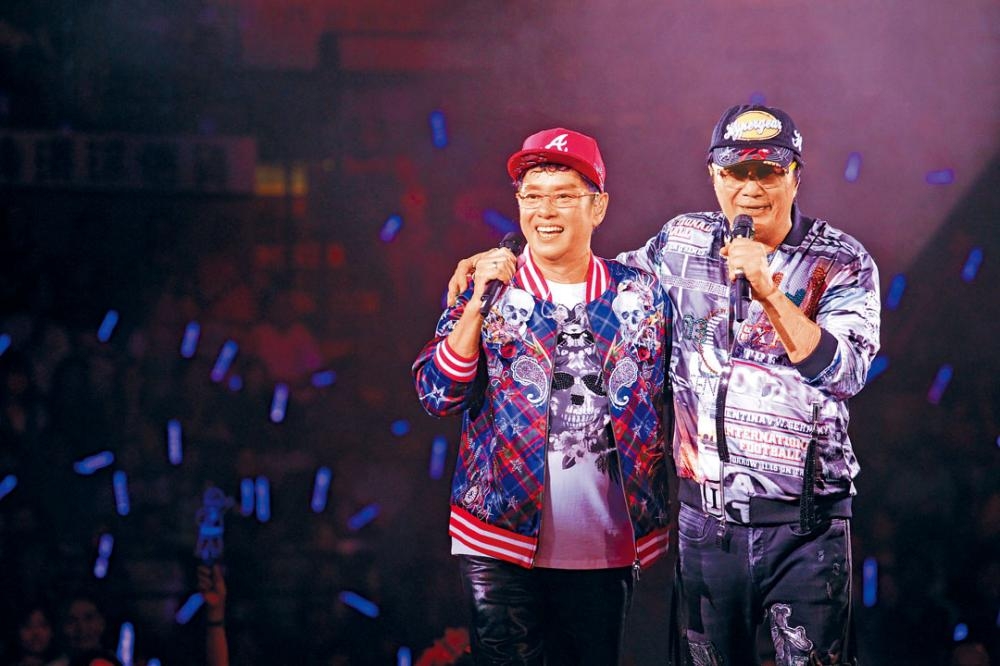 courtesy of singtao.com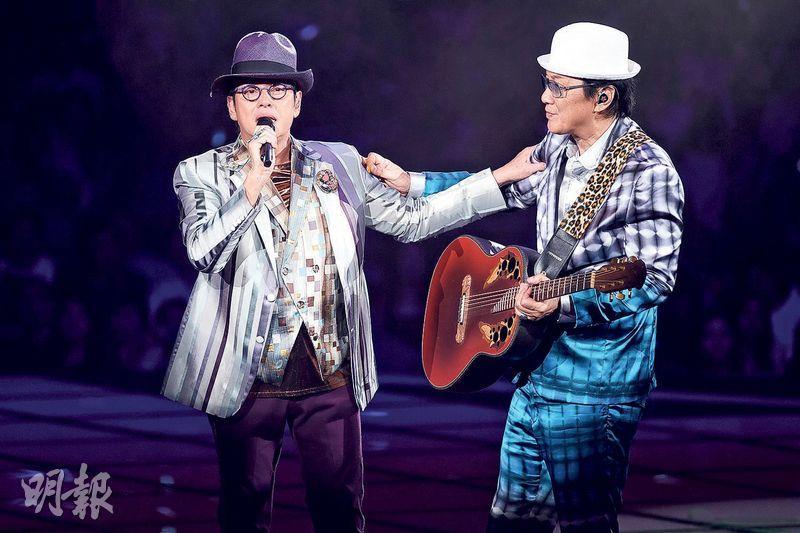 Sam Hui consoles Alan Tam when he breaks down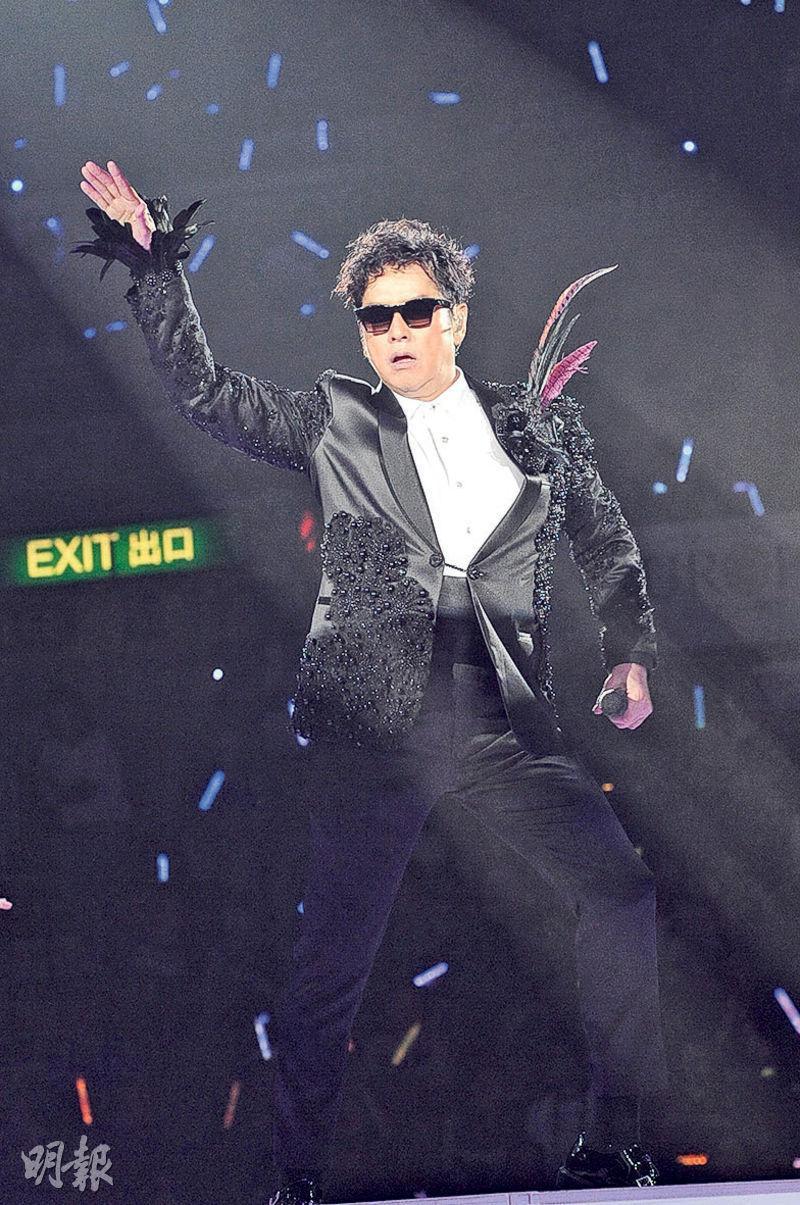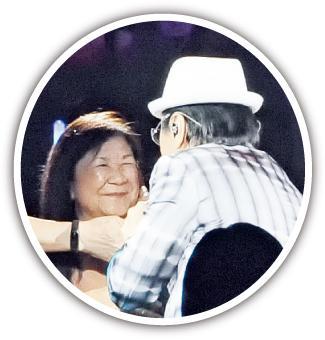 Sam Hui lovingly looks at his wife in the audience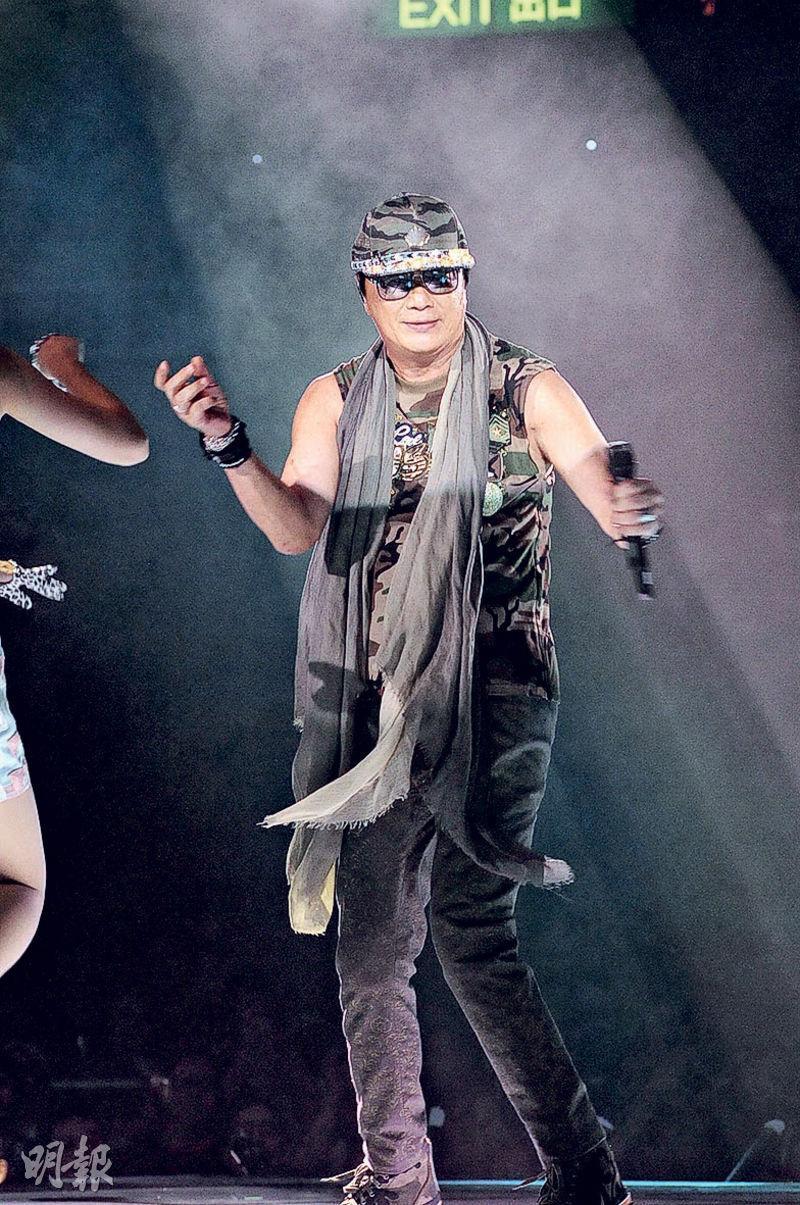 Sam Hui jokes that Alan Tam refuses to admit that he is old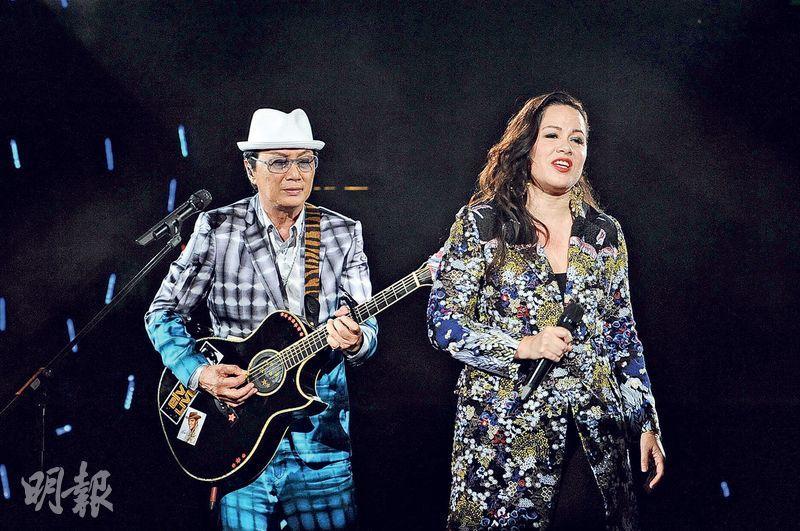 Shannon Lee performs with Sam Hui and remembers her late father Bruce Lee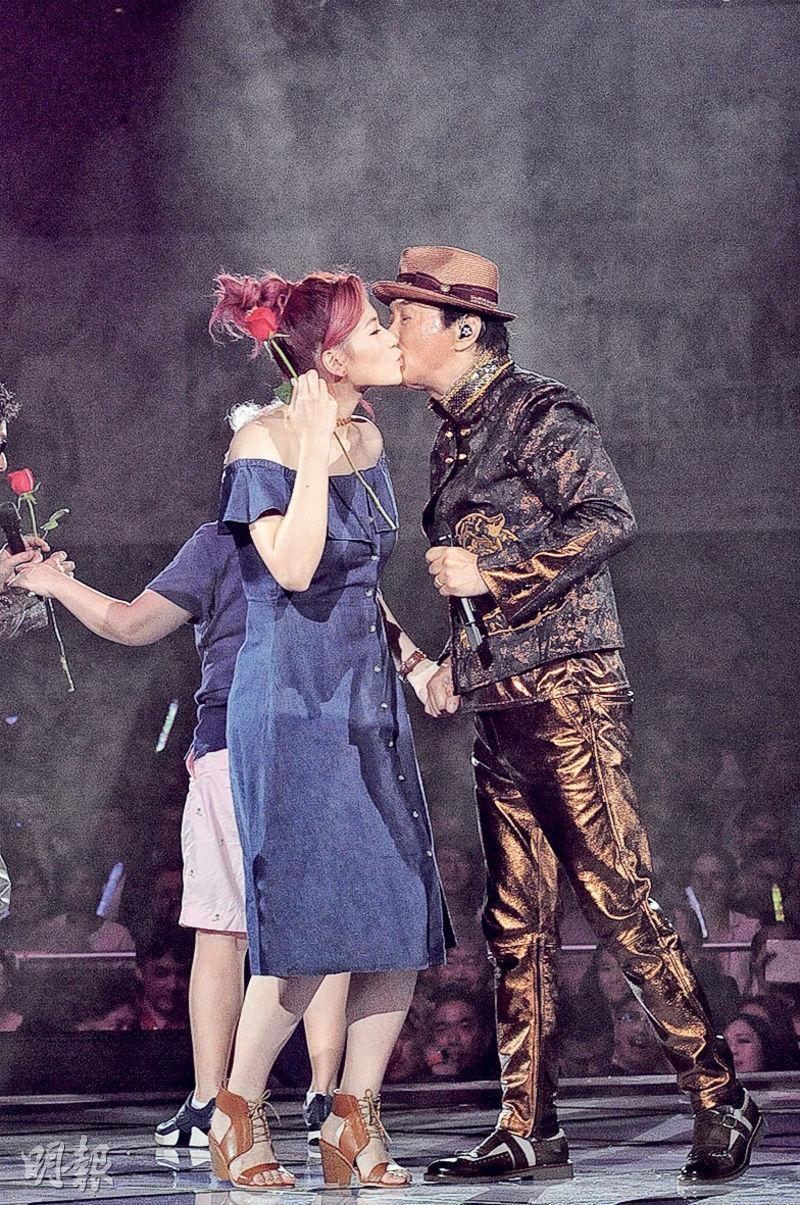 Sam limits his kisses to prevent the spread of the flu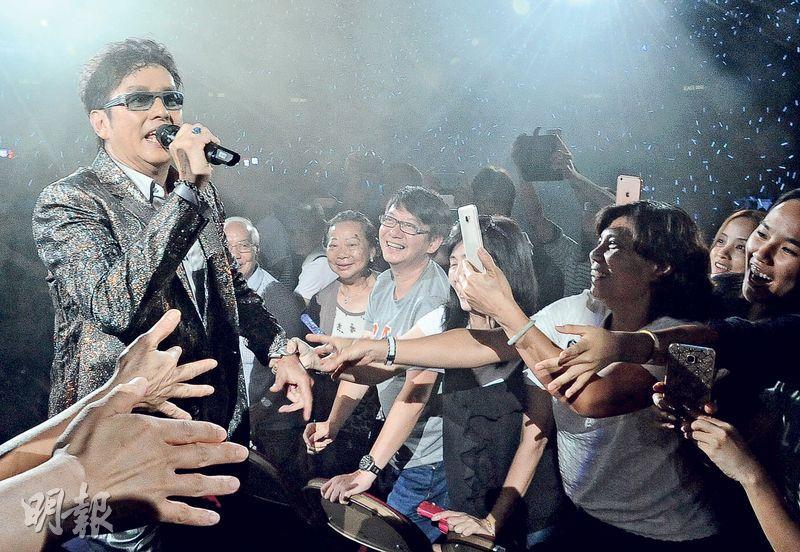 Alan Tam almost loses his clothes and rings in the audience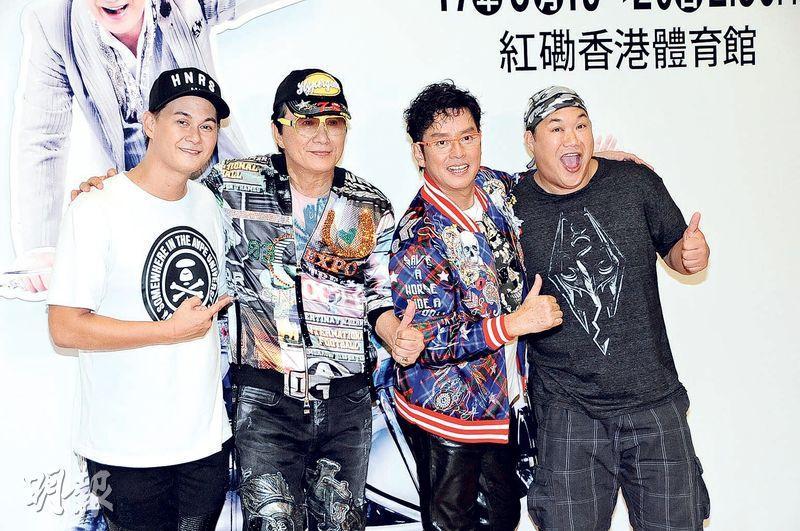 Ryan Hui, Sam Hui, Alan Tam and Scott Hui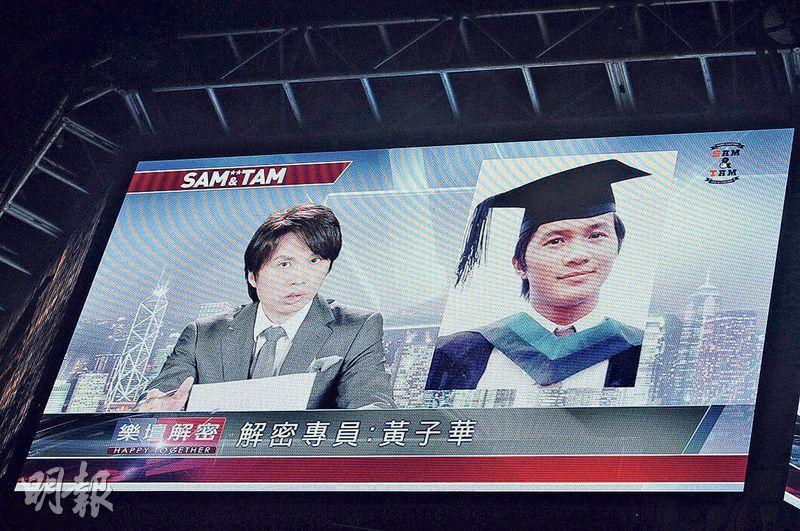 Dayo Wong analyzes the two great song gods' contribution to Cantonese songs and music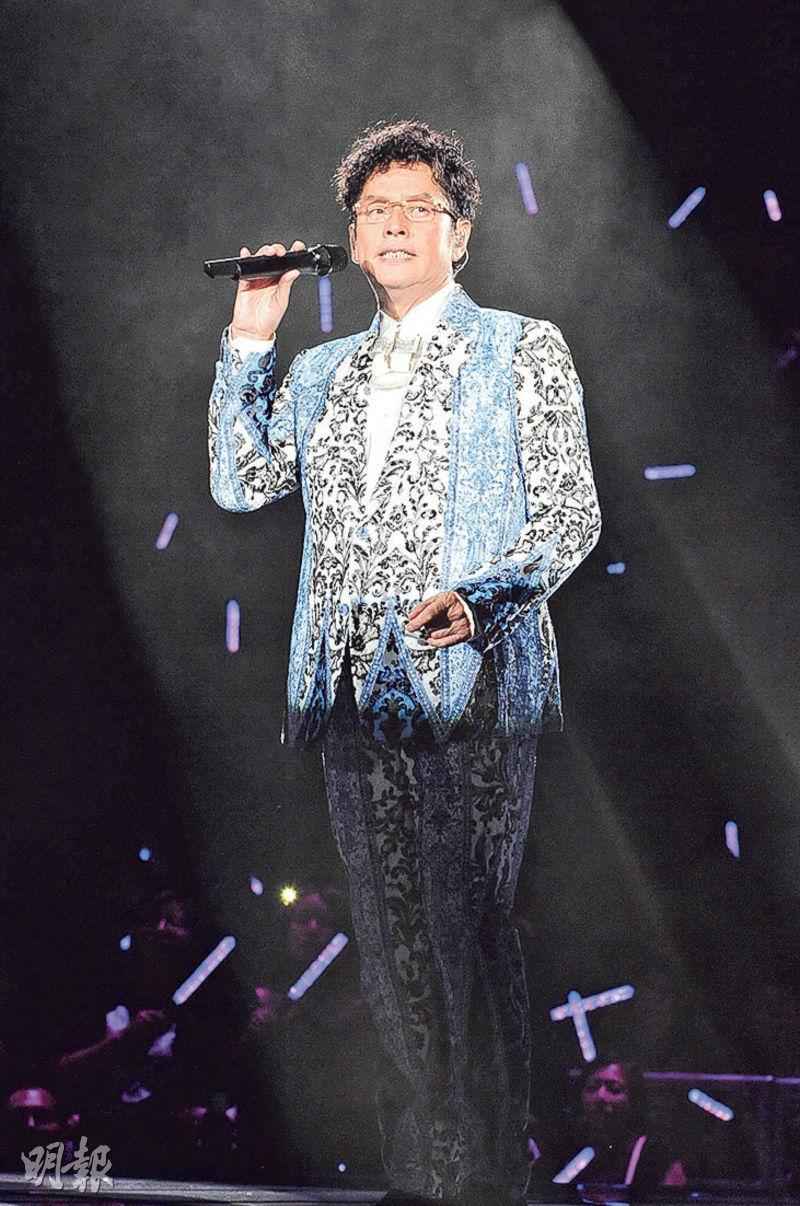 Alan Tam says that his son has already joined the society with a bachelor's degree
courtesy of mingpao.com
Two master class singers Sam Hui Koon Kit and Alan Tam Wing Lung two nights ago officially opened their 12 show SAM AND TAM HAPPY TOGETHER concert series at the Hong Kong Coliseum and even had the support of Chief Executive Carrie Lam Cheng Yuet Ngor in person. Fan Lam Cheng and Sam both went to Hong Kong University. Sam near the end of the concert performed TOWER IN THE CLOUDS to Lam Cheng to express Hong Kong sentiments. Alan also performed CREATE FATE, which President Xi Jinping quoted while visiting Hong Kong, to encourage the people of Hong Kong.
Lam Cheng stayed for the entire show and then posted on social media. Sam also dedicated this song to his junior colleague. He was afraid that Lam Cheng would have to leave early so he performed it in the first half of the show. The rare team of Sam and Alan presented classic hit after hit and had the fans under their spell. They also went to shake the viewers' hands and give kisses. Alan said that due to the recent wave of flu he declined kisses to prevent infection. Sam asked, "Can you blow kisses?" Finally Sam "kissed" a few fans. Alan was scratched while shaking hands and almost aggravated his shoulder injury. Luckily he was fine.
A video of Dayo Wong Tze Wah as a news anchor was showed. He talked about these two "song gods". "God creates out of nothing. Song god Sam created Cantonese pop songs." He also said that now Hong Kong people liked to talk about center value, but Song God was able to talk about it in two verses. "For two meals you are willing to do anything." Later Tze Wah talked about Alan as "god of the music scene", the one who has performed the most concerts in Hong Kong. "He could perform solo, and he could perform with others. When he performed concerts he would make a lifetime salary for some people. Two shows in one day were easy, actually he even considered three shows a day. The first show would have been 6:30 AM, after the show people could go to work. Later he gave up the idea because he was afraid that you would not have enough energy. That is why he could be a god, 25 year old every year. He is very lively." Then Alan said CREATE FATE, which President Xi Jinping quoted. He said, "(Raymond) Wong Pak Ming wrote the lyrics for this song. He has a lot of foresight, great taste, it is very suitable for Hong Kong people."
Guests aside from Bruce Lee's daughter Shannon Lee, Sam's two songs Ryan and Scott also performed. Alan asked them if Papa Sam was a "Tiger Dad". Ryan praised Papa as very nice, as he would tell him stories and bathe with them. Sam joked, "I still haven't seen what your son looks like, only his hair and the back of his head. You don't show me what he looks like, he probably is young fresh meat!" The photo was Alan hugging his son with his back to the camera was shown. Alan said, "It's a mirage, you didn't see that. Who is being bad and put up the picture. I am not talking about that, thank you for your concern." Alan then changed the subject to Sam's song.
Near the end, Alan asked Sam about this concert. Sam said that he was very honored to be Alan's idol. Alan explained why Sam was his idol. "In 1971 when I saw Sam performed I wanted to be as glorious as he was. Ten years later I performed a concert at the stadium. Sam inspired me a lot, I deeply sense that whether in life or music he is a leader." Later Alan turned to Michael Hui Koon Man in the audience and recalled when Sam had high altitude sickness. "Not everyone may know this. In 1986 when Sam made a movie he suffered from high altitude sickness and worried a lot of people. In the same year Sam had to go to Japan for an exhibition of his work. Hui Koon Man and I were in the audience and watched Sam talk, but actually at the time Sam hasn't recovered yet. However Sam still insisted on speaking on the stage." Alan got choked and could not speak. He finally succumbed to tears and said, "At the time tears were streaming down my and Hui Koon Man's faces. Sam isn't just my idol. He represents the people of Hong Kong like us. Sam wouldn't just be like this. I said to Hui Koon Man 'trust me'. I thought Sam would definitely (recover). Soon Sam returned to sing and is still singing today!" Alan and Sam performed a group of late singers' songs as a tribute to them, they included Danny Chan Pak Keung and Leslie Cheung Kwok Wing. During encore, they almost refused to leave the stage. Finally the show ended around 11:59 PM with a fine.
After the show Alan said, "I have kept this secret for years, I hope Sam wouldn't mind. At the time I really was very worried. I even comforted Hui Koon Man and said that Sam definitely would recover, just give him time." Sam joked, "In the end I didn't die."