courtesy of on.cc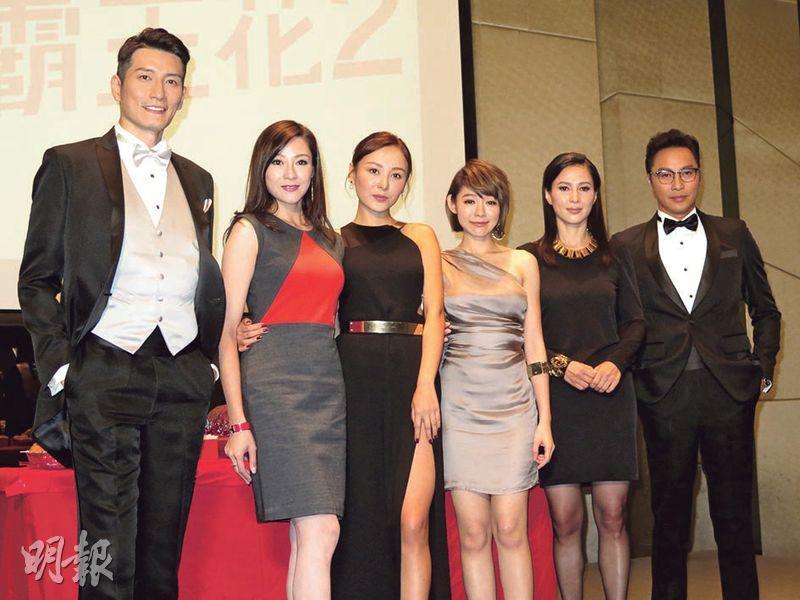 Andrew Yuen, Sharon Luk, Jeana Ho, Lin Min-Chen, Jade Leung, Patrick am
courtesy of mingpao.com
The film TOP FEMALE FORCE (LAT GAING BA WONG FA 2) yesterday shot in a hotel. Patrick Tam Yiu Man, Andrew Yuen Man Kit, Jade Leung Jung and Jeana Ho Pui Yu were present.
Playing a police superintendant, Ah Tam and Yuen Man Kit have not worked with each other for 16-17 years. The former said that this time he had to make a series of stunt and gun fight scenes, but because he has not fired a gun in a long time and he lacked practice he needed time to practice his accuracy. Yuen Man Kit admitted that he was a guest star and would mainly have dramatic scenes. He said that his earlier character made him very popular as his job offers kept coming. When asked about his schedule, he said, "No room!" Yuen Man Kit said that he really liked to listen to Ah Tam's songs and hummed a few bars on the spot. Ah Tam said, "You sang so well that even I couldn't follow!"
Ho Pui Yu was shooting on location in Macau during the typhoon and knew that the situation was dire. She hoped that when the shoot returns to Macau everything will be back to normal. In the film, Jeana had to hold a gun. She took both a prop rifle and pistol home to practice. The director instead did not need her to be sexy, but wanted to add a same sex relationship with Lin Min-Chen. Jeana admitted that Lin Min-Chen was cute, she could play more masculine to protect her. If the story required them to kiss she would accept that, but she would first have to inform her boyfriend Philip Yung Tsz Kwong out of courtesy.
Lin Min-Chen for the action scenes already achieved her six pack abdominal muscles. She even jokingly asked the press if they wanted to see them. She did not mind any sexy performance. Aside from being cute, she wanted to add a little more sexy to make herself stand out. As for the kiss with Jeana, she said, "I would be very shy, bu earlier in a Taiwan film I kissed a girl, her lips were very soft!"
Leung Jung and Sharon Luk Sze Wan played sisters in the film. In a car chase scene in a small alley in Macau, Leung Jung had to drive fast. Luk Sze Wan said that she was quite a racer.