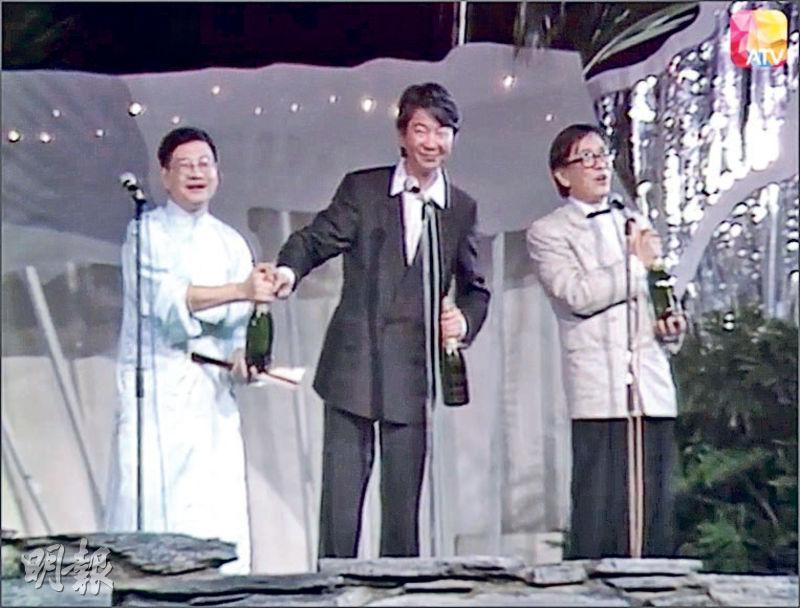 Ngai Hong wanted to spray the guests, Chua Lam interfered as James Wong said, "DON'T!"
Ngai Hong jumped into the pool in his Changshan, even losing his glasses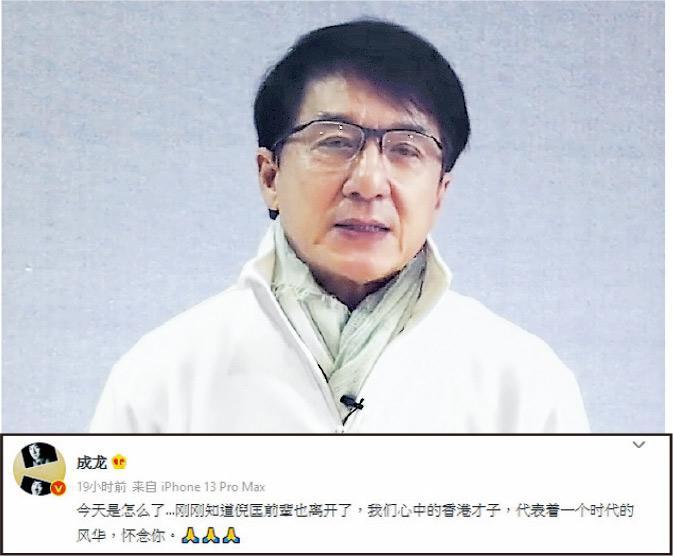 Jackie Chan remembered Ngai Hong, upsetting some online
Tao Kit posted a photo with Ngai Hong
At her 2006 concert Vivian Chow gave flowers to her father in law Ngai Hong for his birthday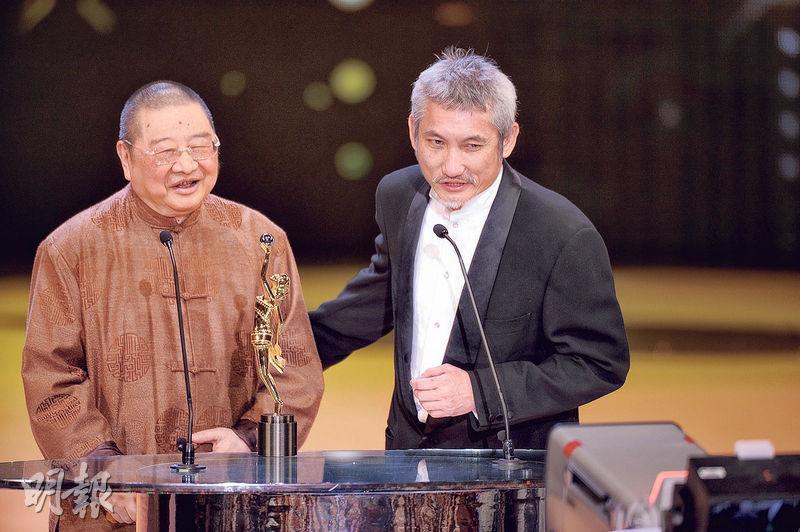 At the 31st Hong Kong Film Awards, Tsui Hark presented the Lifetime Achievement Award to Ngai Ho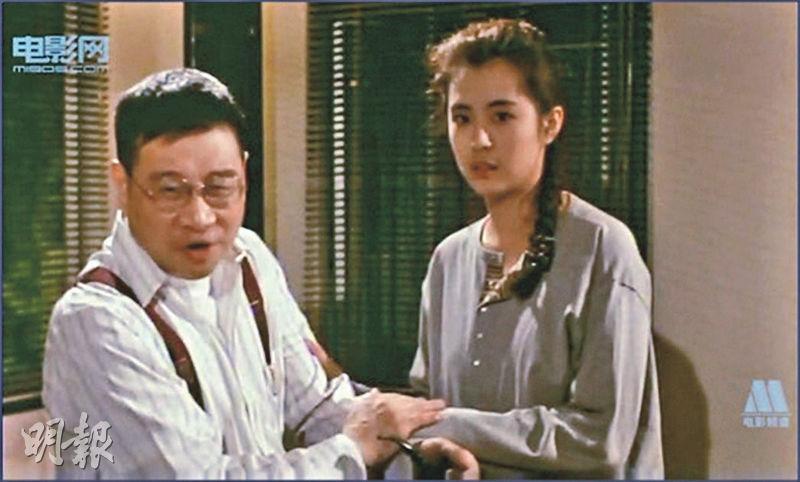 In the 1990 film A TALE FROM THE EAST Ngai Hong played Wisely himself and had scenes with Joey Wong Cho Yin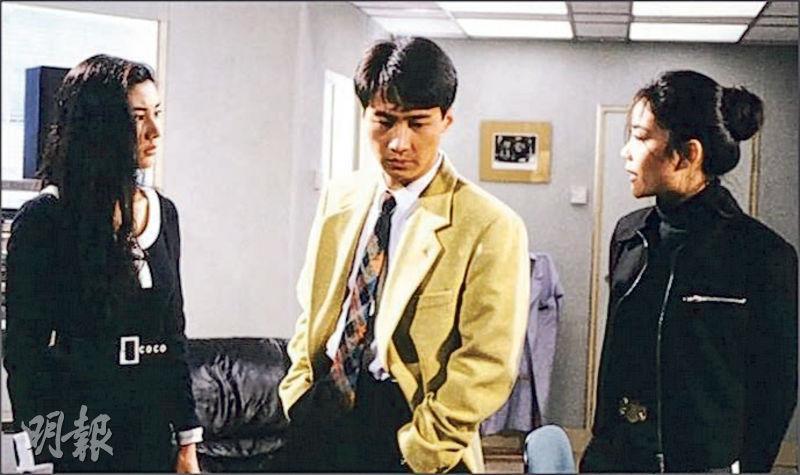 Michelle Reis, Leon Lai and Faye Wong stared in the TVB series THE LEGENDARY RANGER, which received high ratings at the time.
The 1986 film THE SEVENTH CURSE starred Chin Siu Ho and Chow Yun Fat
courtesy of mingpao.com
Famous author Ni Kuang (Ngai Hong) two days ago (July 3rd) passed away at age 87. Ngai Hong wrote over 300 novels and over 450 film screenplays, many of which were classic. Among them WISELY (WAI SI LEI) and (YUEN CHUN HP) series were adapted for film, television and radio drama, accompanying many eras of readers with far reaching influence. The news of Ngai Hong's passing flooded social media with his golden quotes and eulogies for him. TVB re-aired the television series based on his novel THE LEGENDARY RANGER (YUEN CHUN HAP). ATV also posted the 1989 show CELEBRITY TALK SHOW GOLDEN BANQUET, in which Ngai Hong sprayed champagne and jumped into the swimming pool in a full display of his mischievous nature. However, different opinions have been seen online in the Mainland. While Jackie Chan and Monica Chan Fat Yung remembered, some online pointed out that Ngai Hong was against communism and should not be. Mainland star Yao Chen posted "That Mr." but removed it.
Jackie Chan two nights ago posted, "What is with today (the 3rd)......I just learned that Mr. Ngai Hong passed away too. The Hong Kong genius in our hearts represented the grace of an era. Miss you." Different responses were online. One remembered, "Wisely passed away." Some cited Ngai Hong snuck across the border to Hong Kong and anti-Communist comments. They also commented on Jackie Chan's post, "Please shut up about what you shouldn't say." Chan Fat Yung reposted the news of Ngai Hong's passing, which also upset some online, commenting that Ngai Hong's verbal attack on Mainland in Hong Kong. Mainland star Yao Chen two nights ago learned about the passing of Ngai Hong and posted his photo. "My Wisely, 'That Mr.' passed away too." Although she did not write Ngai Hong's name, this post also vanished in the end. Some online already screen captured it.
Ngai Hong early on interacted with fans on social media. His final post was on May 28th 2021. He wrote, "Hahahaha, I don't know why old posts were removed --- let them be. Why don't everyone guess, would I keep posting?" Yesterday fans posted "Genius, have a safe journey." but also negative comments. Tao Kit again talked about his late friend Ngai Hong, saying Ngai Hong was mentally prepared long ago and not afraid of dying. Several days ago they had a video chat. Ngai Hong at the time was very tired and did not speak, but heard what Tao Kit said. Ngai Hong was tortured by skin cancer. Half a month before his passing he was on morphine for pain, when he left he was not in pain.
Ngai Hong's son Joe Ngai Chun in 2009 wed Vivian Chow Wai Man, Ngai Hong had nothing but praise for Vivian. He said that she was the world's best daughter in law. In 2006, he and his son attended Chow Wai Man's concert on his birthday. The still unmarried Vivian on the stage called Ngai Hong "Dad" and presented him with flower for his birthday. She talked about her father in law in an interview, describing him as a very special senior. He did not follow the usual rules and had the heart of a child. She also said that her father in law would be able to find an angle to praise anything, so he would forever be fun and happy.
Ngai Hong in 2012 received the Hong Kong Film Award Lifetime Achievement Award. The event introduced Ngai Hong's contribution to film, saying that he was the fastest screenwriter. He wrote 20,000 words daily. In the script for THE BIG BOSS, "The Chinese aren't sick men" became a classic line. Ngai Hong joked about the event's introduction and praises, Ngai Hong joked that it was more or less "overinflated" and asked everyone to pay attention. His speech was only a few simple words. "Thank you to the event! Thank you everyone! Thank you!"
Ngai Hong with James Wong Jim and Chua Lam host CELEBRITY TALK SHOW, which was a television classic. ATV's social media platform yesterday shared the special program CELEBRITY TALK SHOW GOLDEN BANQUET. Celebrities like Jackie Chan, Stanley Ho Hung Sun, Joey Wong Cho Yin, Brigitte Lin (Lam Ching Ha), Adam Cheng Siu Chau, May Lo (Law Mei Mei) and Siqin Gowa filled the audience. As the program neared its end the three hosts went to the stage to open the bottles of champagne. Ngai Hong was a little drunk and showed his mischievous nature, as he was about to spray the guest with champagne. At the time Uncle Jim nervously said, "Old Ngai Hong is almost done! Don't! DON'T!" Chu Lam held onto Ngai Hong's arm and kept him from spraying. In the end Jackie Chan pushed Wong Jim into the pool, Ngai Hong in a Changshan jumped in himself. Later he chased Jackie Chan around the pool and even dragged the producer into the water.
Ngai Hong's classic novels were wildly popular. Among them Wisely was a familiar character for the readers, the books have been adapted many times into film and television. Its first big screen adaptation was the 1985 film with Chow Yun Fat and Chin Siu Ho, THE SEVENTH CURSE (YUEN CHUN HUP YU WAI SI LEI). The former played Wisley. Ngai Hong also guest starred in the film that made over HK$ 10 million at the box office.
Many male stars have performed in WELSEY related work. Films included the 1987 film THE LEGEND OF WISELY (WAI SI LEI JUEN KEI) with Sam Hui Koon Kit. When he went to Nepal for the location shoot he almost died from high altitude sickness, fortunately in the end he got over it with his will power; the 1992 film THE CAT (WAI SI LEI ji LO MAU) starred Waise Lee Chi Hung, Ngai Hong played Wisely's friend Old Chan; the 2002 film THE WELSEY's MYSTERIOUS FILE (WAI SI LEI NAM HUET YUN) starred Andy Lau Tak Wa, Rosamund Kwan Chi Lam and Shu Qi. It spent over two years on computer graphics post production, but its box office was less than HK$ 10 million. On television, Michael Tao Dai Yu starred in the 1998 Singapore television series THE NEW ADVENTURES OF WISELY. In 2003 Gallen Lo (Law Ka Leung) starred in the TVB series THE W FILES (WAI SI LEI). Mainland versions included the 2003 series WISLEY THE YOUNG ADVENTURER with Nicky Wu; in recent years Wong Jing produced the Shawn Yue Man Lok starred science fiction web series THE GREAT ADVENTURER WESLEY.
THE LEGENDARY RANGER was based on another popular work of Ngai Hong. The TVB series adaptation starred Leon Lai Ming, Michelle Reis (Lee Ka Yan), Faye Wong and others. At the time it set the second highest rated series in Hong Kong in 1993. The most classic had to be the 1990 film A TALE FROM THE EAST (MAN WA KEI HUP) that starred Joey Wong Cho Yin and Andy Hui Chi On. Ngai Hong guest starred as Wisely, which could be said as playing himself.