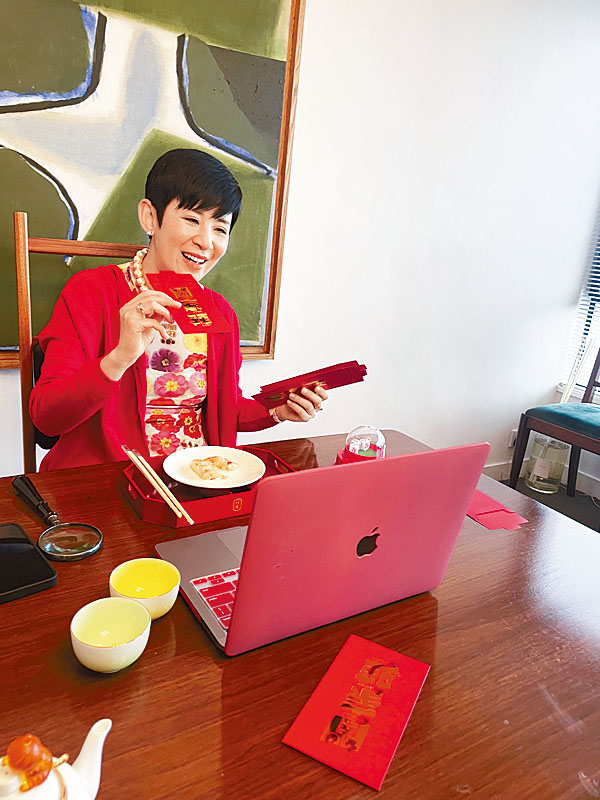 Sandra Ng gave away lai see and tossed the holy up for others
courtesy of singtao.com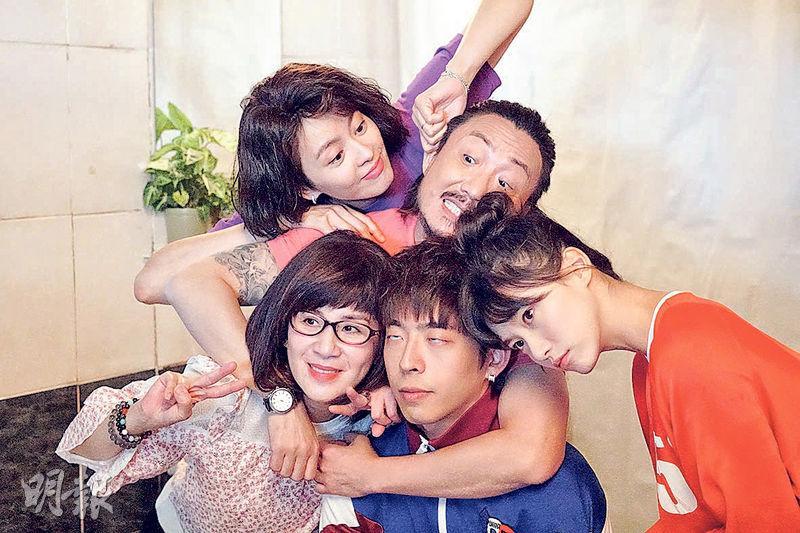 CHILLI LAUGH STORY may not open as scheduled but the cast still plans to promote with a tramway on the Lunar 6th
Dayo Wong's TABLE FOR SIX was scheduled for a Lunar New Year's Day release, but now its release date is up in the air.
courtesy of mingpao.com
The Sandra Ng Kwan Yu, Ronald Cheng Chung Kei, Gigi Leung Wing Kei and Edan Lui Cheuk On starred Lunar New Year film CHILLI LAUGH STORY (HOP GA LAT) has yet to have the chance to be released, the stars still took the opportunity to pay a Lunar New Year visit to everyone. They even held a live stream with everyone on Lunar New Year's Day. Kwan Yu turned into Lady Heavenly Queen and answered every prayer, first she tossed the holy cup for everyone then she gave a lai see over the screen. ERROR member Dee asked if he would able to release a solo record. Kwan Yu tossed the holy cup for him and it turned faced up, conceivably his wish would be able to come true this year. However when everyone asked about the pandemic, she stated that tossing the holy cup for everyone would be very stressful. Edan in the live stream said that he would spend the Lunar New Year playing mahjong with the family and make some New Year riches. The star even said that they would promote on the Lunar 6th with a tramway ride.
Both CHILLI LAUGH STORY and the Dayo Wong Tze Wa, Louis Cheung Kai Chi and Ivana Wong Yuen Chi starred Lunar New Year film TABLE FOR SIX (FAN HEI GUNG SUM) were scheduled for a Lunar New Year's Day (February 1st) release, the casts would have visited various cinemas to pay Lunar New Year visits to the audience. However as the government tightened the pandemic prevention measures cinemas would be closed until the 17th. Recently as the Omicron variant further spread, many cases of unknown origins appeared. Whether cinemas would be able to open again on the 17th no one knows. However film companies have continued to promote. Reportedly after the Lunar New Year holiday would end, the two films' casts would promote in different ways.
Although the pandemic progress remained uncertain, film companies still have no plan to postpone Lunar New Year films to other slots for release and pull them for the Lunar New Year next year. They still insisted on opening as soon as cinemas would open up again. Ronald Cheng Chung Kei joked on social media that while everyone would be waiting to see CHILLI LAUGH STORY, they would watch the 2007 Lunar New Year film he wrote, directed and starred in, IT'S A WONDERFUL LIFE (SUM SEUNG SI SING).