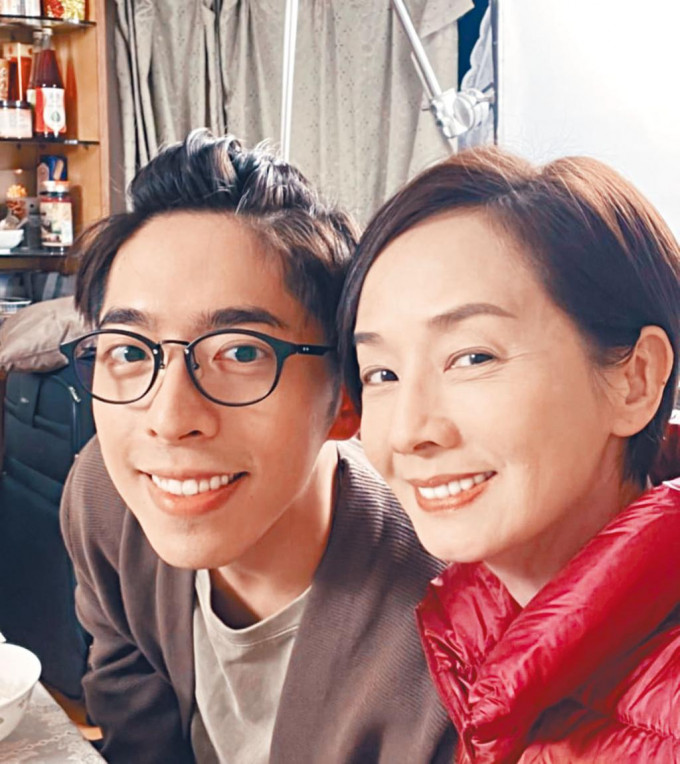 courtesy of singtao.com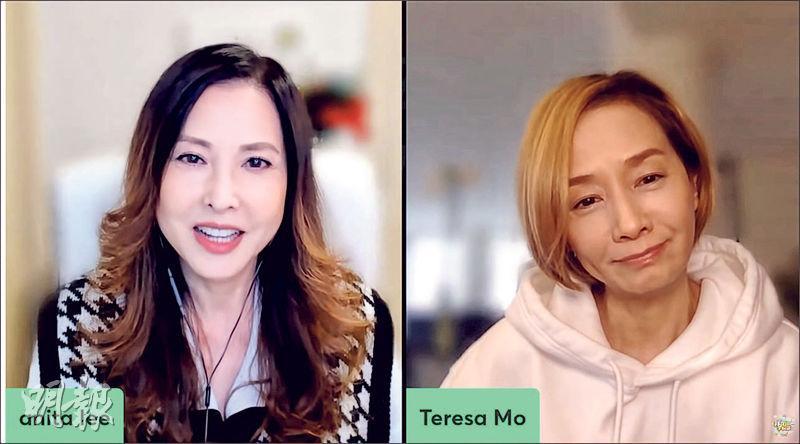 Teresa Mo went to visit her daughters in Canada for Christmas and is still stuck there due to the pandemic
courtesy of mingpao.com
Teresa Mo Kwan Shun recently added the nickname of "MIRROR MA" because she in one breath took 3 movies, in all of which she worked with MIRROR members Keung To, Jer, Edan and Anson Lo; since good friend Anita Lee Yuen Wa is rather fond of the 12 members of MIRROR, yesterday they worked together on their first internet channel joint broadcast. Lee Yuen Wa stated that she would be "drooling" over Sister Mo's ability to work with MIRROR boys as she kept asking for details.
Yesterday Sister Mo and Lee Yuen Wa had a joint online broadcast, Sister Mo who had close contact with 4 members of MIRROR revealed the side that few knew about. she said that Keung To actually was a "problem child", Jer was "exploding with sweetness", Anson Lo was "very nice", Edan even received the highest rave as Sister Mo could not help but happily reveal that she and Edan would play mother and son again in a new film.
Sister Mo in GOR SI GOR JIK worked with Edan and Anson Lo. Although she had very few scenes with Anson Lo, Sister Mo praised Anson Lo was a very nice boy. He constantly would feel guilty and ask for opinions. Playing her son Edan received nothing but praise from Sister Mo. "He is very well raised, you can tell his parents put a lot of effort and education into cultivating him. What he says makes sense, among he 4 he is the most intelligent and he has very high emotional quotient. With a son like this everyday you would be very happy, I believe anyone as a parent would 'long' to have a son like him. If you can guarantee I am able o have a son like his, I wouldn't mind having another! He even put a lot of heart into his acting, someone who wouldn't give up and want to do his best. I really like him!"
As many would know, Sister Mo and Keung To constantly took photos of the other sleeping while working on MAMA'S AFFAIR (AH MA YAU JOR DAI YI GOR). Sister Mo said, "Keung To is very mischievous and very cute, a master of sneaky photography who really likes to catch people asleep. I ended up getting no good sleep, sometimes when I unknowingly fell asleep then I would be in trouble. Once he caught me asleep with my mouth wide open and eyes rolled back. I really would have chased him down nine streets, pulled off all of his clothes to get him to remove the video! He also is a 'problem child' with a lot of questions to ask, if you couldn't answer him he couldn't quit. He would not let go. Once I tried to not keep be crazy with him and leave, I didn't expect him to follow and keep asking. He brought a lot of joy to the shoot."
Sister Mo also said that the just as cute Jer should not be ignored. "Jer is more reserved and shy. This time was his first movie, so he was very focused on the character. However I saw my assistant's daily videos, he tried to sing through a board for me his Mommy. He even did the heart gesture. He really was very sweet." Sister Mo concluded that each of the 4 MIRROR kids were different, each were cute. Keung To had his own charm, Jer had his own cuteness, simple minded, and made everyone very comfortable; in the end Sister Mo even revealed that in her upcoming new film she would again work with Edan.