COLLAR takes the baton from their elders MIRROR as chicken spokespeople.
courtesy of singtao.com

COLLAR dresses in black and white to work on the fried chicken commercial
courtesy of mingpao.com
ViuTV's new girl group COLLAR just started in the business but has already become an advertiser favorite. Recently it became a fried chicken store chain's spokespeople. The promo was unveiled yesterday as its eight members were decked out in black and white, showed off their dance skills as everyone took big bites to enjoy the fried chicken. Many "ex husbands" (husbands of MIRROR fans) excitedly left messages and said, "Fried chicken for every meal", "Tell the ex wife no need to cook anymore", some even praised COLLAR for making the brand younger.
In addition, two nights ago COLLAR's manager Dai Wing on social media posted a capture of her conversation with several members, revealing that Day asked whether she would get a fried chicken discount? Because Wing has always been rather strict with the eight members' diet, Ivy So responded with a frightened mouse sticker and joked, "Wing probably would ask them if they see us buying they have to say the prices have gone up." Wing immediately praised how smart Ivy was. Winka said, "I want stickers, just one sheet."
We here at TOP TEN CENTRAL weren't sure about COLLAR...until NOW.
Mmmmm chicken...
(video courtesy of COLLAR ARCHIVE)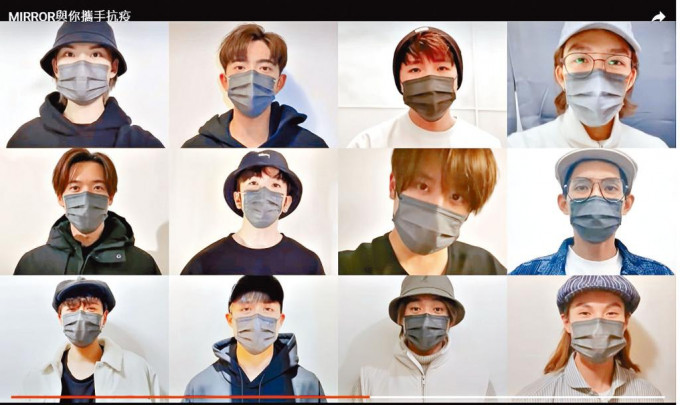 MIRROR gets everyone "together" for a promo
courtesy of singtao.com
Pacific Century Group chief Richard Li Tzar Kai earlier announced that its boy band MIRROR would serve a pandemic prevention ambassador as they shot a promo to encourage the people to stay home and fight the pandemic. The short video, titled MIRROR fights the pandemic with you hand in hand, two nights ago was released on ViuTV's official channels.
The promo is around 19 seconds long, all 12 members wore masks, with 5 of them speaking first. Captain Lokman Yeung took the lead, "Recently the pandemic has grown severe, everyone must remember to strengthen personal hygiene, wear a mask and wash your hands often." Then vice captain Anson Kong said, "Stay at home, don't go out!" Keung To continued, "Those with the elderly and
children need to pay extra special care." Edan Lui Cheuk On said, "Everyone of us should do our part." Then Anson Lo followed, "I also want to think the healthcare personnel for their contribution to everyone." Finally all 12 members said together, "Unite and fight the pandemic."
When the big boss asks....
(video courtesy of ViuTV)