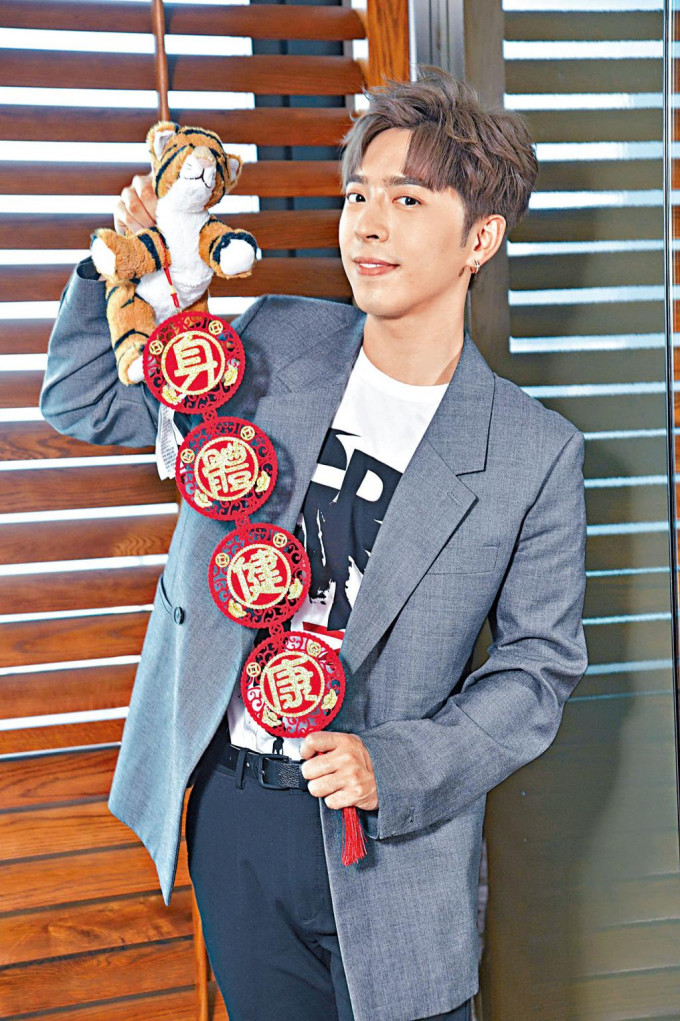 Edan Lui praises how easy going elders like Sandra Ng, Ronald Cheng and Gigi Leung have been. He would ask them anything he would have a problem with.
courtesy of singtao.com
Edan Lui Cheuk On and Coba Cheng Chun Hin are both film new comers, the formerly acted in his first movie, the later directed his first. Two new comers for their first time in the film industry already worked with Sandra Ng Kwan Yu, Ronald Cheng Chung Kei and Gigi Leung Wing Kei on the new film CHILLI LAUGH STORY (HOP GA LAT). They both said that the three were very professional and friendly, and they learned a lot from them. Edan even boldly stated that he was still able to follow and trigger even more comedy from the elders' improvisation.
The new film CHILLI LAUGH STORY's director Cheng Chung Hin and actor Lui Cheuk On earlier promoted their film. The film was based on Coba's own story. During the pandemic he was working from home, between the family's friction and cooperation they invented a welcome chilli sauce. Coba said that since he was able to turn his own story into a movie, he would like to thank Ng Kwan Yu the most. "By chance I met Kwan Yu. At the time she asked about my job. I said that under the pandemic I sold chilli sauce, I started to tell her my story and my relationship with my parents. After listening she thought it was interesting and suggested for me to turn my story into a movie. First she told me to write a script, then she asked me to direct. This time for me was an enormous challenge. Although I have directed commercials, they only lasted 10 minutes at most. This time would be a 90 minute movie. When I started to explore it was very hard, especially when this was a comedy. The story had to progress and still had funny elements. The most important was to getting it past Kwan Yu."
As for Edan although he had music video, television series and variety show host experience, he still felt worried and stressed from his first time on the silver screen. He said, "Of course I was excited about making my first movie; but because my role wasn't minor, if I didn't perform well everyone would feel I perform very poorly. From the non no one would ask me to make a movie. In addition I lack experience, before the shoot I was a little worried. Luckily Coba is young as well. Our frequencies are very close. If I faced a mature and respected director I might be scared, but we were like friends. If I had any question I would directly ask him. If he felt I didn't perform well enough I would direct tell him too. We had a lot of exchanges, I can say we were on the same boat." Since all the young people were on the same boat, were they able to until against the 3 elders? They said, "Not against, but uniting to finish this thing together!"
CHILLI would talk about family friction during the pandemic. Edan said that due to the work format he was very rarely at home, so he had less friction with his family. He said, "What makes me relate to this film is everyone's parents nag, but their nagging has love inside. Like that type of nagging between the director's parents, inside is flirting, a way to communicate and get long with each other. After the shoot I even felt that my family is great nd I have to properly love them more. (Do you no longer mind your parents' nagging?) I still would mind the nagging, haha! Only now I would understand more their intention." As for his plans in the new year, Edan hoped to continue to develop in multiple areas. Coba wanted to work with Edan again, stating that he already conceived a "Romantic Melodrama Chunibyo Syndrome" Korean drama style film. However because Edan had difficulty with crying, he would not write crying scenes for him. He said that the "dog blood (melodramatic) Korean drama" could be very funny too.
In addition, as the fifth wave of the pandemic raged on, three Lunar New Year films that were originally scheduled for Lunar New Year's Day release had to be postponed due to pandemic prevention measures being tightened. However their casts still promoted hard. CHILLI LAUGH STORY was no exception, for days it kept promoting online, raising awareness in hopes of cinemas to open as soon s possible. The CHILLI LAUGH STORY team originally planned a tramway parade event on the Lunar 6th from Sheung Wan to Causeway Bay and wish everyone a Happy New Year on the way. Yet due to the rising pandemic the team considered public and participants' safety, the tramway promotional event could only be postponed.