Chrissie Chau is so busy with work that she has no time to date. Her friends have to wait three months to have dinner with her.
Chrissie Chau says that her skin reaction has not healed yet
Julian Cheung, Charmaine Sheh, Francis Ng have action scenes
courtesy of on.cc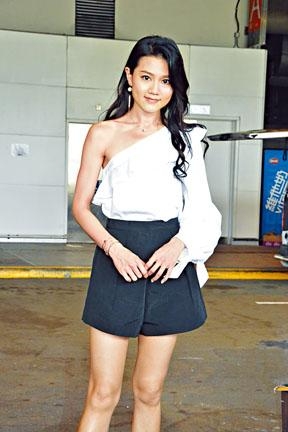 courtesy of singtao.com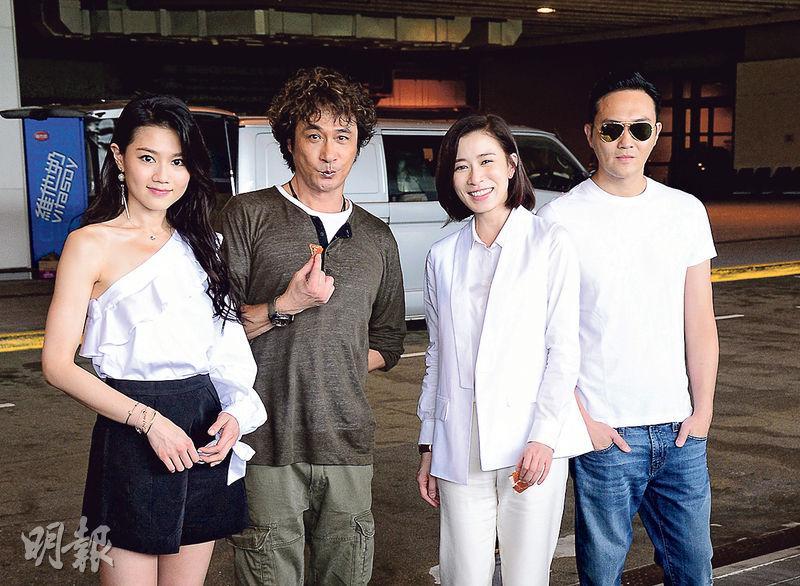 Chrissie Chau, Francis Ng, Charmaine Sheh, Julian Cheung
courtesy of mingpao.com
Francis Ng Chun Yu, Julian Cheung Chi Lam, Charmaine Sheh Sze Man, Chrissie Chau Sau Na, Wilfred Lau Ho Lung and Kent Cheng Juk Si yesterday attended the new film SIT MUK HUNG JEH (SECRET LEAKING WALKER) production start worship ceremony at the Kai Tak Ferry pier. Yesterday one of the focus was Sister Na because she was caught at the movies with a married producer. She said that he was only a friend of many years and stressed that she absolutely would not choose a married man.
Chun Yu, Chilam and Ah Sheh just returned from shooting in Penang. They were not shoot in Durian Hill. Chilam said that this time Chun Yu taught him something. "Chun Yu performed drinking right after having durian, which actually was possible. Maybe only he could do it, I didn't dare to try. However the durian there was very delicious." Chun Yu said that he could tell the type of durian from eating it.
In the film Chun Yu and Chilam played Hong Kong and Malaysian cops, while Ah Sheh played a news reporter. Were they responsible for protecting Ah Sheh in the film? Chun Yu sad, "Ah Sheh dragged us into trouble with her. I didn't want to participate. (Do you three have any romance?) The three of us have a great relationship." Did they have any action scene? Chun Yu said, "Some other actors were responsible, we were in car chases and gun fights. We aren't action stars, but we wouldn't mind fighting either." Ah Sheh revealed that she had car chases in the film and was a little scared. Chilam said that he would coordinate. Chun Yu said, "If even you are pretending you are an action actor, what is Jackie Chan then?"
Sister Na was recently caught at the movies with the married producer Charlie Wong Wing Fung. They were already linked in rumors six years ago. Sister Na admitted that they went and said that she has known him for years. They were friends and she knew his wife too. Would she watch herself a little? Sister Na said, "I wouldn't deliberately avoid anyone. (Would you ask Mrs. Wong to go to the moves too next time?) I can." She stressed that she would not choose a married man.
Sister Na said that she was so busy with work that she could not tell how long she has not dated. was she very dry? She said, "I am so dry that I have skin reaction. Hurry up and tell the boss to make a romance to nourish me. (Acting and real life are different.) Work is too busy, I don't have time to get to know anyone. (Do you have any suitor?) No, my friends said that they had to wait three months just to have dinner with me. This year I would be busy with television series and movies."