courtesy of on.cc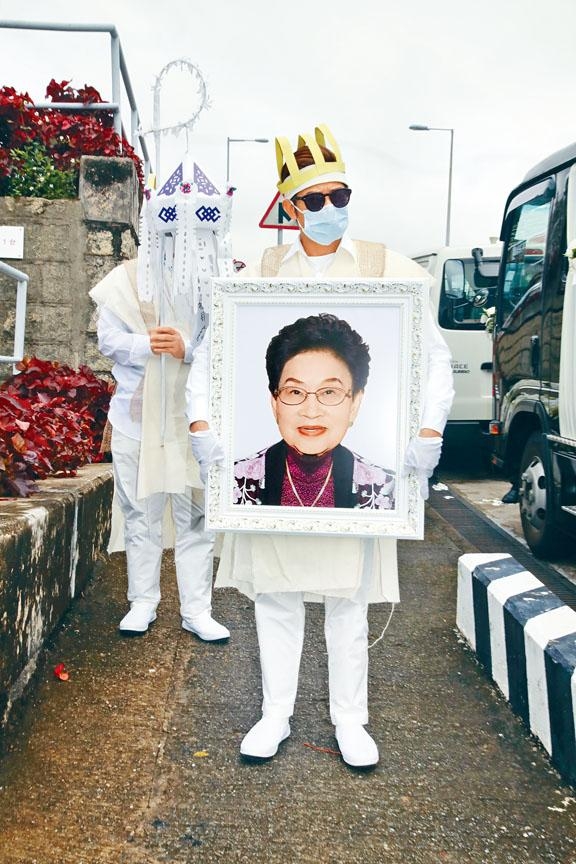 courtesy of singtao.com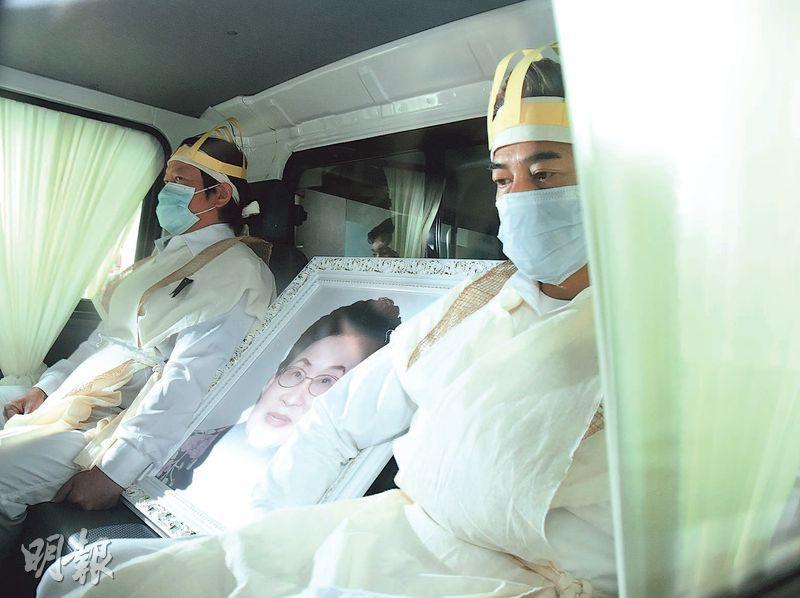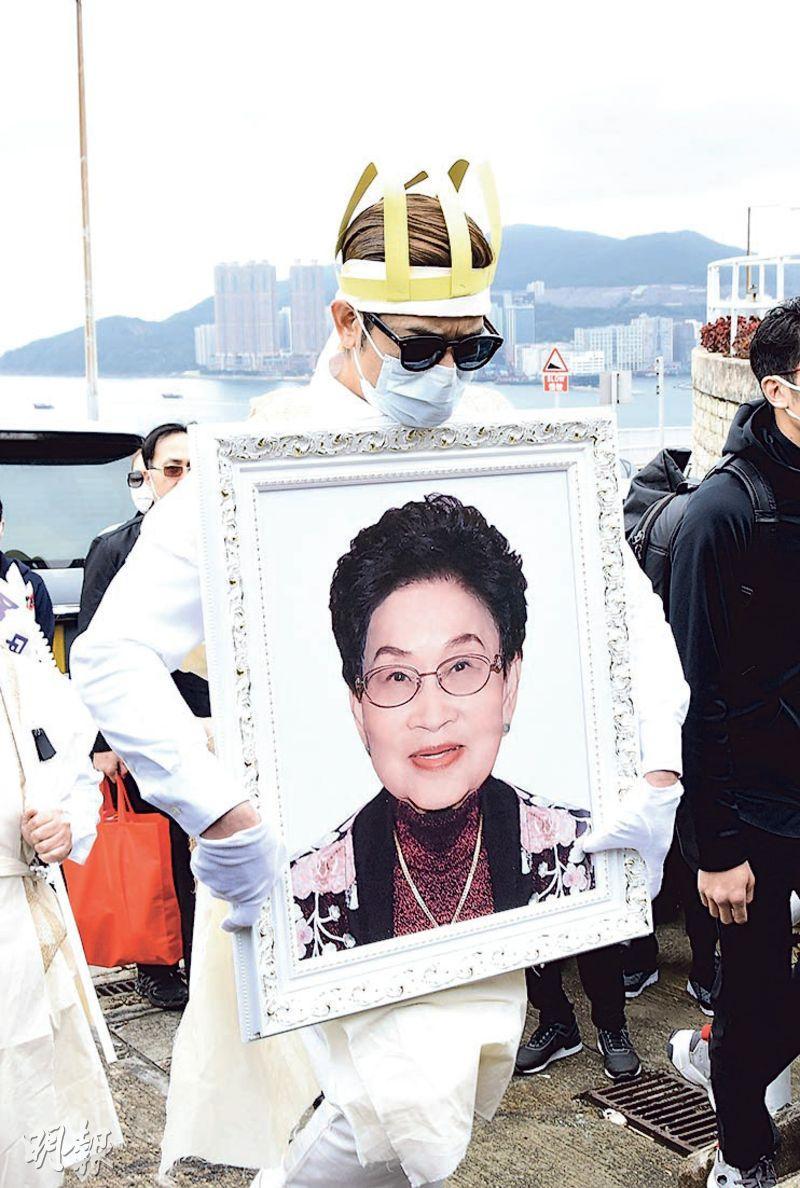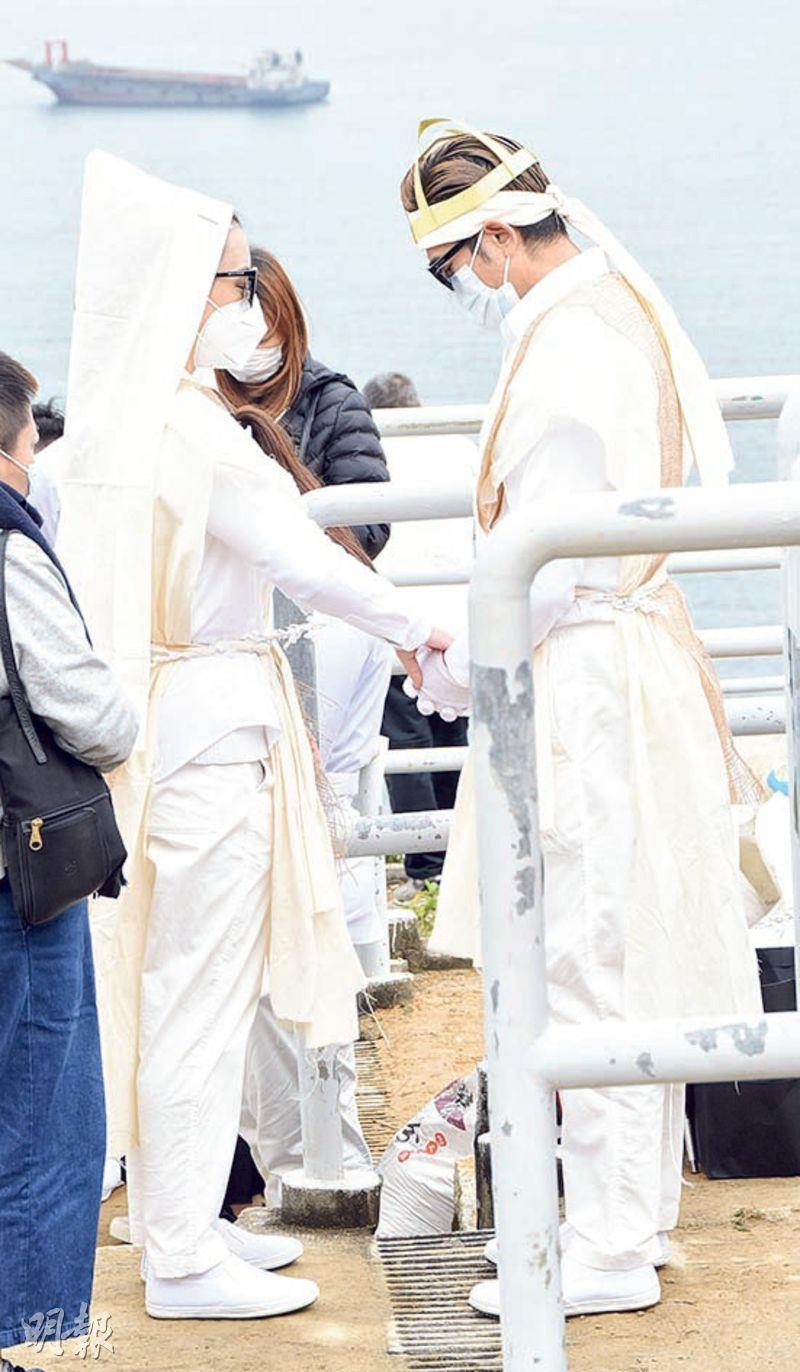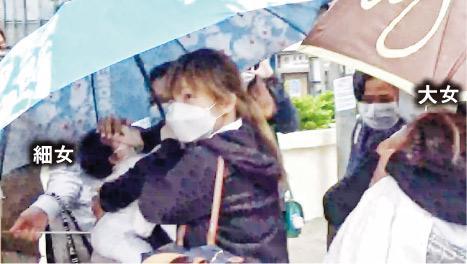 Caretakers continue to shield the children from the media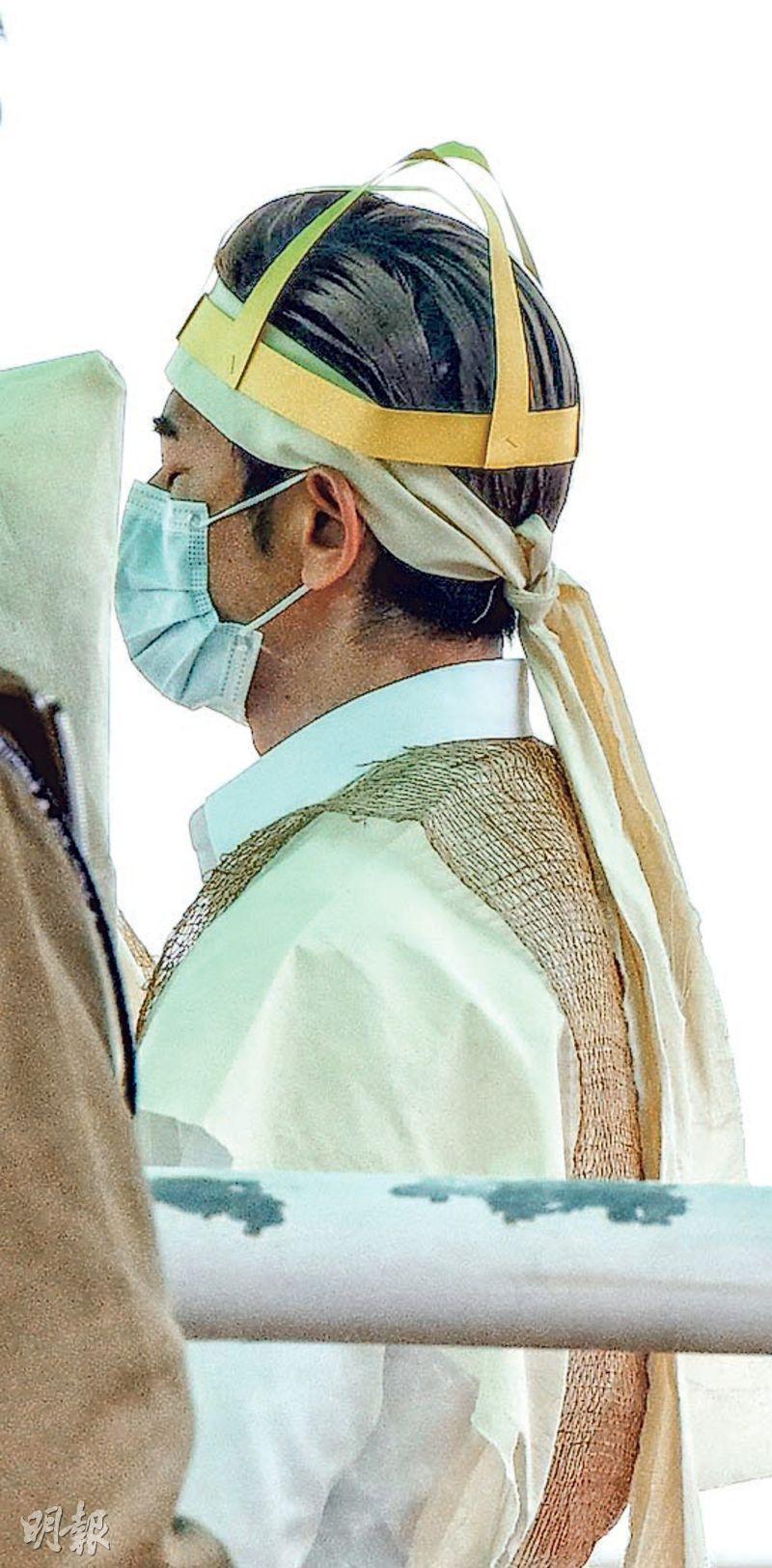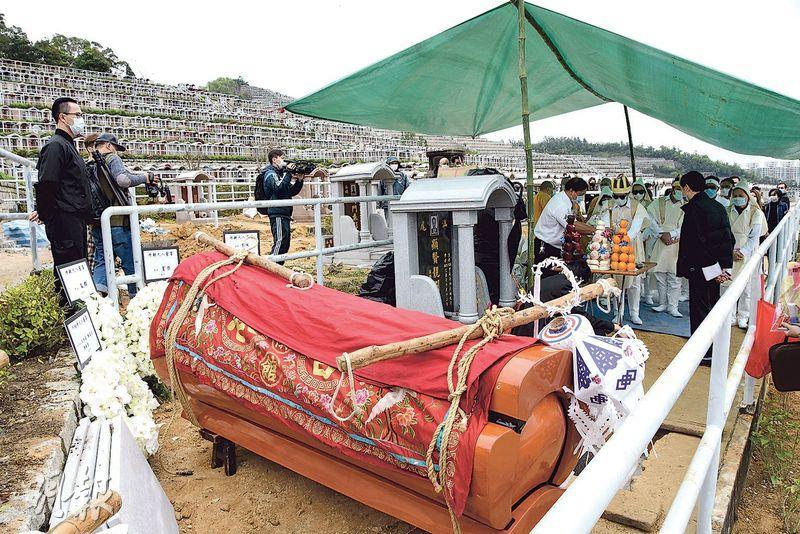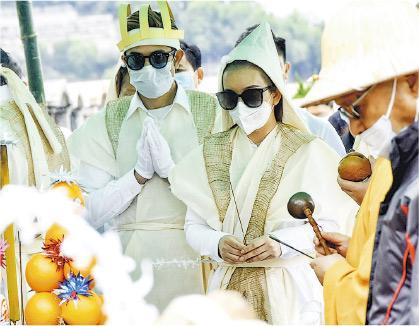 Aaron Kwok and his wife Moka Fang faithfully send his mother on her final journey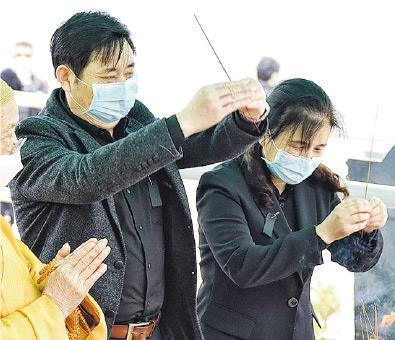 Moka Fang's parents pay their respect
courtesy of mingpao.com
courtesy of on.cc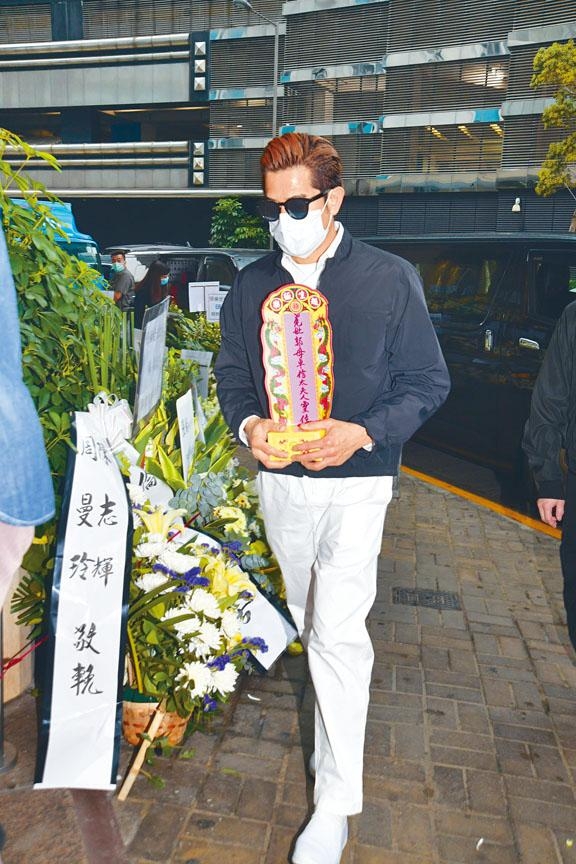 courtesy of singtao.com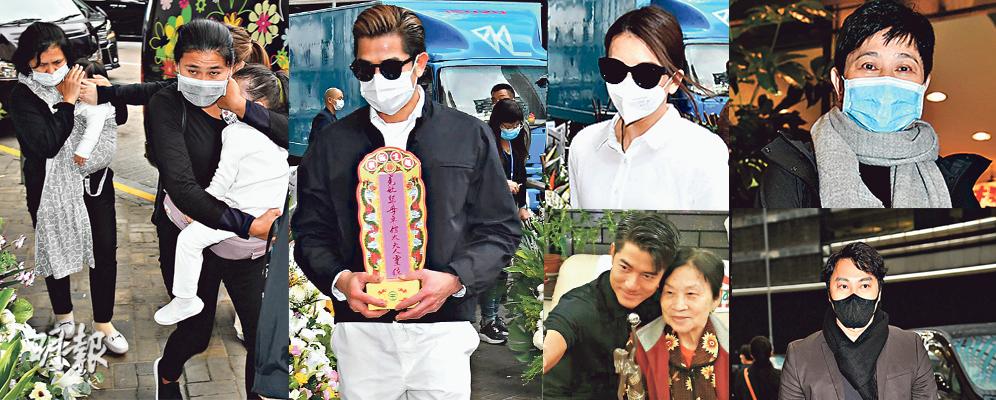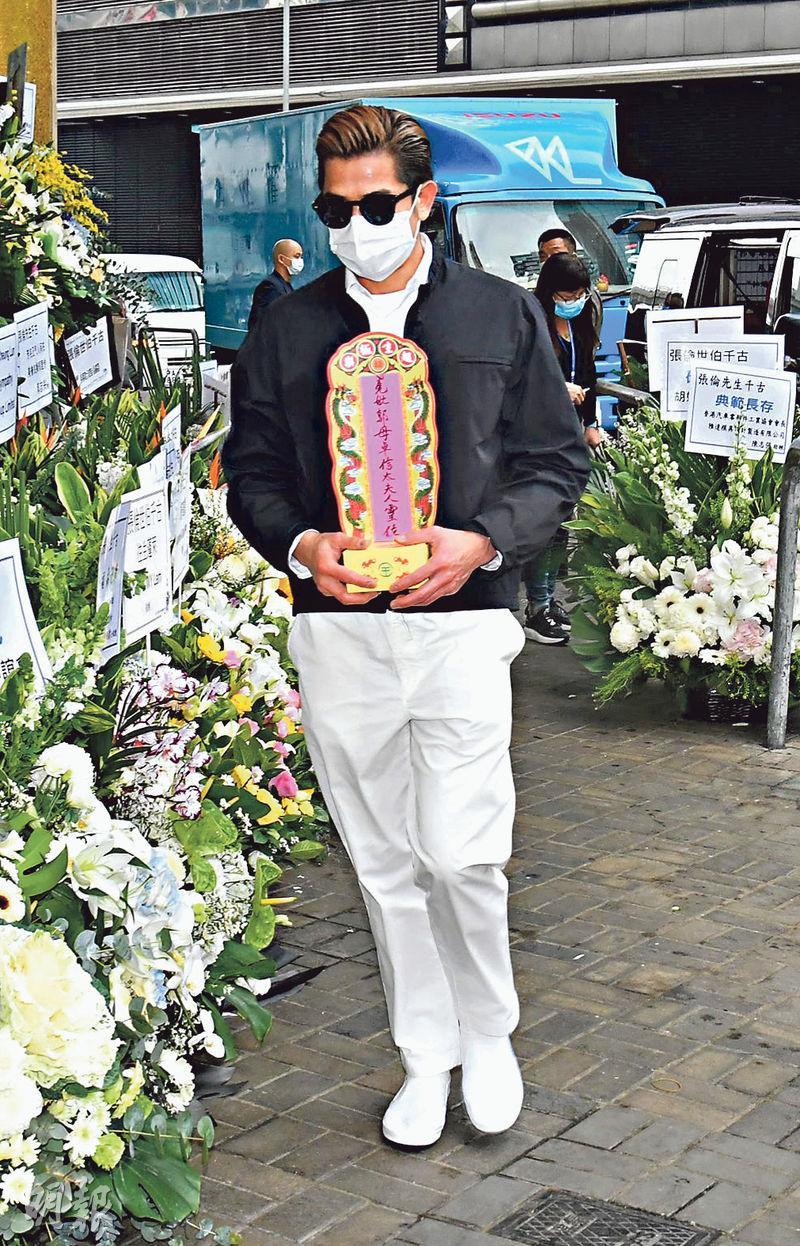 Aaron Kwok arrives with his mother's memorial tablet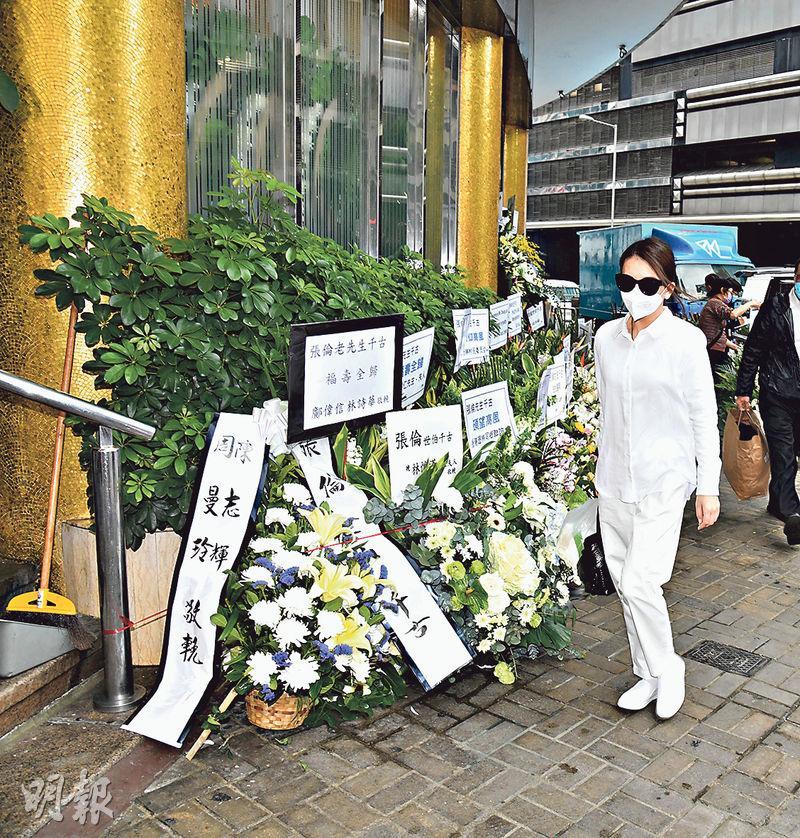 Aaron Kwok's wife Moka Fang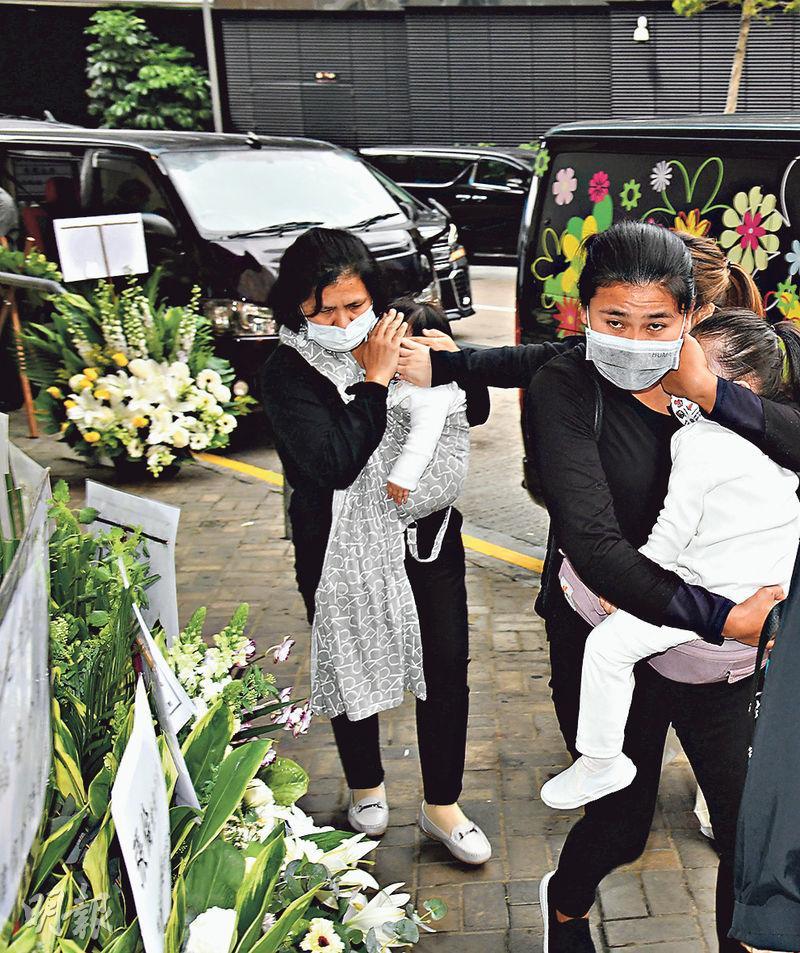 Alert caretakers shield Aaron Kwok's children from the media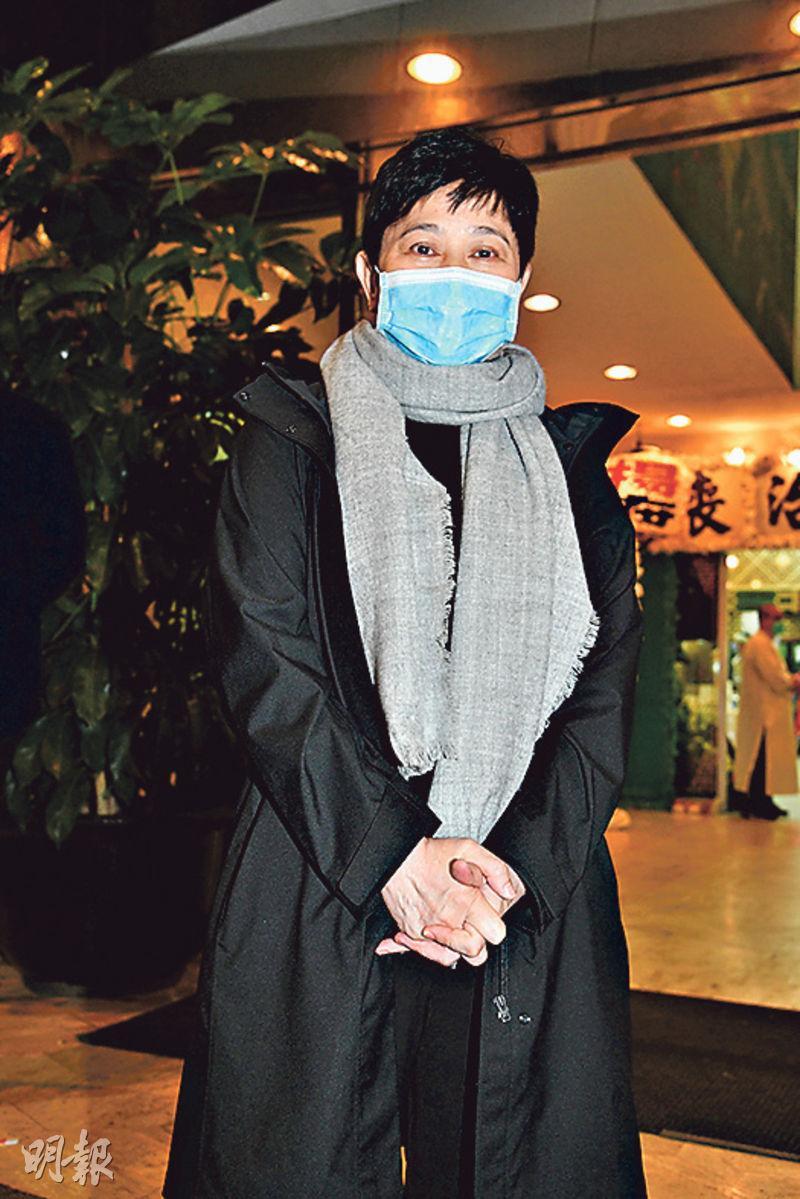 Aaron Kwok's manager Siu Mei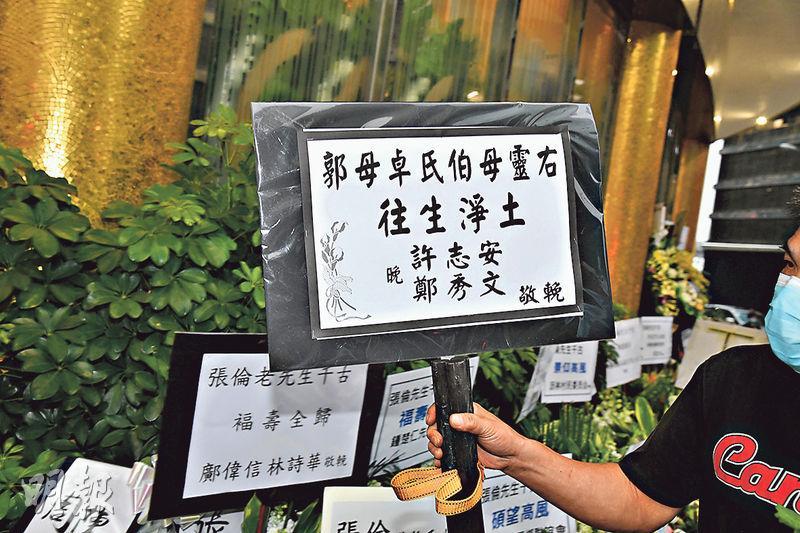 Floral arrangement from Andy Hui and Sammi Cheng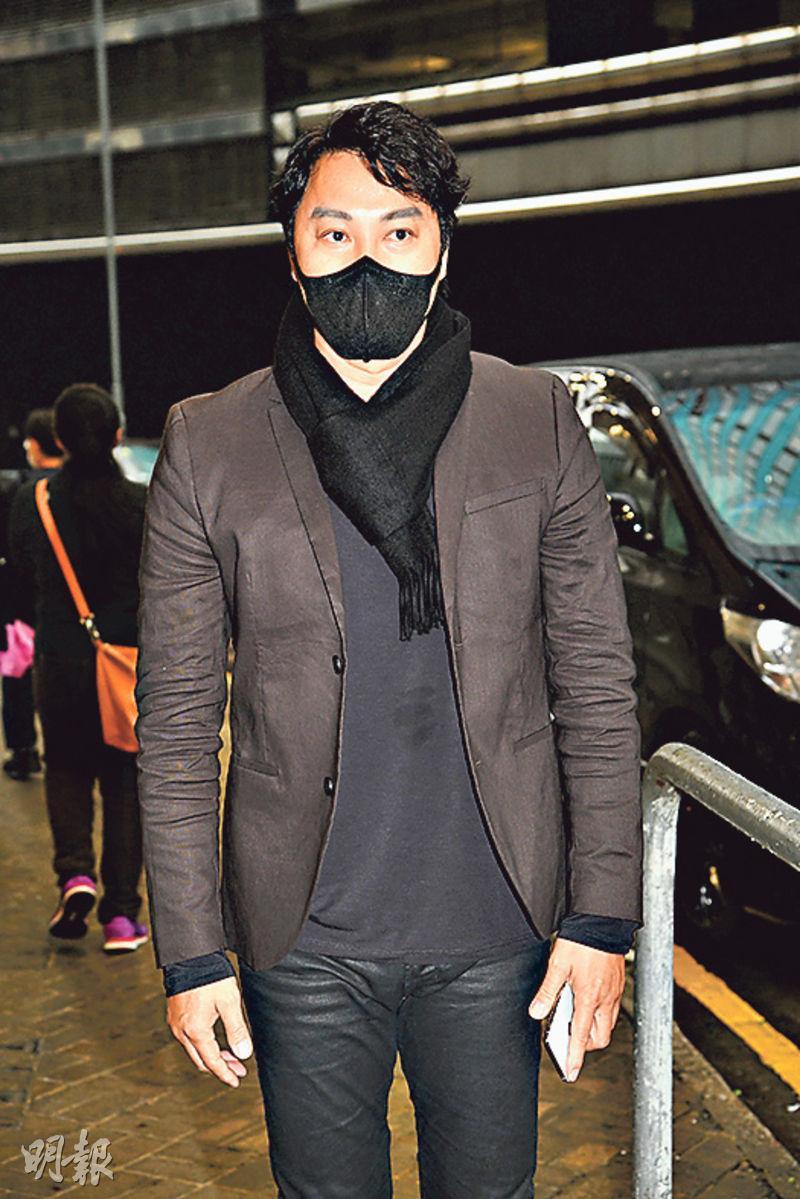 Patrick Tam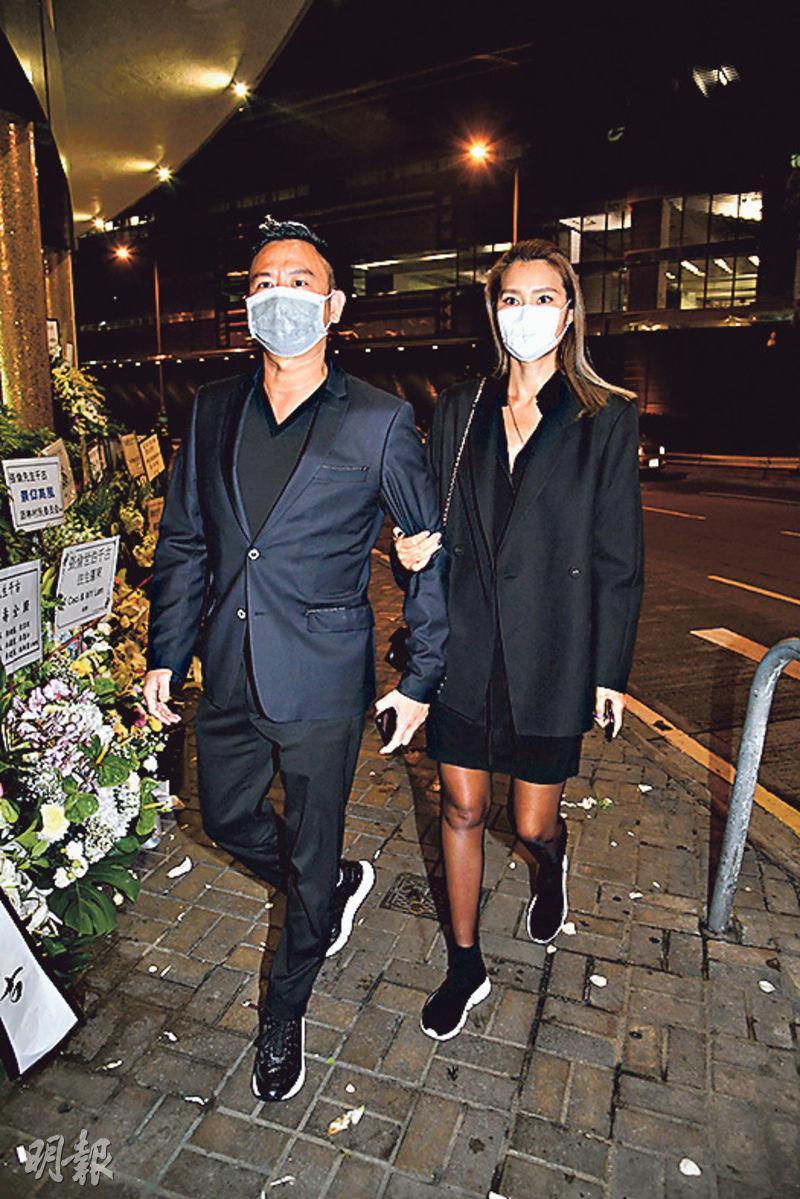 Choreographer Sunny Wong and his wife
courtesy of mingpao.com
Aaron Kwok Fu Sing's mother Cheuk Shun passed away at home on the 7th last month at age 90. Yesterday services began at the Hong Kong Funeral Parlor, with the funeral to take place around 10PM and the remains would be transported to the Junk Bay Chinese Permanent Cemetery for burial. Sing Sing, his wife and their daughter were on hand to bid farewell. Carrying his mother's memorial tablet Sing Sing appeared to be numb.
Around 3:30PM, Sing Sing, hs wife and their two daughters arrived at the funeral parlor. The family of four all wore white as they went to the first floor hall. Worker with long incense sticks led them to the elevator to the hall. Sing Sing's wife Moka Fang carried cakes. While waiting for the elevator she still graciously permitted the media to take photos. When their children arrived in the arms of caretakers, the caretakers covered the children's faces. Because the scene became a little chaotic, Moka Fang originally wanted to wait for the daughters to enter the elevator together. After the elder child entered with the caretaker though, the elevator door closed and the caretaker with the second child was left outside the elevator. Moka Fang finally personally came down to carry the second child, but she did not respond to any questions from the reporters.
On the ground level lobby next to the elevator was an elegant sign with fresh white flowers to indicate that Mother Kwok's hall was on the first floor. The funeral parlor windows were covered with white cloth. Sing Sing's manager Siu Mei arrived around 4:15PM. After stopping for press photos she rushed in. Around 5:30PM, Sing Sing's WHERE THE WIND BLOWS (FUNG JOI HEI SI)'s co-star Patrick Tam Yiu Man came to pay his respects. He said that he has met Mother Kwok a few times and thanked everyone for their thoughts. Around 7:45PM Sing Sing's official choreographer and friend Sunny Wong and his wife arrived.
Friends who sent floral arrangements included Mr. and Mrs. Leo Ku Kui Ke, Edmond So Chi Wai and Winnie Lau Siu Wai, Paco Wong, Remus Choy Yat Kit, Sandy Lam Shan Shan and brother Jerry Lam Hiu Fung, Dior Cheng Yi King and wife Yoyo Mung Ka Wai, Andy Hui Chi On and Sammi Cheng Sau Man, Gigi Leung Wing Kei, Charlie Yeung Choi Nei and others.
Sing Sing's manager Siu Mei last night around 8:10 PM met with the media outside the lobby. She appeared to be rather sad and revealed, "Sing Sing is OK right now, just a little tired from taking care of his mother's funeral. Many friends and family are paying their respects in the hall." Siu Mei said that the funeral would be Buddhist and the burial would take place today. She said that Sing Sing has been focused on handling Mother's funeral. He would not come down for any interview because he wanted to quietly conduct the services for Mother and sent her on her final journey. As for the decoration, Siu Mei said that it was mainly white because Mother Kwok liked simple and elegant. Sing Sing also felt that this time would be considered a happy funeral, the children have been all very filial and she had grandchildren. Thus the funeral was like carrying a heart of memories and respect for Mother Kwok. It was perfect.
A burial has been arranged for Mother Kwok, would she be buried next to her late husband? Siu Mei did not ask in detail but as far as she knew that would not be the case. Some said that when Mother Kwok passed, Sing Sing was in the middle of his U.S. concert tour. On the morning of the second show he received the news of his mother's passing. With less than 24 hours to his performance he was unable to rush back to Hong Kong to see her one last time. Siu Mei said that at the time she asked Sing Sing if he needed to cancel, but Sing Sing after some silence accepted the fact of his mother's passing and professionally completed the show. Because it was during the Lunar New Year, some Gung Hei Fat Choi segments were canceled. The audience might not understand what happened but respected Sing Sing's prudent and solemn performance. Then the team packed up and rushed back to Hong Kong. Siu Mei said, "It truly wasn't easy for Sing Sing to be able to perform like this. The entire team respected him because Sing Sing has said actually Mommy wanted him to be very professional and be proud of him. Now he has done it." Did Sing Sing cry when he received the news? Siu Mei said, "He didn't in front of me, his eyes were all red though." Was Sing Sing worried that his wife would not be able to handle the affairs? She said that he was not because Sing Sing's sister and brother in law were also in Hong Kong. Has work been affected? Siu Mei said that due to the outbreak, the tour has been suspended for now. His new film has not yet started production. Both she and Sing Sing truly hoped that the outbreak will pass soon.