courtesy of on.cc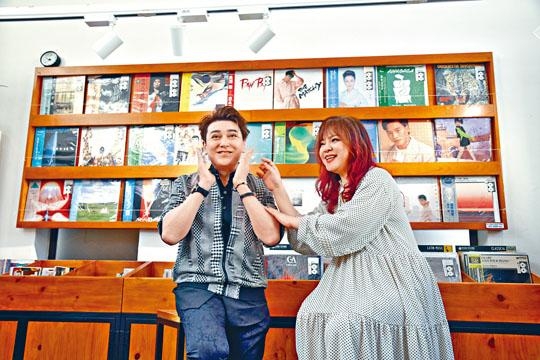 courtesy of singtao.com
courtesy of mingpao.com
April 1st would be the 17th anniversary of Leslie Cheung Kwok Wing (Gor Gor)'s passing. This year due to the severity of the novel coronavirus outbreak, public memorial events were canceled. However "Gor fans" and friends still would remember him in different formats. Rowena Cortes (Lo Wan Na) had many opportunities to work wiht Gor Gor in the past. She spoke with Gor Gor's super fan and Cheung Kwok Wing impersonation contestant Simon Au Shun Hei about how much they missed Gor Gor.
Au Shun Hei was envious of Lo Wan Na for having worked with Gor Gor. Lo Wan Na revealed that she and Gor Gor spent a lot of time together on the set and even revealed that Gor Gor really liked preserved eggs. Each time when they had meal boxes, Gor Gor would stare at the half preserved egg in her box and she would automatically hand it over.
Because Gor Gor often put his arm around her, the crew mistook that they were dating. Lo Wan Na said, "Leslie really like to have heart to heart talks with female friends. I started at the same time as he did and we often worked together, so we were confidants. Later I even turned into his 'tile friend', after work we would go to his home to play mahjong. Despite seeing each other from morning to night, we would not be tired. He really knew how to care about friends. When we saw working overnight on the set, he would tell jokes to cheer everyone up. With him it was never boring."
Gor Gor as a judge described Au Shun Hei as a mix of himself and Louie Castro (Ga Si Lok) at the impersonation contest. Lo Wan Na felt that Au Shun Hei's personality was like Gor Gor, as both were very vain, warm and really took care of friends. What would they like to say to Gor Gor the most? Au Shun Hei said that Gor Gor would forever be his idol, no one would be able to replace him. Lo Wan Na said that she really missed Gor Gor and even blew a kiss to Heaven for Gor Gor.