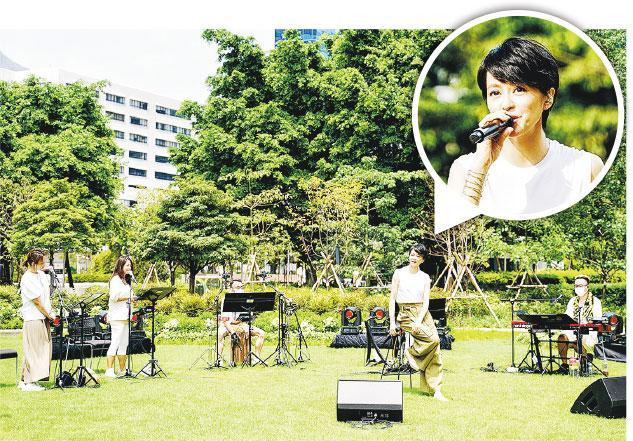 courtesy of mingpao.com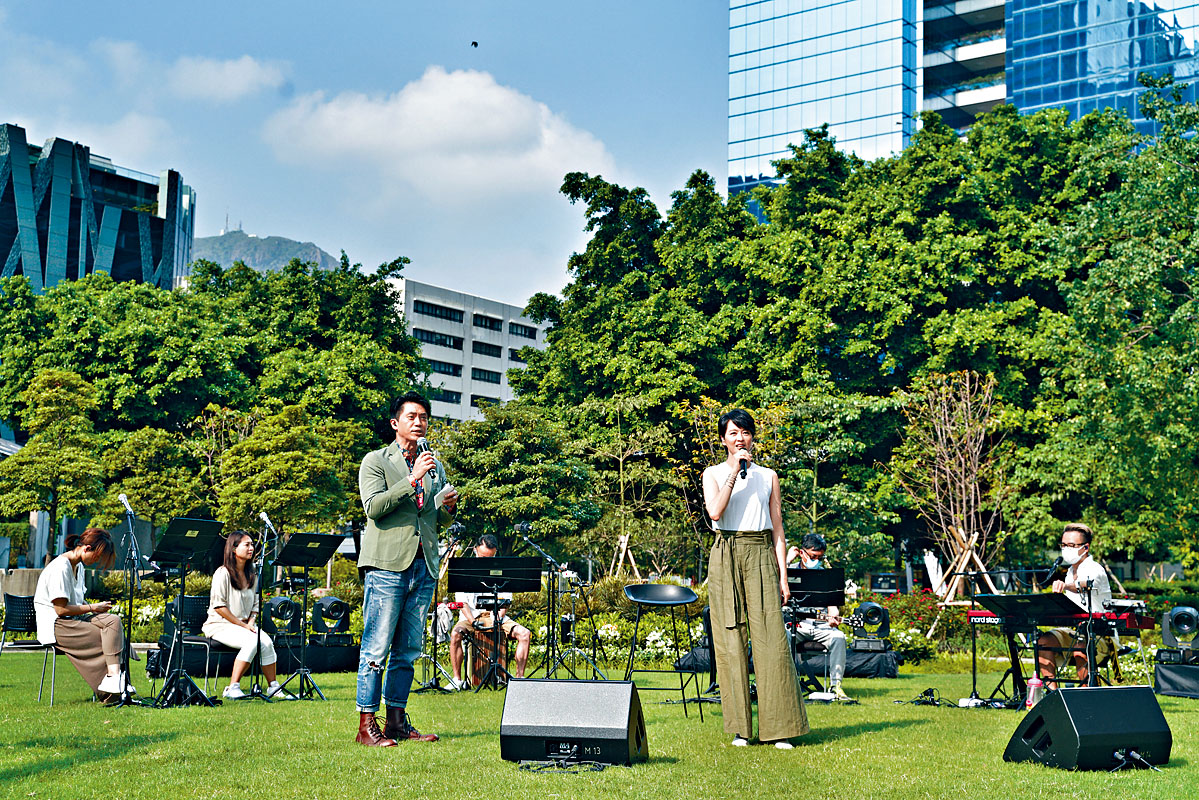 Gigi Leung invites Sammy to be the master of ceremony for her concert
courtesy of singtao.com
Gigi Leung Wing Kei's online concert to raise fund for construction workers was aired at 5PM yesterday. To coordinate with the zero carbon theme, all of the workers brought their own water bottle to reduce plastic waste. The concert also took place under an unplug format as it hoped through music to bring attention to construction workers. Leung Wing Kei was the first female singer to perform a charity concert online to cheer for the people of Hong Kong. Gigi also wore white to match the theme and green to match the lawn. She performed 11 songs. When she started, she performed CERTAIN YEAR MID SUMMER with 4 harmony singers.
Gigi said that as the pandemic continued many people's livelihoods have been impacted, especially construction workers under the blazing sun still had to work outdoors and dining was no easy. She hoped through the concert to cheer on everyone and provide some practical assistance. Speaking of women among the workers, Gigi chose to sing G FOR GIRL for them. She also mentioned that she could not doing anything about having to stay at home to fight the pandemic, as she only hoped to reduce the pressure on healthcare personnel. "Staying at home is good too. Before I was busy with work and spent less time at home. Now I can have more time to spend with my family, feeling like I am making up for lost time." Then she ended the almost one hour show with FOR THE HAPPIEST PEOPLE, FIREWORK and TODAY.
Before this concert, Gigi was rather nervous. She said, "Although the time to prepare was very limited, everyone in front of and behind the scenes were very united. In order to prevent the pandemic and protect the participants we first maintained social distance and switched to a taping. Several days before the agreed upon date, a number 9 tropical cyclone warning appeared. We were very grateful though that on the day of the shoot the weather was beautiful. Heaven probably knew that we were doing something very positive and very meaningful, so it gave us very nice weather."
In order to finish this concert within the time limit, Gigi asked her former concert production team to prepare for this concert. Gigi sentimentally said, "The music and the production teams really cherished this chance to work. Under the pandemic the music industry actually has been drastically impacted. Many performances were cancelled. So seeing everyone today, we lamented but we were also very touched. Everyone really cherished this moment to get together."
Gigi said, "For every home we live in, the streets, the gutters, workers built for us with a lot of difficulties and under the blazing sun. Under the pandemic, when they have needs we must lend a helping hand. In particular I learned from the news that during the pandemic they still needed to work outdoors, some even caught the novel coronavirus and life became difficult. I hope through this concert to bring attention to the workers, cheer them on and even provide practical assistance."