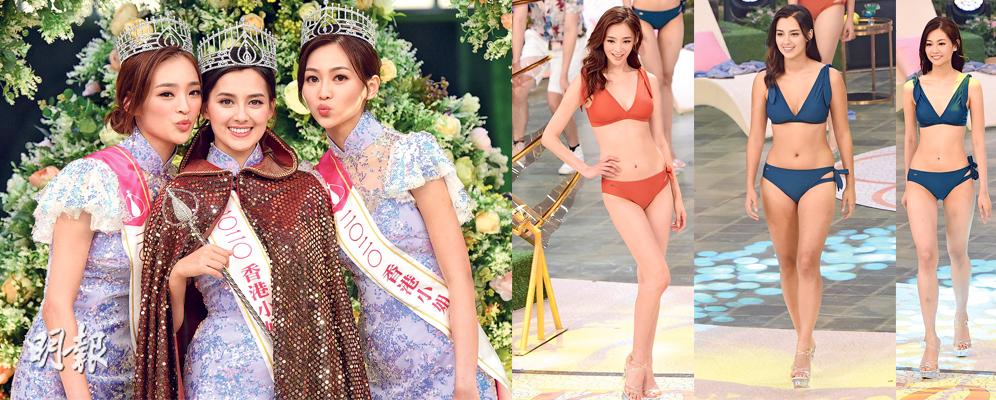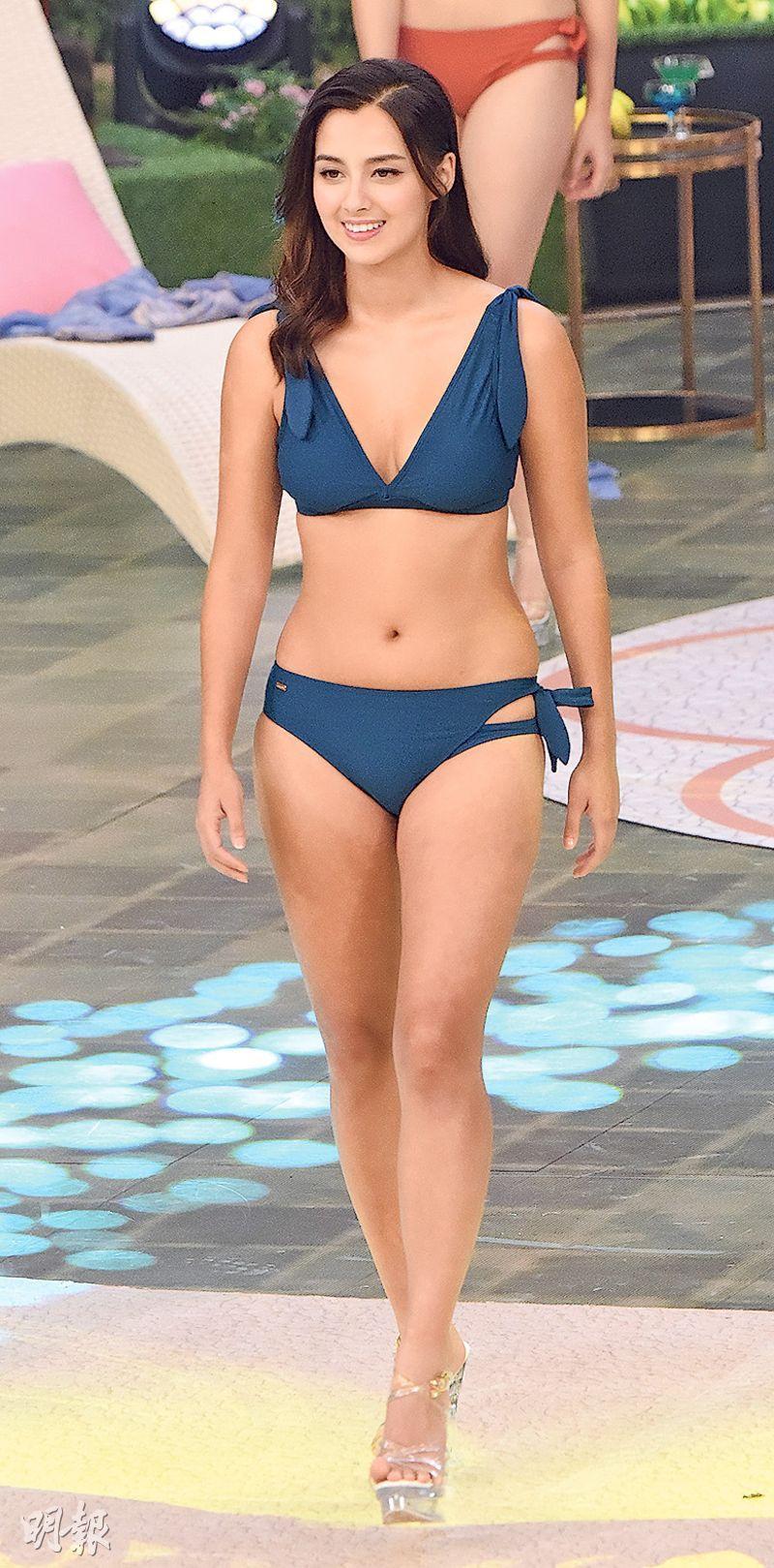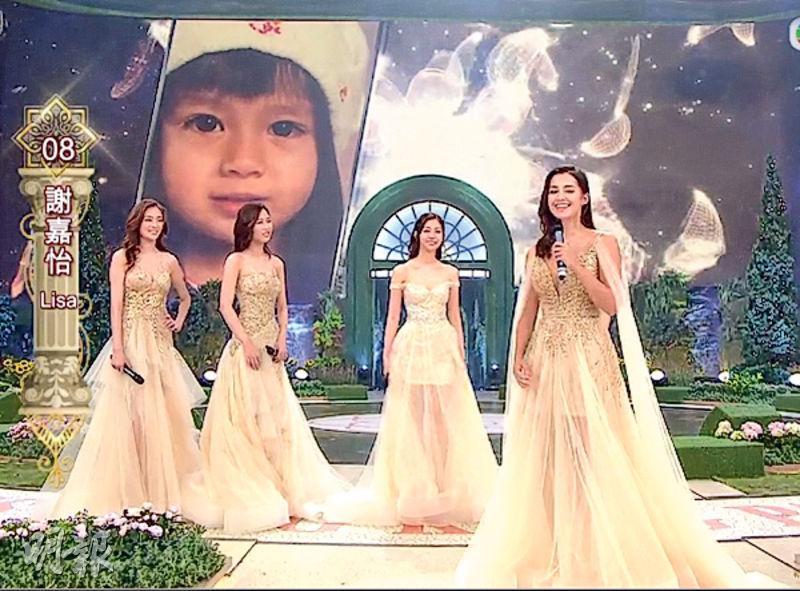 Lisa Tse is already cute in her childhood photo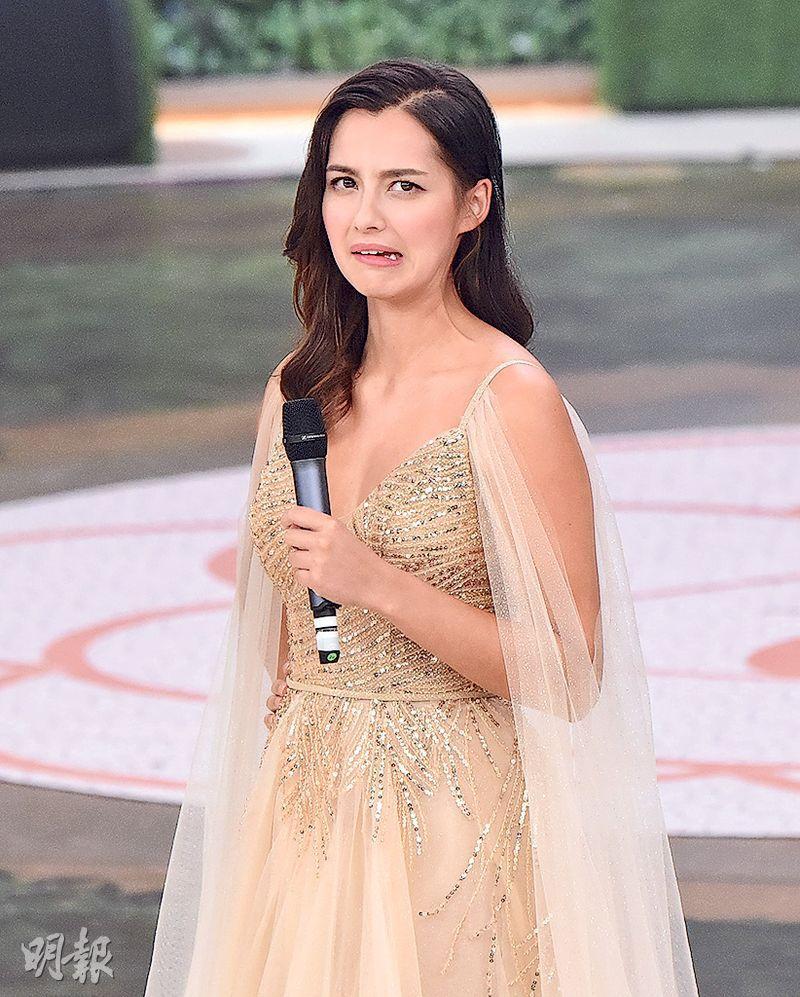 Lisa Tse makes odd expressions at the camera and shows her real personality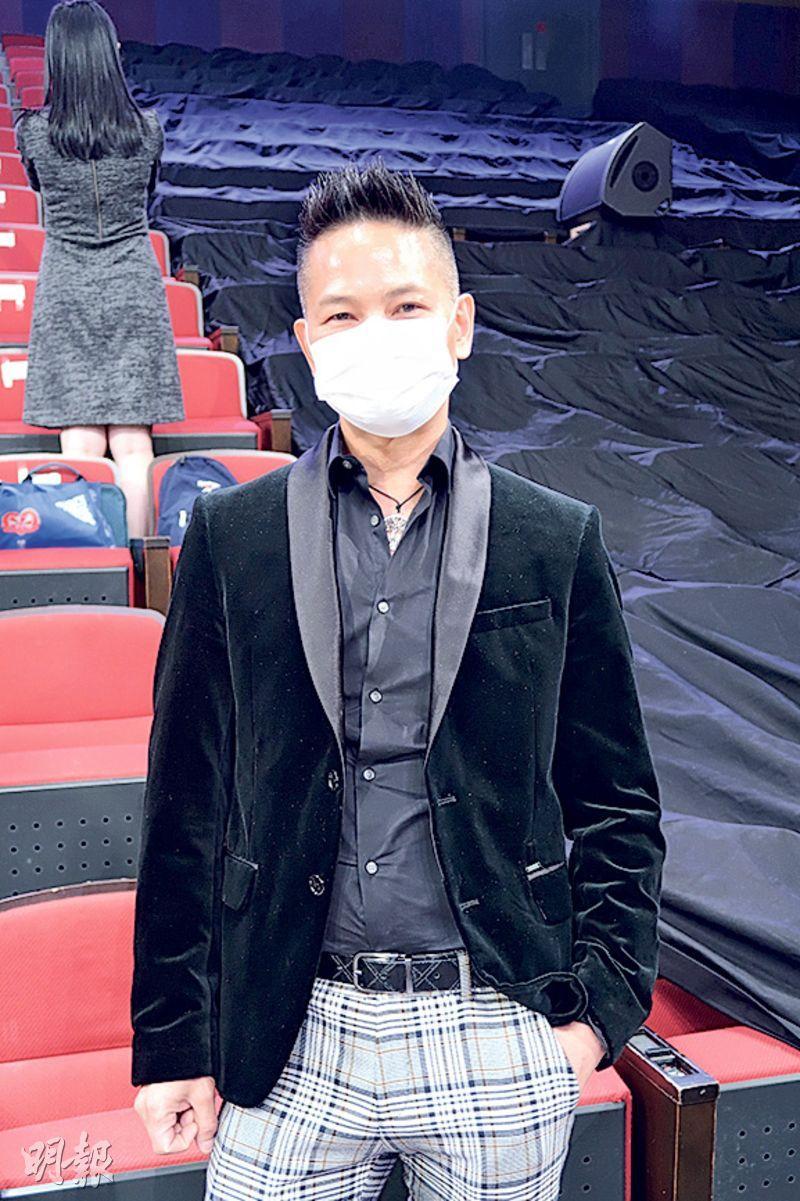 Lisa Tse says that when she was just learning to walk her father was already encouraging her to compete in the Miss Hong Kong pageant. He is cheering for her backstage during the event.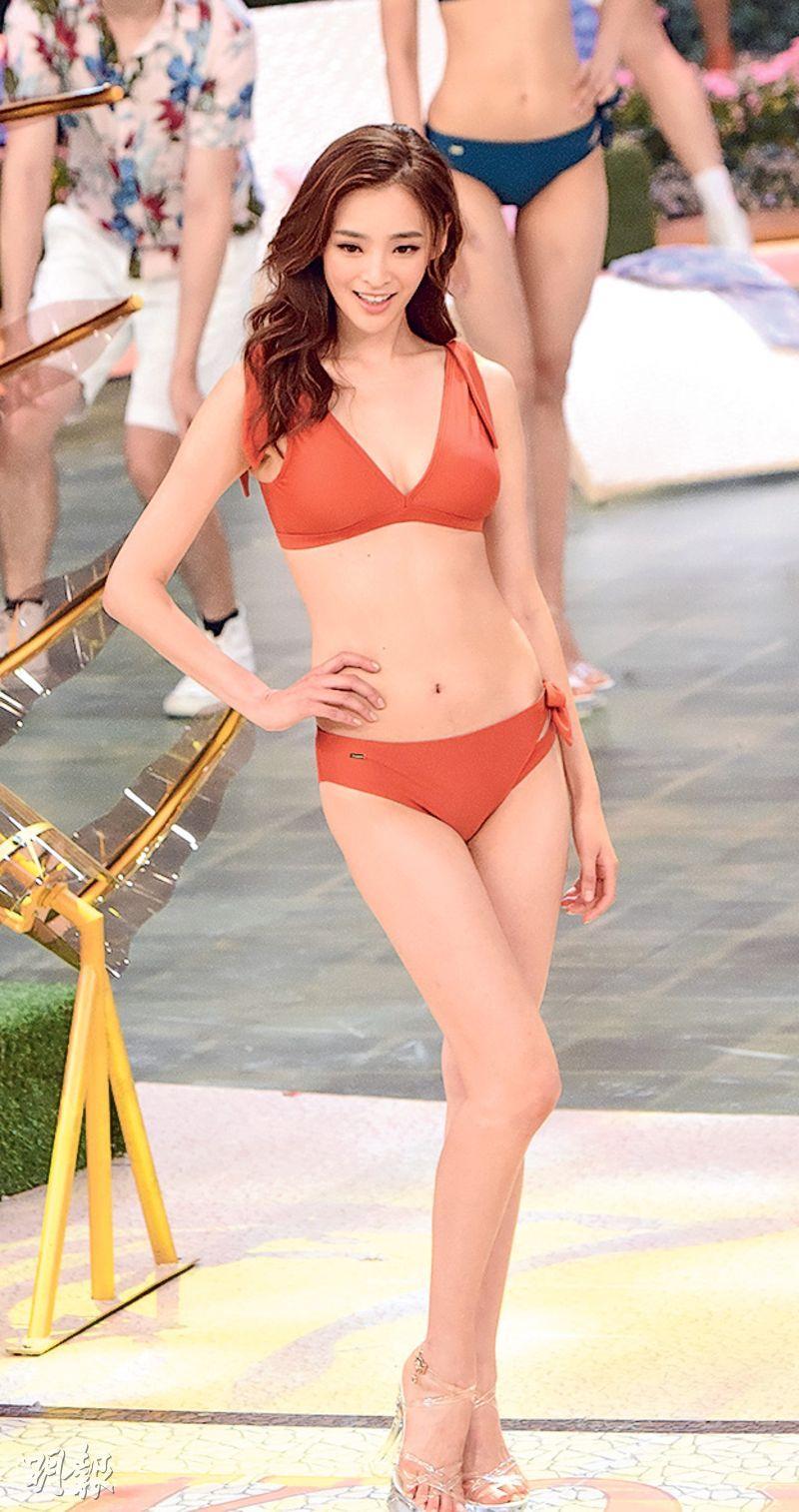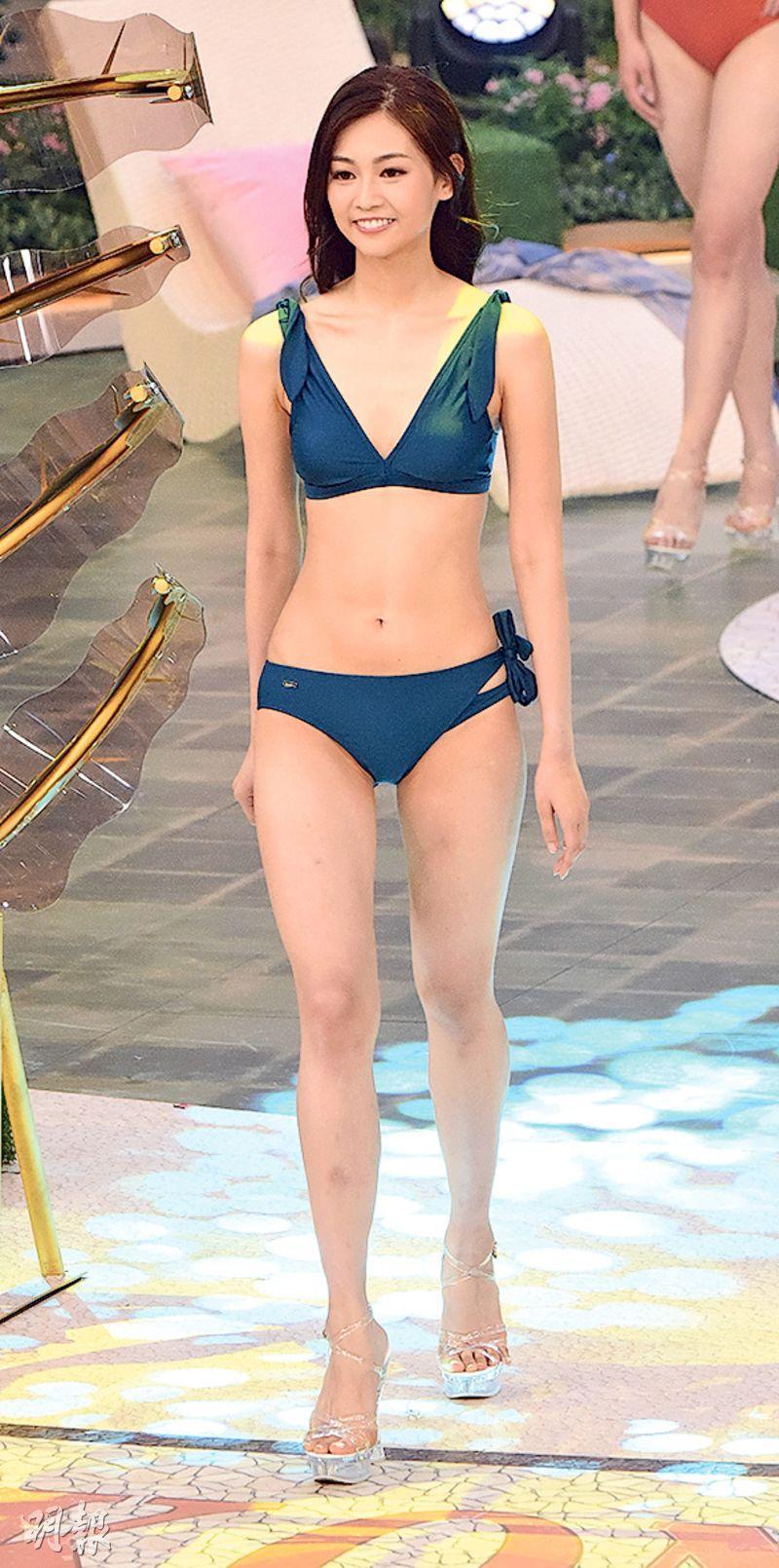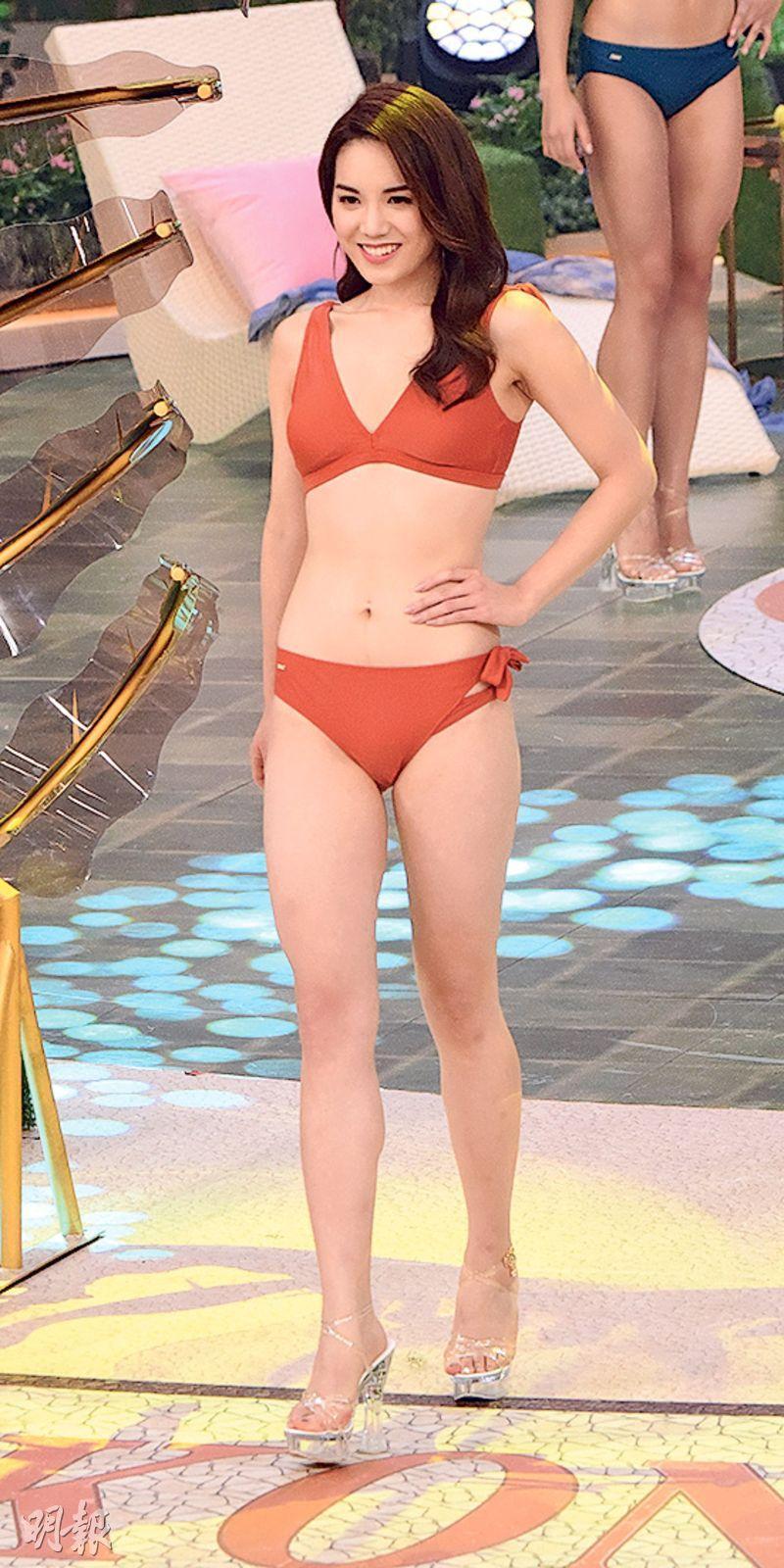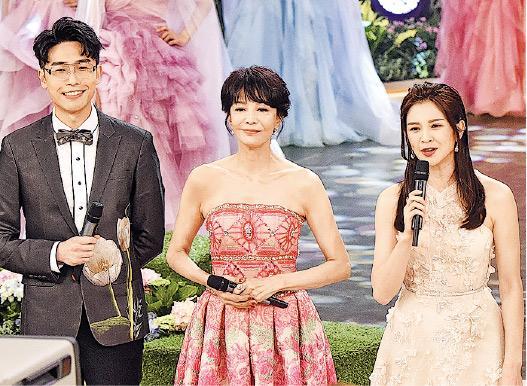 Carol Cheng (center) leads Lok Ho Ming (left), Mayanne Mak (right) and Patrick Lam as hosts. During the final five question and answer segment, 5 Maisie Kwong raises her hand first but Carol Cheng calls on Jessica Liu who is not in the final five. After Lok Ho Ming makes the correction Carol Cheng claims that she is trying to call on Bernice Liu due to Maisie Kwong's resemblance to her. Maisie Kwong does not answer the question correctly.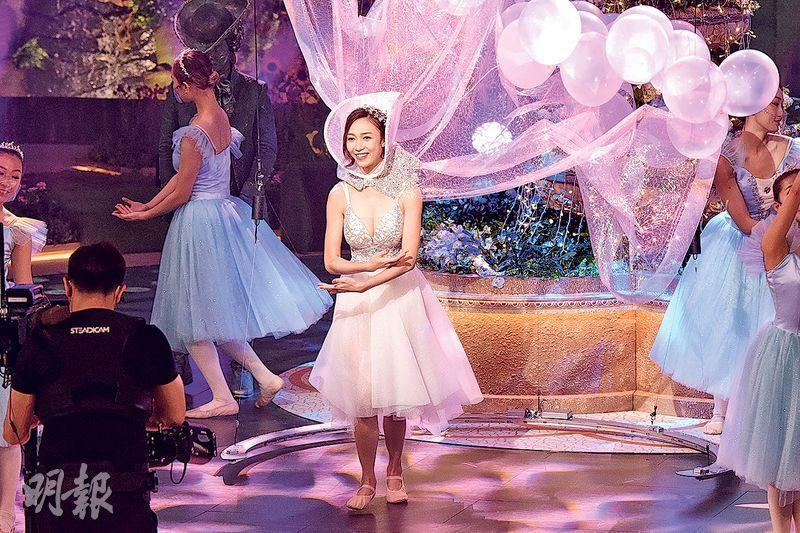 Last year's Miss Hong Kong Carmaney Wong opens the show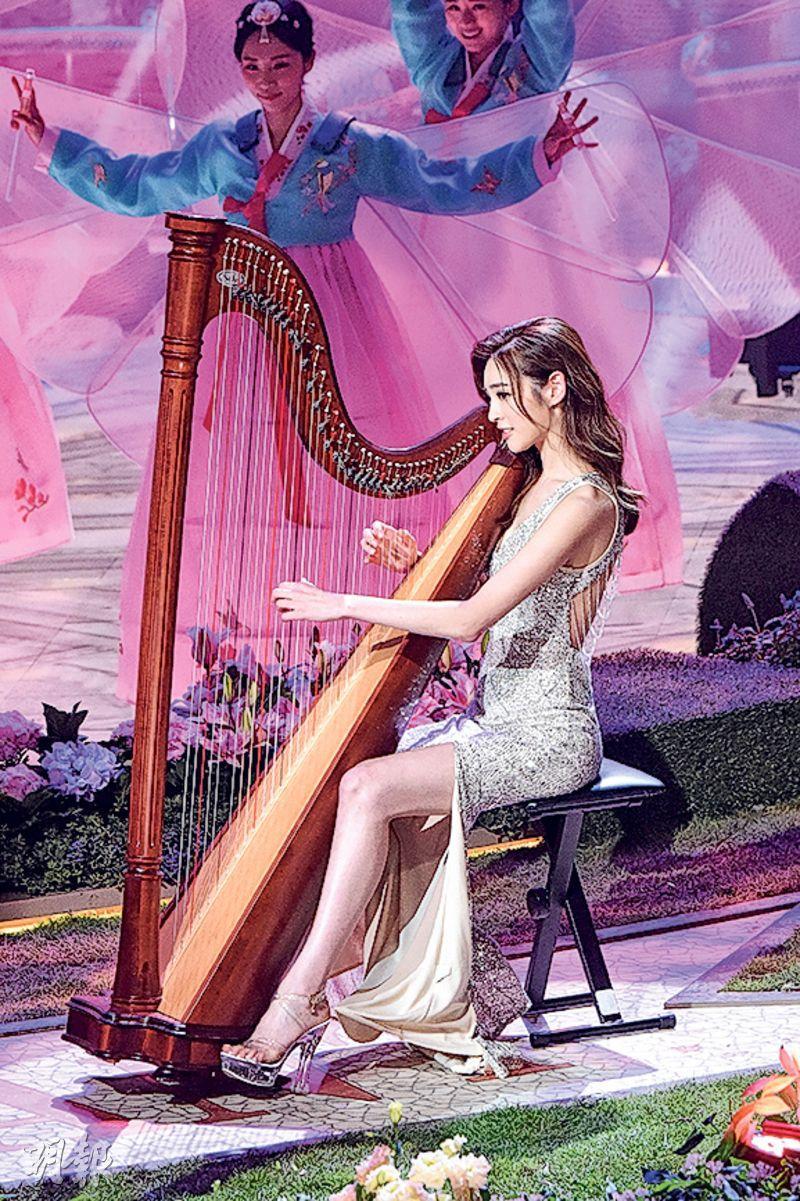 Celina Harto calmly plays the harp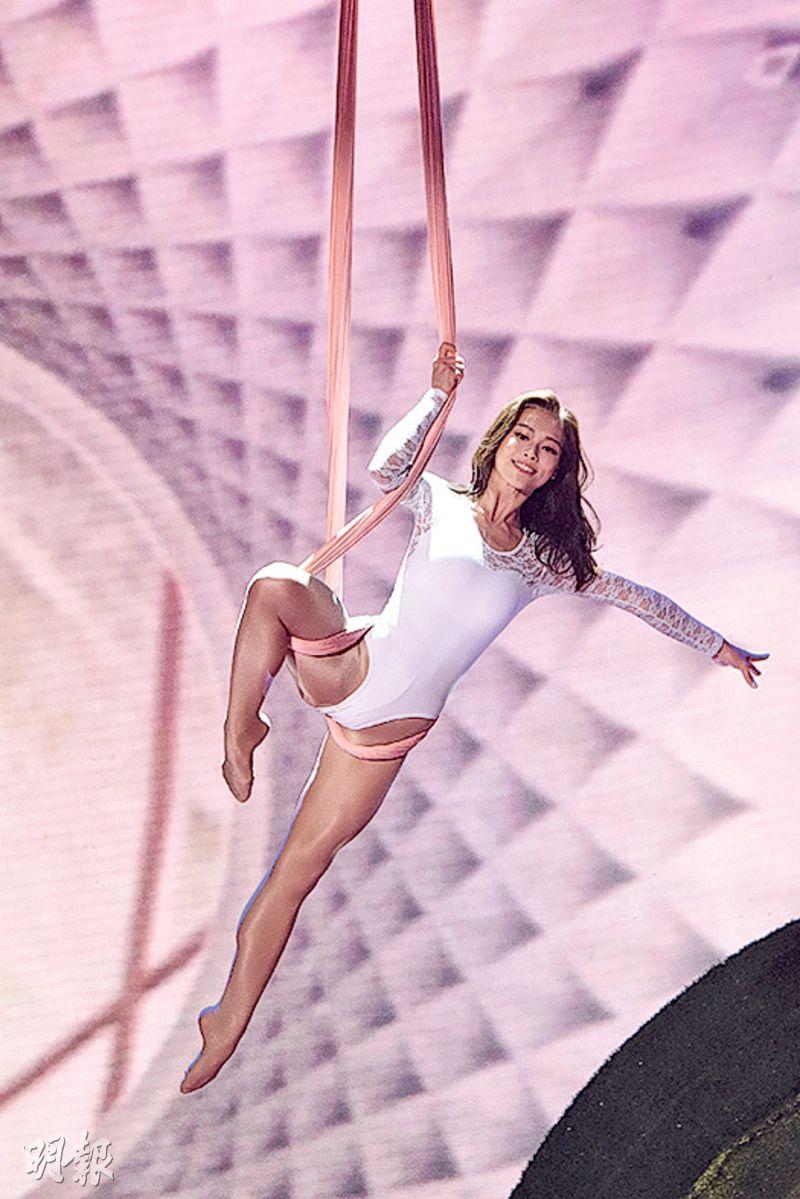 Jessica Liu performs aerial yoga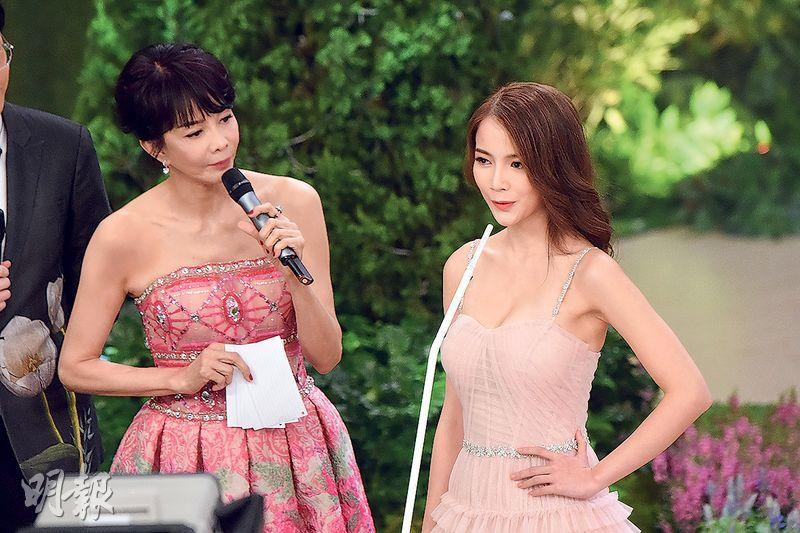 Carol Cheng asks Amber Chan 3 simple general questions but she is so nervous that she gets them all wrong.
Miss Hong Kong Lisa Tse
First Runner Up Celina Harto
Second Runner Up Rosita Kwok
The gossip riddled Jessica Liu disappoints many as she does not make the final five
Maisie Kwong is unable to break the "Miss Friendship" curse
Owen Cheung asks Rosanna Tse if she can choose to work with him or Leonardo DiCaprio, who would she choose? She kisses up to him and picks him because she likes to watch his series.
Telford Wong almost steps on Amber Chan's dress during their dance
courtesy of on.cc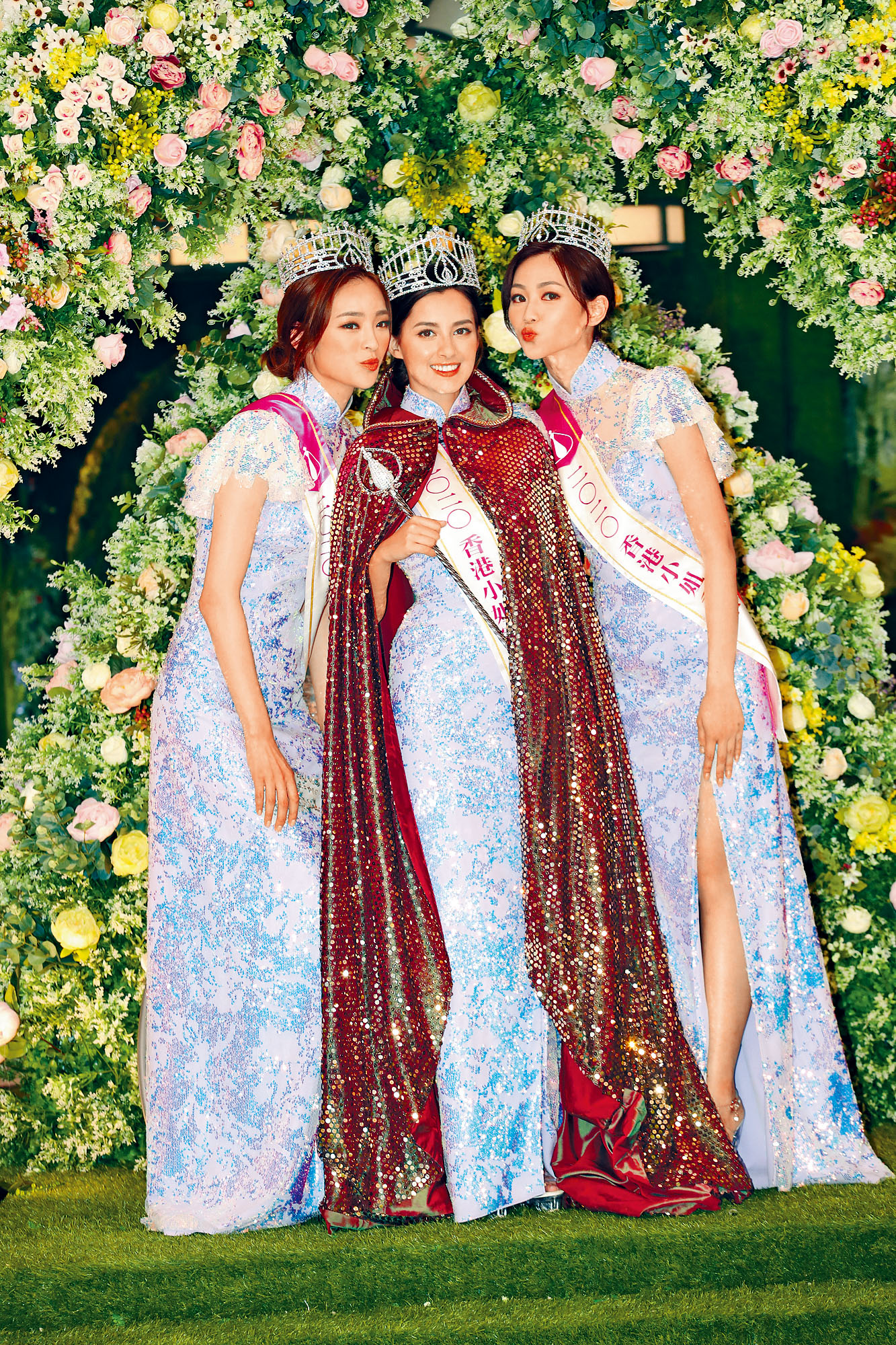 courtesy of singtao.com
The 2020 Miss Hong Kong pageant held its finals last night at Television City in Tseung Kwan O. After a round of competition with the top ten candidates, the 25 year old candidate 8 Lisa Tse Ka Yee became the two title champion. She won the crown as well as Miss Photogenic. Her performance for the evening was fully entertaining, beyond cute and won over the hearts of everyone. The first and second runners up were favorite candidate 2 Celina Harto (Chan Ching Yi) and 4 Rosita Kwok Pak Yin, Miss Friendship was 5 Maisie Kwong Mei Suen. The overall results were logical.
Overseas candidate Lisa Tse returned from Scotland for the pageant. She hoped to enter show business through the event, brought everyone positive energy and become someone influential in society. The tattoo candidate 6 "wild flight attendant" Jessica Liu did not make the top five.
Masters of ceremony were Carol Cheng Yui Ling, Mayanne Mak Mei Yan, Lok Ho Ming and Patrick Lam Po Loy. Miss Photogenic judges were Pakho Chau, Nancy Wu Ting Yan, Eliza Sam Lai Heung, Lok Yeuk Yi and Louisa Mak Ming Sze; star judges were JW, Hana Kuk Chi Kiu, Shiga Lin, Joey Thye, Owen Cheung Chun Long, Tony Hung Wing Sing, Hubert Wu Hung Kwan, Sisley Choi Si Bui, Crystal Fung Ying Ying, Hera Chan Hiu Wa, Sammi Cheung Sau Man, Moon Lau Pui Yuet, Regina Ho Yee Ting, Bowie Cheung Bo Yi, Matthew Ho Kwong Pui, Dickson Yu Tak Shing, Joey Law Tin Yu, Mark Ma Kwun Tung, Telford Wong Ting Fung, Chow Ka Lok, Ricco Ng Wai Ho and others.
This year's judging standard for the top five included votes from star judges, Miss Hong Kong judging committee and Big Big Fun, then viewers vote for the top three on Big Fun Fun. Due to the novel coronavirus, this year no jewelry company sponsored the Miss Hong Kong pageant. The crown thus had no sponsor as TVB provided it.
The program opened with former Miss Hong Kong candidates Lau Pui Yuet, Choi Si Bui, Mak Ming Sze, Fung Ying Ying, Chan Hiu Wa and Ho Yee Ting. Last year's Miss Hong Kong Carmaney Wong Ka Man gave the opening performance. Then ten candidates including 1 Amber Chan, 2 Celina Harto, 3 Roxanne Ho, 4 Rosita Kwok, 5 Maisie Kwong, 6 Jessica Liu, 7 Ceci Mak, 8 Lisa Tse, 9 Rosanna Tse and 10 Yancy Wong appeared in evening gowns in the company of Wong Ting Fung, Ng Wai Ho and others and introduced themselves.
The talent portion of the program included water sleeve dance, belly dance, and harp performance, more outstanding was 6 Jessica Liu's aerial yoga, 9 Rosanna Tse played the guzheng, 8 Lisa Tse performed THE BUND theme song. The candidates then changed costumes and danced with 40 dancers.
Guest performer Pakho Chau sang as 10 candidates appeared in wedding gowns. Then he presented the earlier candidate chosen Miss Friendship to 5 Maisie Kwong and revealed Miss Photogenic to be 8 Lisa Tse.
Ten candidates changed in swimsuits for the question and answer portion. The event also showed the candidates' document photos, most had no eyebrows. This year's swimsuit style had no surprise at all. Successfully losing 20 pounds, 5 Maisie Kwong's confidence grew and grew. Candidates then switched to another swimsuit for the top five announcement. Candidates in the top 5 were 2 Celina Harto, 3 Roxanne Ho, 4 Rosita Kwok, and 8 Lisa Tse. Liza Wang Ming Chuen's pre-race pick 6 Jessica Liu went home empty handed as her boyfriend predicted.
The final five candidates wore evening gowns for the question and answer segment and share their experience. 3 Roxanne Ho and 4 Rosita Kwok even broke down during their speech. 8 Lisa Tse humorously said, "Papa from being I could walk already told me to take part in Miss Hong Kong." When Miss Hong Kong was announced, the camera went to Sisley Choi Si Bui in the audience. She rose 8 fingers and indeed she made the right choice. Lisa Ts who brought everyone a lot of joy all night was announced the winner and cheers erupted. Last year's Miss Hong Kong Carmaney Wong presented the crown to her.
MISS HONG KONG PAGEANT 2020
MISS HONG KONG:
Lisa Tse
FIRST RUNNER UP:
Celina Harto
SECOND RUNNER UP:
Rosita Kwok
MISS PHOTOGENIC:
Lisa Tse
MISS FRIENDSHIP:
Maisie Kwong