Earlier Kathy Yuen and Benn Lau held a celebration banquet
courtesy of on.cc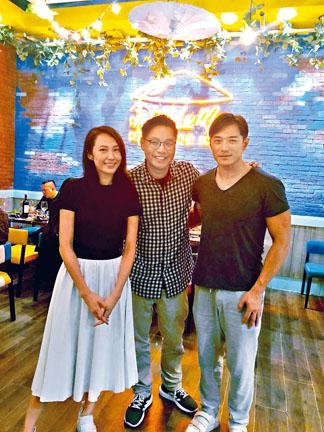 Restaurant owner Stephen Huynh welcomes Kathy Yuen and Benny Lau personally
courtesy of singtao.com
WHEN SUN MEETS MOON (MAU YUT MAU YUET) recently became a rare Hong Kong film that broke out among Hollywood blockbusters. To thank the audience, stepping into its second week the audience appreciation event marathon would continue. Aside from director Benny Lau Wai Heng and lead actress Kathy Yuen (Tong Yi), Lawrence Cheng Tan Shui and Aimee Chan Yan Mei earlier held a helping hand and made surprise appearance at different cinemas.
In mid June, Benny and Kathy will fly to Shanghai to attend the 21st Shanghai International Film Festival opening and represent WHEN SUN MEETS MOON. Kathy said, "Aside from people in Hong Kong, I also want viewers of other places to experience the unique emotions of Hong Kong. I am very pleased to participate in the film festival." Earlier Kathy made a sexy appearance at the Beijing Film Festival. Would she have new breakthrough? "I haven't reached my bottom line yet, I can be a little sexier! However, I have to coordinate with Moon's personality in the film."
Benny expected Kathy's career would reach higher. For his next film he might have to "arm wrestle" with other directors. Kathy pounded her chest and made a guarantee, "I will keep waiting for Director, give you the entire schedule!" Benny mentioned that he wanted to skinny dip with Daichi Harashima to celebrate an ideal box office performance. Kathy said, "I would personally cook for everyone!"