courtesy of on.cc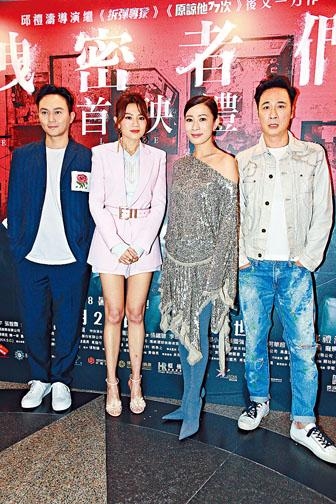 courtesy of singtao.com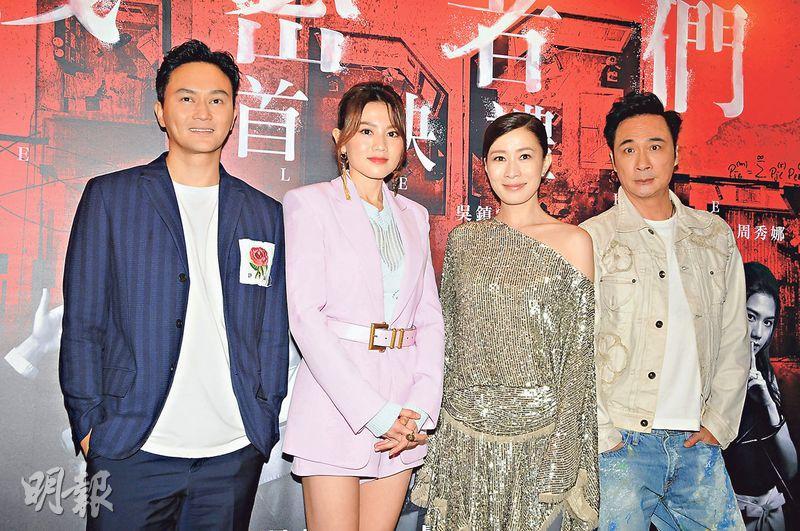 Julian Cheung, Chrissie Chau, Charmaine Sheh and Francis Ng at THE LEAKERS' premiere
courtesy of mingpao.com
Francis Ng Chun Yu, Charmaine Sheh Sze Man, Julian Cheung Chi Lam and Chrissie Chau Sau Na two nights ago attended the film THE LEAKERS (SIT MUK JEH MOON)'s premiere. Speaking of the wedding banquet of Nancy Sit Ka Yin's son, Ah Sheh said that she attended with her mother and saw the groom Shi Yiu Ting cried like a baby when he made his wedding vow. Even she got teary eyed. Chilam originally was invited but he was not in Hong Kong. He regretted not being able to personally congratulate Sister Ka Yin, but he was very moved when he saw the videos. He could only take the new couple to dinner later.
Chun Yu said that while shooting the film in Malaysia he saw durian the most. One durian cultivar was called Joan Lin. He was very curious and really wanted to try it. As for the gun and car chase scenes in the film, Chun Yu admitted that he used a double. Did he skip his stunts? He said, "I have done many, but when a double is available I would let him do it. I would do the ones in shots that you can see my face in. Earlier a director tried to talk me into jumping off one floor. I said since the double was there just let him jump. He said that I have become more valuable. As soon as the double jumped he broke his leg. In the end I doubled for the double!"
Chun Yu also revealed that Louis Cheung Kai Chung went to work out for the intimate scene with Ah Sheh in the car. Ah Sheh said, "Actually it was a car chase scene, since my face could be seen I performed it myself!" Chun Yu also said that Ah Chung asked for more after the shoot. Ah Sheh said, "Ah Chung said that next time he wants more lines!" Chun Yu joked, "He said that in the next life he would have more lines with you!" Chilam said that he used a double in the car chase scene because his driving was not superb and he was not Chin Kar Lok. He was afraid that he would hurt others.
On Father's Day, Chilam said that he would be at work in Shanghai. Chun Yu said, "Mother's Day has always been more important, the father makes money to spend on Mother's Day." He said that it was just the way of the world. This Father's Day he would have to work because Mother was waiting for him to make money. As for his son Feynman, Chun Yu said, "He will get out of it if he can. Now at his adolescence he is chubby, with a belly, butt and crossed long legs!"