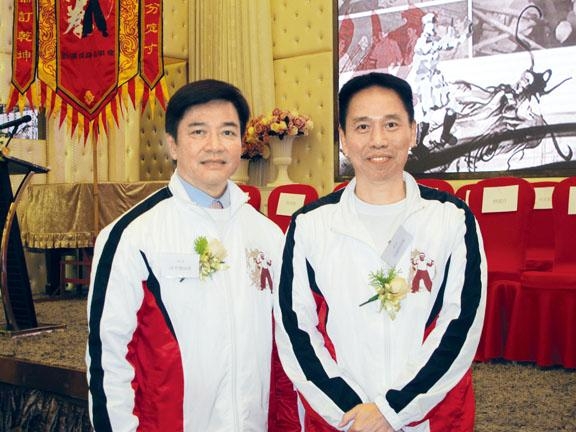 Stanley Tong and Checkley Sin
courtesy of singtao.com
Stanley Tong Kwai Lai and Checkley Sin Kwok Lam two nights ago attended the Lau Jarm Hung Kuen Alumni Association 60th anniversary event. Tong Kwai Lai said that he has always studied Hung Kuen with Lau Kar Leung's junior colleague Yu Yuen Yin, he too has taught in Beijing and Shanghai. He revealed that he is preparing for his October anti terrorism film GUP SIN FUNG, which will shoot on location in 8 cities in 5 nations. He said that film production now is harder and harder. Would he use young fresh meat actors to make it more attractive? He said that he would; later he would work with Jackie Chan on another film.
Sin Kwok Lam said that the earlier financial dispute has ended and he has resigned from all chairman duties to focus on handling film and kung fu businesses. As for the Foshan film studio investment, he said that it no longer needed any further investment.