Charlene Choi cracks up after busting Wu Kang-Jen's chops
courtesy of on.cc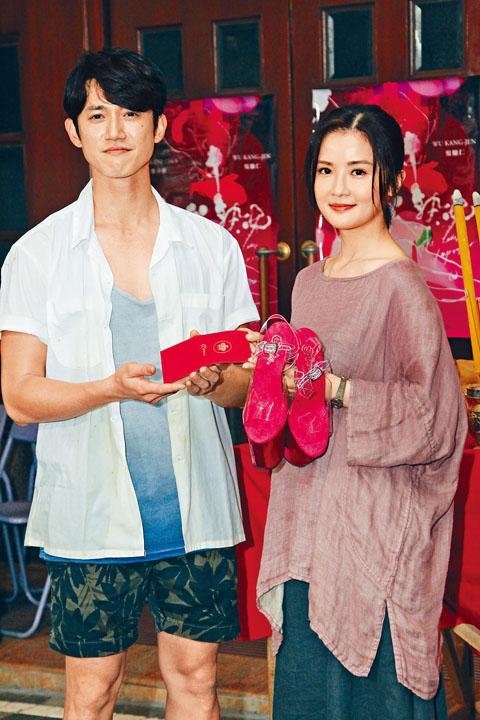 courtesy of singtao.com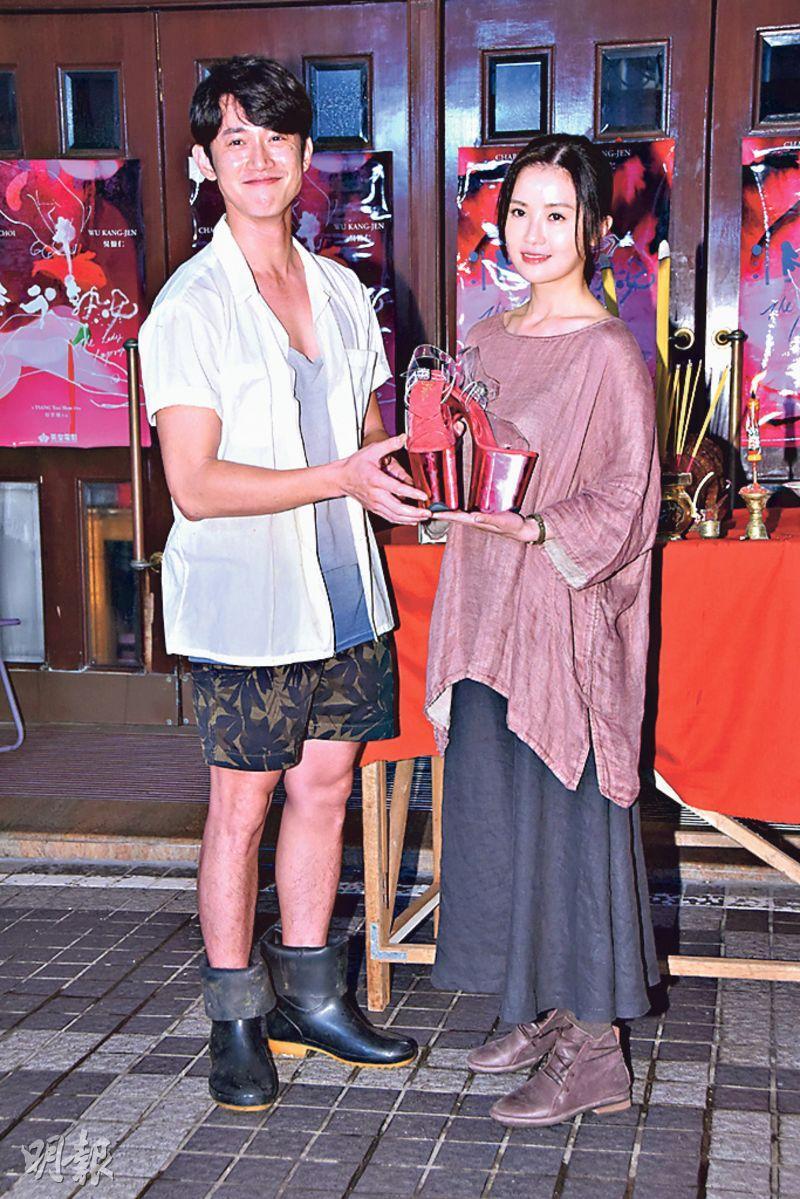 Wu Kang-Jen presents heels to Charlene Choi, who returns the favor with a big laisee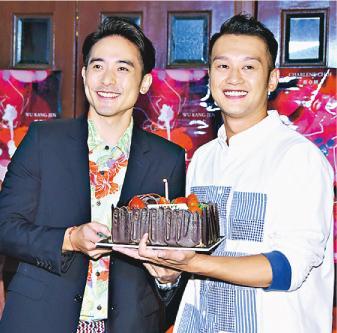 Deep Ng's birthday was yesterday. Alex Lam presents a birthday cake to him
courtesy of mingpao.com
Charlene Choi Cheuk Yin, Taiwan star Wu Kang-Jen, Alex Lam Tak Shun and Deep Ng Ho Hong yesterday attended their new film THE LADY IMPROPER (FEI FUN SHOOK NUI)'s production start ceremony. Boss Albert Yeung Sau Sing also participated and prayed for a smooth production. Wu Kang-Jen delivered his lines in Cantonese, but Ah Sa made fun of his less than fluent pronunciation that almost made the film an A film (category III film). She during the shoot would wear something sexy and pole dance, before hand she has already taken classic to learn the basics to prepare.
Wu Kang-Jen presented heels to Ah Sa because she would pole dance in the film. Ah Sa presented a big lai see to him in return. Ng Ho Hong's birthday was yesterday and Lam Tak Shun presented him with a birthday cake to celebrate.
Ah Sa said that she has already taken pole dancing lessons to learn the basics. "Although my dance won't be complicated, I still have to learn from scratch then add some spins." Ah Sa said that for her first class she only wore a sports bra and shorts, but all the other classmates wore bikinis. She revealed that during the shoot she would wear something sex to pole dance. As for intimate scenes, Ah Sa said that she would have them with all three actors but hoped that everyone would keep an open mind. In the film she was frigid sexually. Wu Kang-Jen practiced his Cantonese to fluency and revealed that 90% of his lines were in Cantonese. Ah Sa said, "When he said, 'Don't cry' and 'Once you cried you will be fine' they turned into 'don't suck' and 'once you sucked you will be fine'. Finally I asked him to speak Putonghua to keep the film from turning into an A(dult) film."
Birthday boy Ng Ho Hong revealed that at night he would take his father to dinner to celebrate to thank him for taking care of him over the years. He admitted that he was not easy to deal with. His birthday wish was to perform at the Hong Kong Coliseum soon. Speaking of his intimate scenes with Ah Sa in the film, Ng Ho Hong said that it would be his first intimate scene too. Although he would not have many nude scenes, conceptually they would be very daring.
Lam Tak Shun said that he would not be lucky enough to have any intimate scene with Ah Sa, but fortunately he could personally watch her pole dance. He joked that he would have deliberately have bad takes then so he could watch Ah Sa's exciting dance several more times.