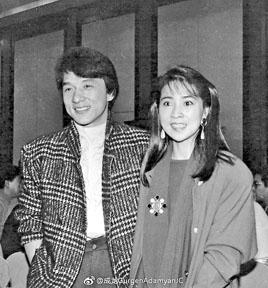 courtesy of singtao.com
Yesterday Jackie Chan on social media announced the release of his new song YOUTH STORY (CHING CHUN GOO SI) and shared many old photos. He even posted a rare early photo with Joan Lin. Others included his parents' black and white photos, photos from his Seven Little Fortunes and Jackie Chan Stuntman Association days. Jackie Chan posted, "These people have kept me company and spent my youth with me. Today, I dug these old childhood photos; each one is a unforgettable memory, a story of youth. Now it's your turn to tell me, after hearing my song who would you think of? Which of your youth story would you be reminded of?"
YOUTH STORY is a song that Jackie Chan dedicated to the Jackie Chan Stunt Team's 40th anniversary, its goal to sing the praises of his relationship with his stunt team. This time even his wife Joan Lin participated in its creation. After the song was completed Jackie Chan even sang it acapella for Joan Lin and made her cry.