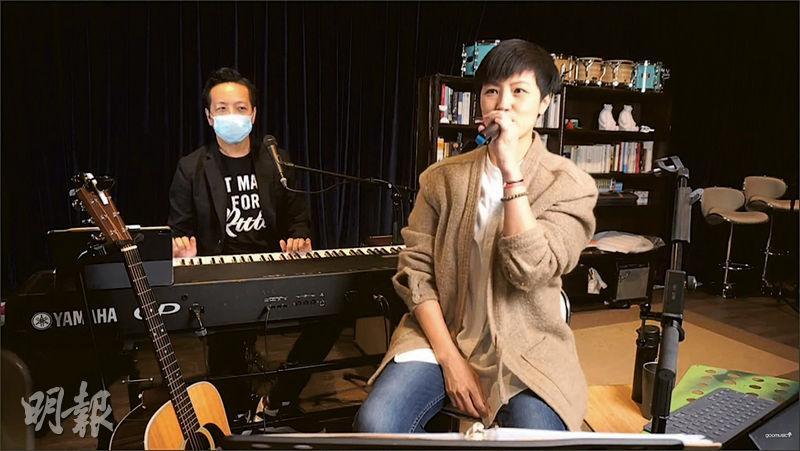 courtesy of mingpao.com
With the novel coronavirus, concerts at the Hong Kong Coliseum seemed to be far away. Recently many singers performed online instead. Some performed in a corner of their homes to entertain the fans. Two nights ago Denise Ho Wan Si held her online concert and performed 17 songs over 2 hours, attracting 40,000 at the peak. As of yesterday its YouTube's views was over 240,000.
During the performance Ah Si said, "I haven't been a singer for a long time, the HK Coliseum show is far beyond reach. I actually have already applied for it many times, I won't let this government or pandemic stop me, I would hold even more similar performances!" Despite the pandemic, Ah Si stressed that she was not pessimistic. However she believed that in half a year returning to normal would be hard.
Ah Si posted photos with the team on social media afterward. "Actually only a few days ago inspiration suddenly struck and I ran into Hobing at the company. I asked him if he would be interested in a live show. He said, 'OK', so just like that tonight came about. Honestly, I just thought I would start a little live show, I never thought that so many people would come and watch. At the peak over 40,000 people did, even more than the HK Coliseum. That's crazy!" Ah Si said that she received texts from many friends, who said that they really missed her. She also thanked each and every fan who listened to her sing. "If my singing can bring everyone a little bit of comfort, I would very gladly continue to keep singing for everyone. Singing is the job I was born to do, actually I really like singing the most. No matter how bad or how hard the times get, at the bottom of the abyss I still would perform. p.s. it really was like doing a real show, I am very tired but very pleased".