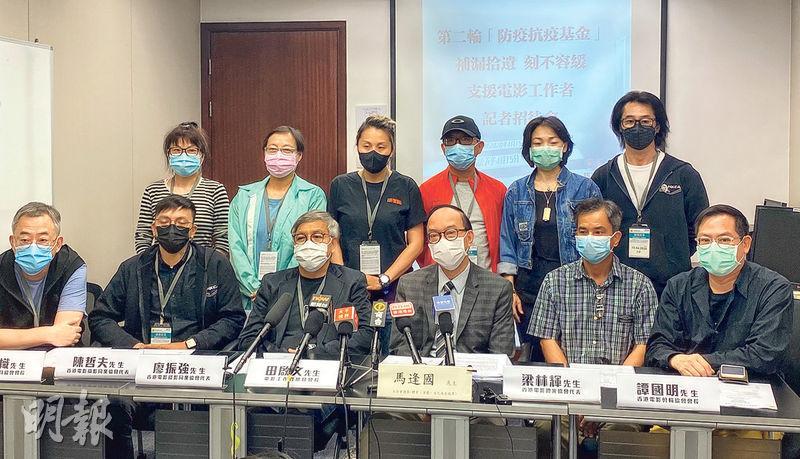 courtesy of mingpao.com
Due to the pandemic the economic has been poor. The film industry had "no production to start". The Federation of Hong Kong Filmmakers president Tin Kai Man yesterday along with Legislative Council member Ma Fung Kwok, film industry representatives held a press conference to talk about the crisis that the industry faces in hopes of government assistance for basic level employees.
Tin Kai Man said that he learned that Hong Kong would only make 3 movies this year, 1/10 of last year. He worried that film professionals would switch jobs. After the pandemic "someone would definitely make movies, but will Hong Kong people be making them?" He said that from January to now only a movie has started production, a project that won the film development fund Higher Education Institution Group two years ago. The production has been completed. At the end of April an Aaron Kwok Fu Sing starred new film would have started production, but now no one knew whether it would be postponed; another one would be a movie that he invested in with a budget of HK$ 10 million.
He said that in his 41 year film career he has never worried about the film industry like he does now, not even during SARS. The "gathering restriction order" made filmmaking even more difficult. He will continue to discuss arrangements with the government. He said that the industry had around 2,000 behind the scene basic level employees. Now many have already switched industries. Since they depended on outside work, and no longer made Hong Kong films. He felt that the taxi industry had jobs and had government attention, yet the film industry had no job and no special compensation. He hoped that the government would be able to provide HK$ 5,500 per moth to assist the industry basic level employees for six months.
The Association of Motion Picture Post Production Professionals president Eddie Chan Shu Chi said that this year as of March only had one film production. Hong Kong had around 60 post production companies. "Dividing between 60 companies, they want us to die." He pointed out that even after film productions would resume, post production professionals would be loss. Even after a movie was finished it had no way to complete the film with post production.
Make up artist Mon tearfully said that she has been in the industry for years. Inside the industry everyone persevered for many years. She has always loved the film industry, in addition many people have worked for over 10 years in the business so a job change would be difficult. She hoped that the government would lend a helping hand.