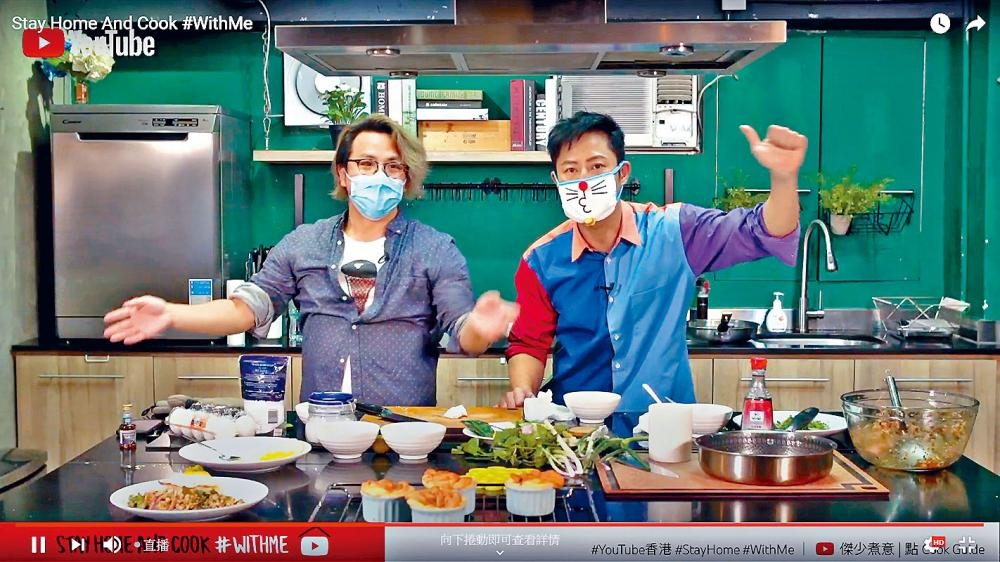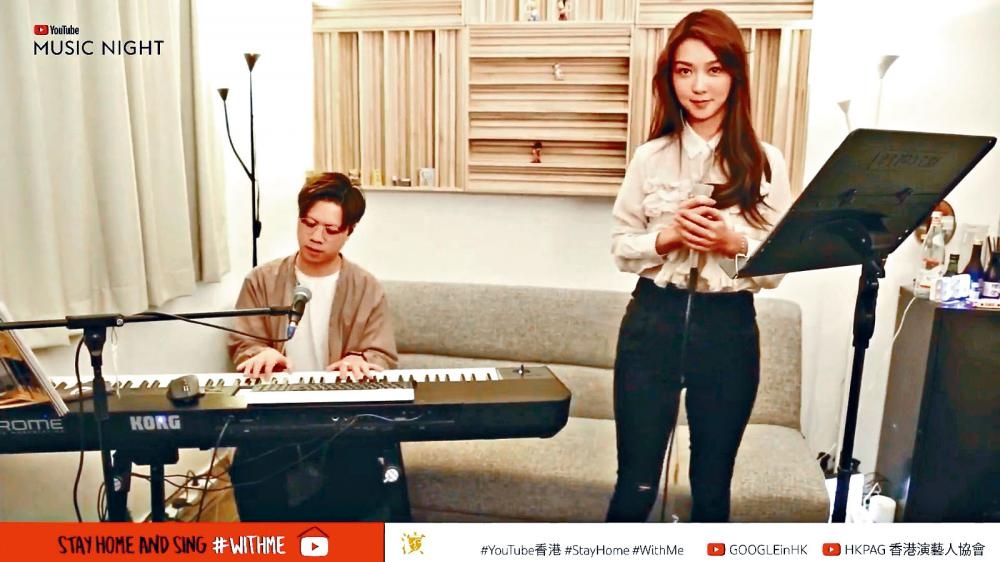 courtesy of singtao.com

Leo Ku instead of singing shares parenthood advice with the father of two Sammy and even demonstrates how to burp a baby on a doll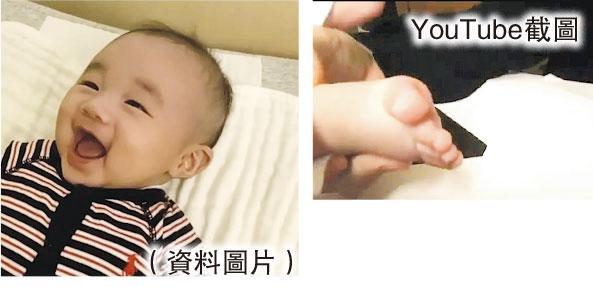 The baby's foot makes a cameo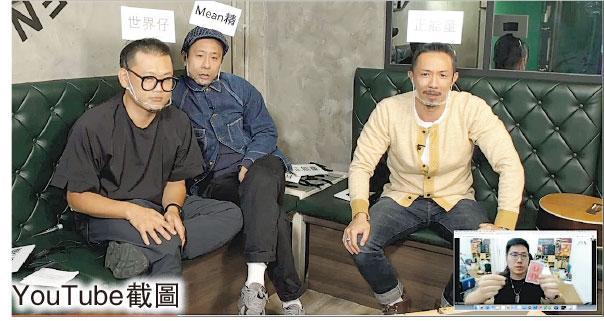 Michael Ning, Chu Pak Hong and Louis Cheung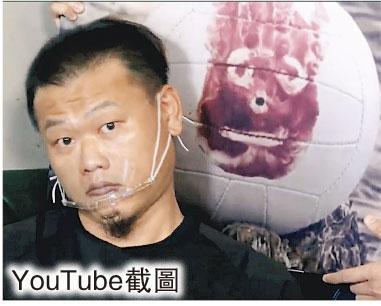 Michael Ning impersonates Wilson from the movie CAST AWAY
Coffee Lam and Alex Lam's yoga demonstration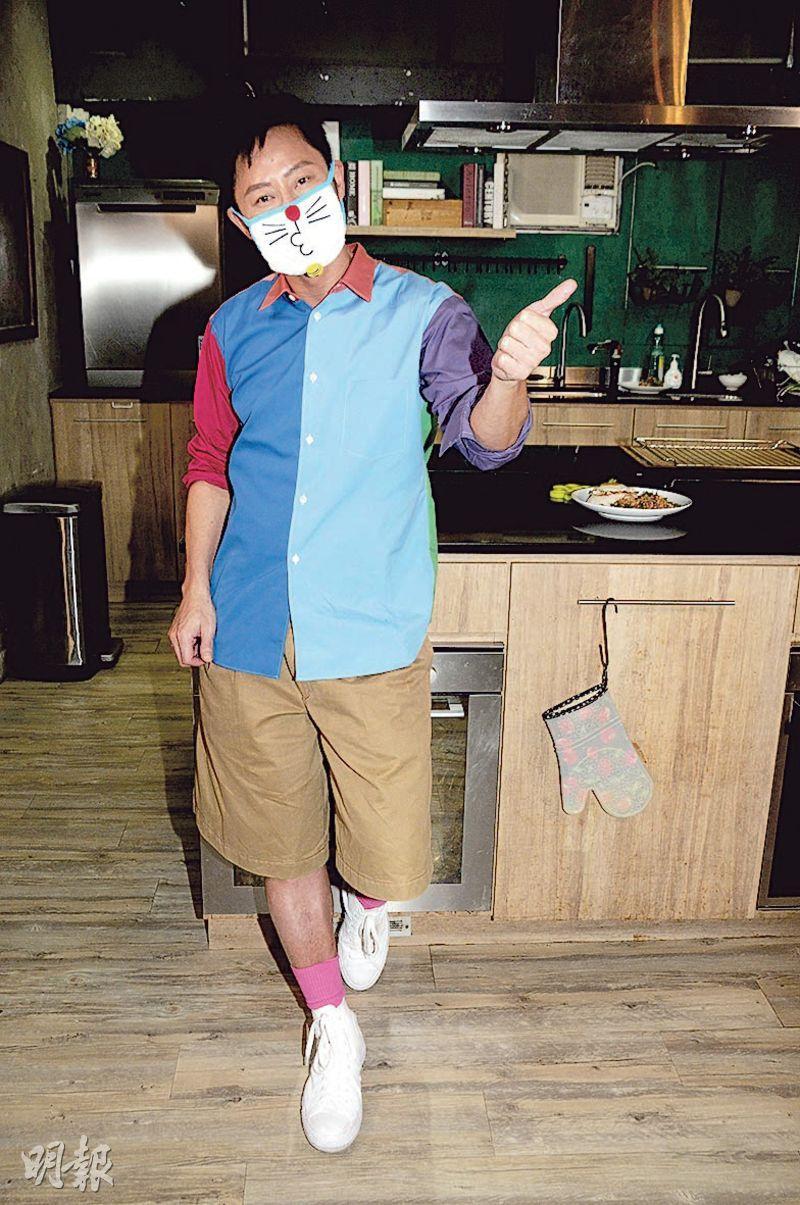 Remus Choy says that after making a feast he usually is too tired to eat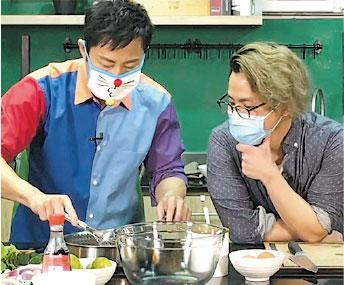 courtesy of mingpao.com
With the novel coronavirus Hong Kong still had a "gathering restriction order". Everyone was united in staying home to fight the pandemic. YouTube started the "Global Stay Home #WithMe" event, which received the support of the Hong Kong Performing Artist Guild yesterday. The event from 1 to 9 PM broadcast live online purely to provide entertainment, spread positive energy, in hopes that everyone would unit to improve now and wait for a beautiful tomorrow. Remus Choy Yat Kit and YouTuber Martin opened with a cooking demonstration and shared the joy of cooking.
The fight against pandemic show continued with Alex Lam Tak Shun and Coffee Lam Chin Yu's yoga class to help everyone stretch at home. Then Louis Cheung Kai Chung, Michael Ning (Bak Ji), Chu Pak Hong did a talk show. At 7PM Fiona Sit Hoi Kei, Sherman Chung Shu Man, Sukie Chung Shu Kei, Donny Summer (Ha Siu Sing), Cheung Kai Chung and others shared their music. Ha Siu Sing mentioned that if everyone is united in improving now, we would have a beautiful tomorrow. In the finale, new father Leo Ku Kui Kei and Sammy shared their child rearing experience as fathers.
"Grasshopper" Choy Yat Kit during the pandemic already started his own cooking channel to teach everyone how to cook simple dishes. Yesterday he went live with YouTubers Martin to teach "Thai style mince meat rice" and souffle. Choy Yat Kit even wore a Doraemon mask. During the live broadcast some online requested for him to cook while performing SENSELESS SAMBA but he did not comply.
Choy Yat Kit during the interview pointed out that during the New Year he went to work in Thailand and stayed to learn to cook for half a month, which he would be able to put to use this time. Was he nervous about cooking live? He said, "No, I am used to large scale concerts. I constantly have to face tens of thousands of people and perform, why would I be nervous!" As for not dancing while cooking, Choy Yat Kit said that the most important part of cooking was communication with the food. He had to respect the food and could not be sloppy. Has he thought about opening a restaurant? He said that if he did he would let everyone now. Would he take a blue ribbon course? He said that Teresa Mo Shun Kwan said that it was very tough, so he would first share some everyday dishes. Many friends wanted to try his cooking, but "gathering restriction" has not yet been lifted. He had less chance to eat with friends. He could only wait until after the pandemic. "At most I can cook for 30 people, but after that I would be very tired. I wouldn't even have the interest to eat the food. However the crew around me all got fat. I lost quite a few pounds!" As for the Grasshoppers' August Taiwan concert, it has been postponed due to the pandemic. Choy Yat Kit would like the pandemic to pas soon and for everyone to return to the right track.
In addition, Louis Cheung Kai Chung, Michael Ning (Bak Ji) and Chu Pak Hong in the "Stay Home and Hang Out" segment improvised with their acting. The three actors talked about "stop working but not stop doing" during the pandemic, as they continued to hone their acting. At this moment Cheung Kai Chung revealed that he and his wife Kay Tse On Kay had some problems but stopped himself. As the two hosts worried for him, Cheung Kai Chung expressed that he was joking as he was acting. He joked that he might have a lot of aftermath to deal with for doing this, perhaps he would hurt his wife and friends. Actually Tse On Kay watched the broadcast live and posted that she supported her husband, and did not get mad for his casual talk.
Around 7PM "Music Night - Sing" began. Fiona Sit Hoi Kei said that everyone probably was a little bored from staying at home, so she would sing to keep everyone company. Then she performed the rarely sung MOYUNG SUET, but she stopped after two verses. She joked that because the air conditioning was blowing at her back she could not continue. Finally she stopped and started over.
Sit Hoi Kei sat and said that earlier she was busy with a television series production and song recordings, soon she would release a love song with a similar melody to Faye Wong's EASILY HURT WOMAN. She also revealed that during the pandemic she has been very good. She did not meet her friends, even her parents she rarely saw. She would only take Mommy's cuisine from a distance. As a germaphobe she washed her hands and clean her food even more. "I am very positive now, during the pandemic I don't want to waste time. I learn to play guitar and piano anew. I hope when I look back I wouldn't feel I have wasted my time. Lately I gained 8 pounds from eating like crazy, because at night I would have instant noodles whenever I am watching a movie."
Donny Summer (Ha Siu Sing) played and sang two songs. He encouraged everyone to be like his song NEVER GIVE UP. "What we saved up yesterday is here today, and tomorrow would depend on what we do today to change tomorrow. So the enormous difficulty we run into today is also a problem for the entire world. If everyone is united in improve now, we will have a beautiful tomorrow. The sun would always be here, just waiting for the dark clouds to pass."
Sherman Chung Shu Kei, Sukie Chung Shu Kei and her husband performed in hopes of bringing everyone positive energy. They even sang two different versions of LETTER TO MYSELF, so everyone could release their negative energy with them.
In the "parent with me" segment, Leo Ku Kui Ke at his dinner table said that when the Performing Artist Guild president Louis Koo Tin Lok asked him to perform he revealed that he wanted to find some artists to cheer on everyone to stay home and fight the pandemic. He replied to Goo Jai that aside from singing he would like to enjoy his experience of child rearing in a pandemic. Gei Jai revealed that the baby was constantly making noise, screaming in "dolphin sound" to get picked up. Maybe now he already felt that he was no longer a baby, he was already a little boy and wanted to get to know the world. Gei Jai joked that one day when he told the baby "I love you", he sensed that the baby said it back to him. It was the baby's first words. Gei Jai after becoming a parent felt that he needed to take care of his parents even more and give them even more patience. Before the program ended, Gei Jai's baby performed his "dolphin sound" live and kept screaming.