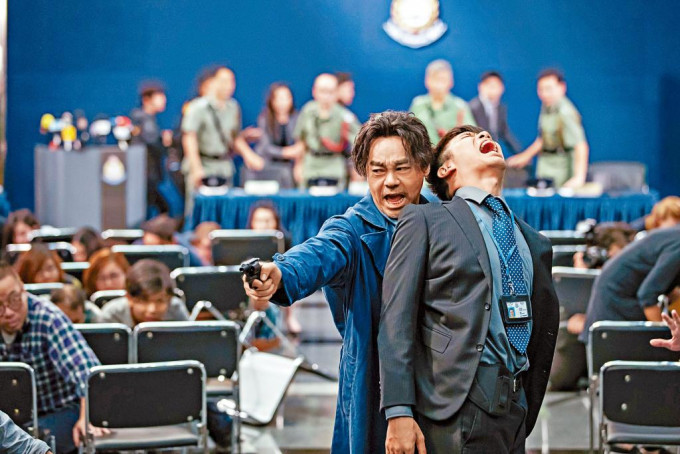 Sean Lau once was the ace of the police force, but succumbed to mental illness. He decided to capture the culprit and prove that he was not insane.
courtesy of singtao.com
The Hong Kong audience has no idea when it will see Sean Lau bringing the Detective to life
courtesy of on.cc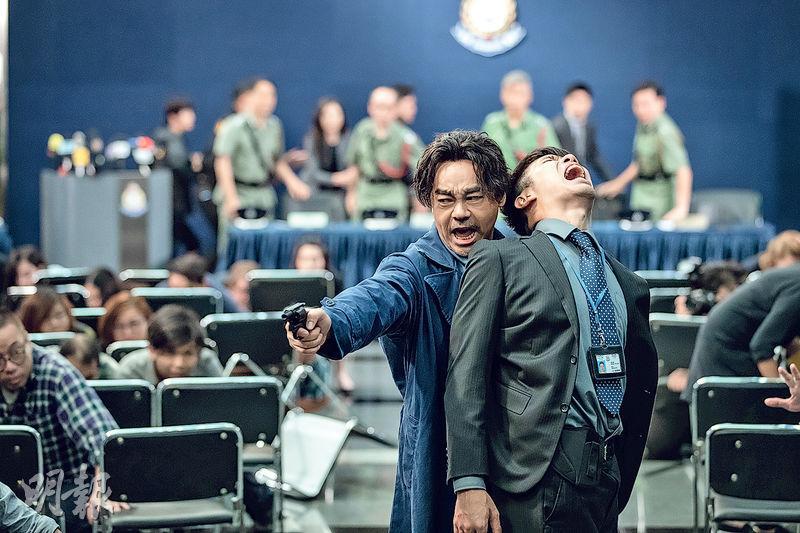 courtesy of mingpao.com
The dream team of Wai Ka Fai and Sean Lau Ching Wan have created classic work from television to film. Earlier they worked together again on the Emperor Motion Pictures new film DETECTIVE VS. SLEUTHS (SUN TAM DAI JIN), which will open soon in the Mainland. Ching Wan in the film played a former detective who has been accused of having mental illness, which would be quite a test for his acting skills!
The dream team Wai Ka Fai and Lau Ching Wan worked together on the Emperor new film DETECTIVE VS SLEUTHS, which yesterday released a series of film photos and poster and announced that the film would be released in the Mainland on April 2nd. This time Ching Wan would play the Wai Ka Fai created crazy "detective". The poster displayed the Kowloon Emperor style mad man calligraphy graffiti, which left the audience with endless room to imagine whether he was crazy or a detective.
The Wai Ka Fai produced, written and directed DETECTIVE VS SLEUTHS started production as early as in 2018 and successfully wrapped up production at the end of the same year. Now finally a release date has been announced, April 2nd in the Mainland. The Hong Kong audience of course looked forward to watching the new collaboration of the dream team of Lau Ching Wan and Wai Ka Fai after so many years. However Hong Kong cinemas currently are closed due to the pandemic. Thus its Hong Kong release date would remain unknown.
This time Wai Ka Fai immediately invited his dream team partner Lau Ching Wan to star. Other actors would include Charlene Choi Cheuk Yin, Raymond Lam Fung, Carlos Chan Ka Lok, Kathy Yuen (Tong Yee), Jeana Ho Pui Yu and even Carman Lee Yeuk Tung's return to the silver screen with a special performance. Ching Wan in the film played an mental patient who was once the police force ace nicknamed the "Detective". On the poster Ching Wan was in the midst of Kowloon Emperor style mad man calligraphy and neon light signs, both were full of authentic Hong Kong flavor.
In the story a series of extremely cruel murders appeared. All the victims were suspects who were beyond reach of the law. The murderer claimed to be the "Detective", taking the law into his own hands and challenging the police. The police immediately brought in ll of the "detectives" in its force to form a special case committee. The Ching Wan played mental patient Lee Chun before his illness was an ace in the police force. Back then his nickname was the "Detective". Now he has become street "trash". In order to prove that he was not crazy but the "Detective", he joined the team, jumped into the mad man's plot and raced against time to solve cases old and new and bring in the wanted murdered "Detective".