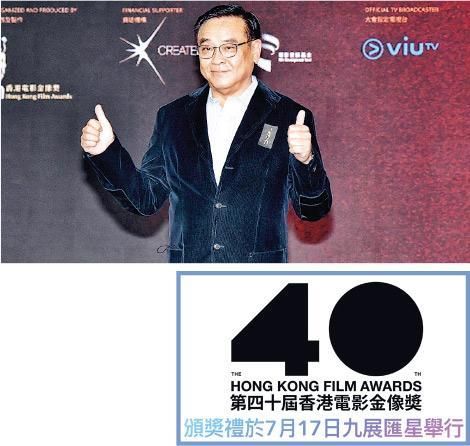 courtesy of mingpao.com
The 40th Hong Kong Film Awards was originally set to take place on April 17th at the Hong Kong Cultural Center. Earlier the award presentation ceremony was rumored to be postponed to June. At the time the event responded, "The 40th Hong Kong Film Awards has been temporarily scheduled to take place in June. Due to the novel coronavirus pandemic remaining severe in Hong Kong, the award arrangements would need to be negotiated and coordinated with various working units depending on the pandemic situation. Details would be announced later."
Yesterday the Hong Kong Film Awards Association announced that the 40th Hong Kong Film Awards will take place on Sunday, July 17 at the Kowloon Bay International Trade and Exhibition Center's Star Hall.
Hong Kong Film Awards Association president Derek Yee Tung Sing said, "The Hong Kong government earlier announced that starting in April pandemic prevention procedures would be loosen in stages, including the opening of performing art venue. The board of directors after careful considerations agreed unanimously that the '40th Hong Kong Film Awards' will take place on the night of July 17th at the KITEC Star Hall. The Association would continue to pay close attention to the pandemic developments and related government announcements. We hope that all units that would assist with the production would be able to make adjustments and coordination, for the physical award show to take place as scheduled."
The 40th Hong Kong Film Awards' 19 category nominations were already revealed in mid February. The second round of voting began in March. The Association earlier announced that this round of voting would extend the deadline to April 30th. Yee Tung Sing urged all voters to continue to actively vote, and support the Hong Kong Film Awards with action.