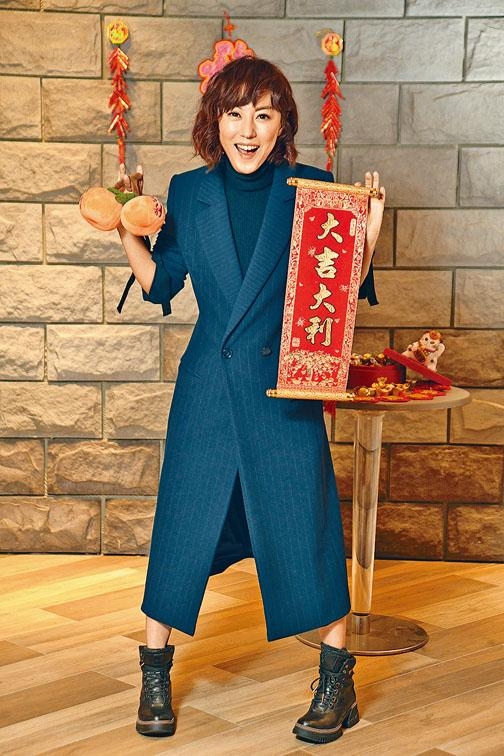 courtesy of singtao.com
Annie Liu (Lau Sum Yau) last year gained weight then lost weight for the film THE GRAND GRANDMASTER (MUK DOI JUNG SI), as she accepted the hellish training to become a boxer. At the same time she learned to swim. In the New Year she stated tha she would again participate in an extreme location marathon and continue to accept challenges.
Lau Sum Yau in the Lunar New Year film THE GRAND GRANDMASTER played a boxer. She first had to make herself fat then lose the weight a again, which could be considered a hellish training. However she saw the good the result was, she felt that it was worth all the effort. Sum Yau had zero boxing experience, so she spent 4 months to train to look like a boxer. She said, "I really had a coach, I was very happy the director (Dayo Wong Tze Wa) gave me time to train. It was my first fight scene. Although the training was very tough, I had to keep practicing during the shoot and I couldn't stop after the wrap because I promised the director to show off my back for everyone at the premiere. however I saw how great the final result was, the effort I gave wasn't wasted."
Sum Yau was very happy to work with Tze Wa, saying that he was an extraordinary director. "He put a lot of thought into many of the golden quotes in the film, reflecting a lot of social situations. His individual shadow looms over a lot of the film. He also gives actors a lot of space. I feel that he resembles a instructor even more. He is also very passionate about boxing. We once went to see a MMA fight and I asked him a lot of questions." however seeing Tze Wa giving his all to GRAND, Sum Yau has not had the desire to direct because of him. He said that the directors' responsibility and stress were great. She still had a lot of room for improvement as an actor, so she would do her best as an actor first and would think about other stuff in the future.
For the Lunar New Year, Sum Yau said that in the past she mostly went away on vacation. This year she would stay in Hong Kong instead and would decorate her home and Chinese candy box. Yet when faced with the Lunar New Year candy in the box, Sum Yau did not dare to indulge. She said that she would use it mainly to treat friends. She would only dare to have one piece of chocolate. "I like New Year food like the rice cake, but I would only have a small piece. I need to have control, I don't dare to indulge myself." As for her goal in the New Year, Sum Yau admitted that every year's New Year wish would be achieved very quickly. In 2019 she conquered her fear of waters and successfully learned to swim. In April this year she would again take the extreme marathon challenge. "Last time I didn't run in the Arctic Circle, this time I finally will. I look forward to it very much. I would make a Lau Sum Yau flag, after I am done I would plant it, haha!"