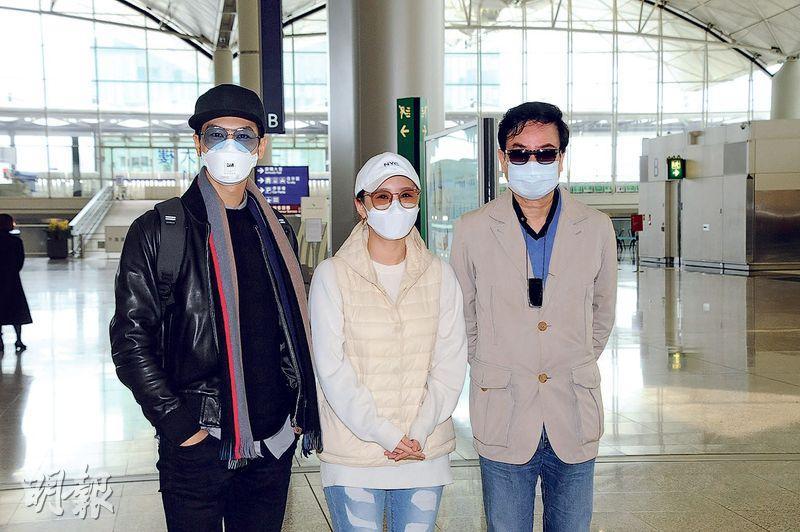 courtesy of mingpao.com
courtesy of on.cc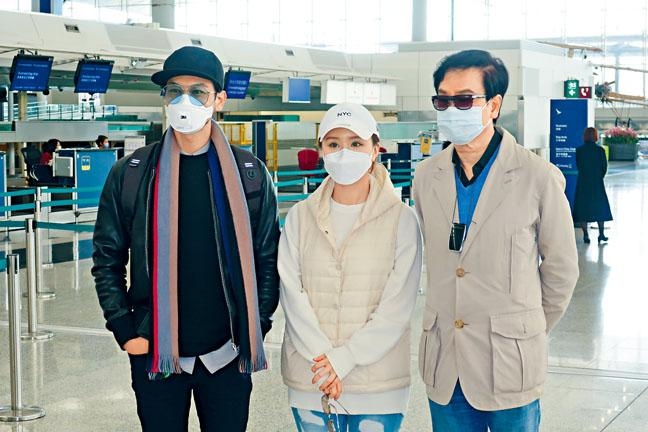 courtesy of singtao.com
Film company boss Raymond Wong Pak Ming with Dada Chan Jing and Adam Pak Tin Nam yesterday appeared at the airport. They were heading to Malaysia for a film company appreciation banquet. With the novel coronavirus outbreak, Wong Pak Ming not only strengthened the prevention measures at cinemas under his banner but also gave medical masks to viewers. He also supported a temporarily suspension of operations at cinemas to "avoid the outbreak" and put safety first!
Wong Pak Ming, Dada, Pak Tin Nam all wore medical masks and glasses for their appearance. Wong Pak Ming said that he also had air purifiers and hand sanitizer and would take the full prevention measure. "This trip is because of an Indian distribution company that we have worked with for 10 years since ALL'S WELL ENDS WELL in 2010. After the film IP MAN 3's 30 million RM box office, this time IP MAN 4 also made 36 million RM. Twice we have broken the Chinese box office record there. In the Lunar New Year ALL'S WELL ENDS WELL 2020 also headed toward 7 million RMB, a decent performance. Under the outbreak, we can use all the help we can get. Actually films would have different performance in different places. IP MAN 4 in the Mainland made 1.2 billion RMB. (Did it make any profit?) If no profit can be made from 1.2 billion, how can any profit be made! This performance has already reached the target because the four films' box office went from 100, 200, 800 million to 1.2 billion. In addition it was released on Christmas, we were very lucky that it was not affected."
Speaking of many films having to halt production, Wong Pak Ming said, "G STORM (G FUNG BO) originally would resume work after the Lunar New Year. Now we would make the decision based on the situation. We are in no hurry to start work. Workers would be arranged to work from home. We haven't asked them to take unpaid time off." Speaking of the government's suggestion for all entertainment venues to temporarily suspend operation, Wong Pak Ming said, "The government has sent people to discuss with the Theater Association. So far we have not reached any agreement. Cinemas under my banner will strengthen disinfection, take viewer temperature and give away free medical masks so attendees would rest easy." He also supported cinema operation suspension. "It should stop and reopen after the outbreak. Actually the current admission rate is declining, family audience has been the most affected." The Hong Kong Film Awards canceled its physical award show. He said that it was the choice to make under the outbreak, and nothing could be done about the award climate decline.
Dada and Pak Tin Nam both had enough material and did not need to fight. Dada pointed out that during the Lunar New Year she rarely went out but she got fat from eating. No one noticed because she was hiding behind the mask, but she would wait and see with optimism. Yesterday she was able to go out and she was happier. Pak Tin Nam stayed at home and exercised more, took vitamins to strengthen immunity, which were all good ways to prevent the outbreak.