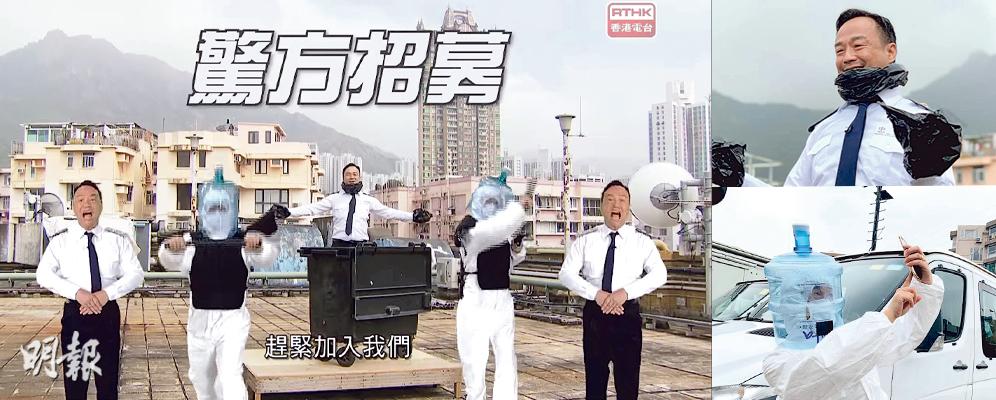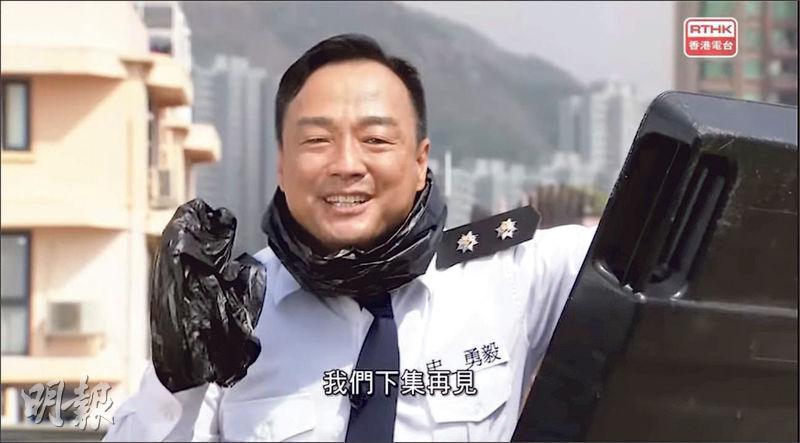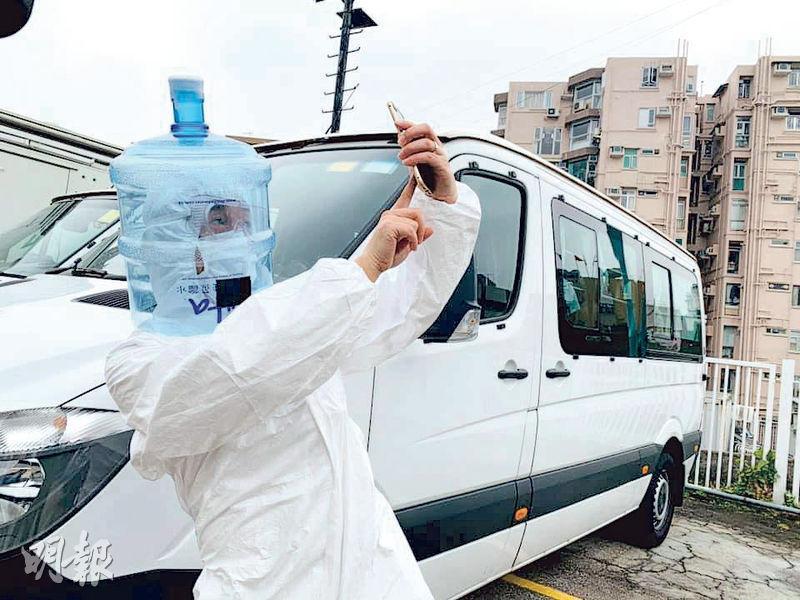 The Police feels HEADLINE discredits the work it has done during the outbreak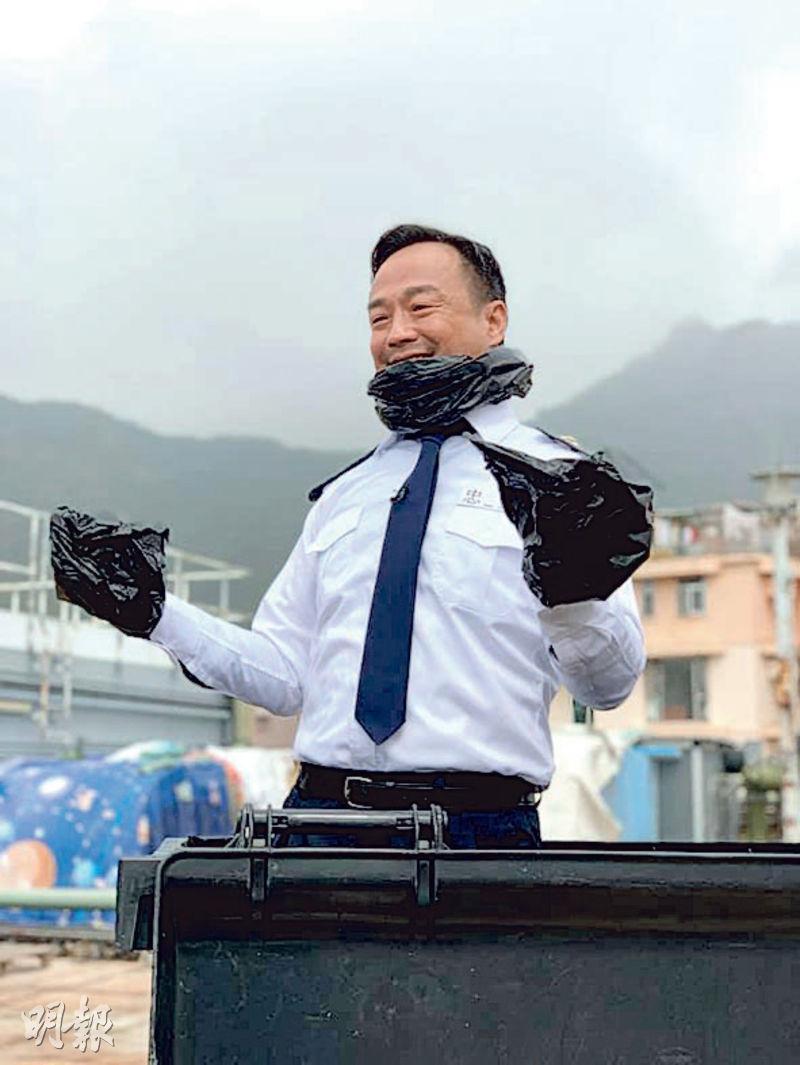 Wong Hei introduces hot jobs at the "scared force"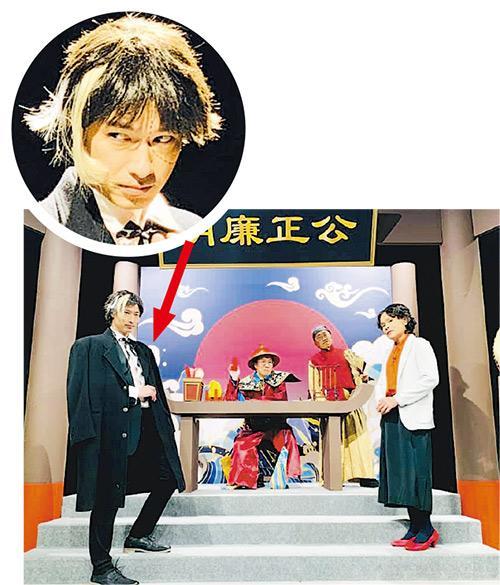 Gregory Wong also guest stars as Black Jack
courtesy of mingpao.com
Radio and Television Hong Kong's HEADLINER last Friday (February 14th) invited Wong Hei and Gregory Wong Chung Hiu to perform. Wong Hei host the "Shocking Information" segment, while Wong Chung Hiu appeared as "Black Jack" and "Gong Tong Gan" with hosts Tsang Chi Ho, Ng Ch Sum and Law Kai Sun in a comedy skit. The program originally was scheduled to air at 6PM on TVB Jade, but due to the live broadcast of Chief Executive Carrie Lam Cheng Yuet Ngor's press conference it was postponed until last night. However the program still caught attention. Yesterday RTHK Broadcasting Authority chief Leung Ka Wing received complaint that HEADLINER's "Shocking Information" segment discredited the police's performance during the outbreak and expressed extreme regret. RTHK's Amen Ng Man Yee stressed that they had no intention to discredit or ridicule. The program only used a parody format to reflect social phenomenon and different voices.
Wong Hei in the HEADLINER's "Shocking Information" segment plays the host "Chung Yung Ngai" and introduces the "scared" job posting, expressing the police's performance during the outbreak and their equipment that became viral online in a satirical format. The over 3 minute long segment was lively and earned a laugh from the audience. However, the Broadcasting Authority chief Leung Ka Wing yesterday received a letter of complaint from the Police Commissioner (care of Kwok Ka Chuen), citing that the "Shocking Information" segment on numerous occasionally discredited the police force's job during the outbreak and expressed extreme regret; it also rebutted that the massive outbreak prevention equipment stockpile at the police that the program alluded to was untrue; it also claimed that the program completely neglected the police's work and effort in fighting the outbreak and demanded the Broadcasting Authority chief to follow up.
RTHK's organization communication and program standard division director Amen Ng Man Yee admitted that they have received the complaint. "We understand that the police has done a lot on outbreak prevention, other government departments like medical and healthcare and others have also done a lot. The program only reflects social phenomenon, has different voices and appears in a parody format for the viewers." She also stressed that they had no intention to discredit and ridicule. At the end of "Shocking Information", Wong Hei waved to the camera and said, "See you next episode!" When asked if "Shocking Information" would be a regular part of the program, she said that HEADLINER segments have variety. As for whether it will be a regular part, she would have to get an understanding from the production team.
Wong Hei revealed that "Shocking Information" will be biweekly. "Today is Sunday, I haven't received any new program related guidance." Conceivably the outside would be concerned about whether the segment would remain.
How did Wong Hei feel about the police complaint to RTHK? He said, "The letter issuer only has a three Chinese characters, no official title, no assigned number, no identification card number. Who knows if it is whoever writing a chain letter. I have no comment." According to information, Kwok Ka Chuen is the police public relations bureau chief superintendent.
Due to the police complaint to RTHK, HEADLINER's "Shocking Information segment has gone viral online. Its social media platform hit rate has drastically increased, with messages like "Thank you police for helping with HEADLINER's promotion, I am watching right now!"
"Seeing Wong Hei and Wong Hung Chung, truly it is both yellow (Wong) and joyous (Hei)".
"Radio and Television Hong Kong program staff union" on facebook yesterday posted the RTHK union response. "Faced with this 'outbreak border war' the government's prevention policy has been criticized. Now medical and healthcare prevention equipment has a shortage and the police force receives a large amount of protective material, citizens' expectation of the police is naturally elevated. HEADLINER has always taken a parody style for modern satire. This union hopes that the police would pay attention to the public criticism and dedicate itself to servicing the general public, doing what it promises and utilizing the beliefs of loyalty, sincerity, courage and dedication on helping to fight the outbreak and connect with the community. This union notices that the police force has targeted this station more than once. Now it again attempts suppression with speech. This union strongly demand the police force to respect RTHK's professionalism and the editor's independence, focusing on protecting the public as it should."