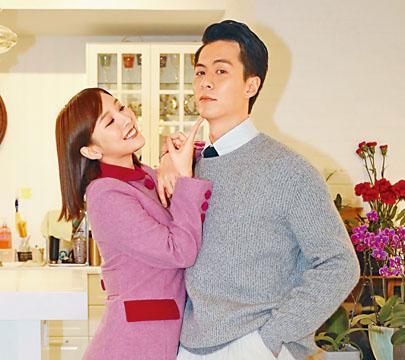 courtesy of singtao.com
Kevin Chu Kam Yin and Dada Chan Jing in the film THE SECRET DIARY OF A MOM-TO-BE (BABY FOOK SAU GEI) played a couple. In the film Dada worked a highly paid public relations job, but with a sudden pregnancy her life plan was thrown into chaos. In real life Dada stated that she really liked children because a family would only feel complete with a child.
Dada and her protagonist who felt hindered by pregnancy in her new film THE SECRET DIARY OF A MOM-TO-BE had completely different views. She admitted that she would like to have two children. "I am very traditional, I already want a son and a daughter in the future. The older brother can take care of the younger sister. Maybe because I was born to a single parent family, at age 6 my parents split up, when I was little I really wanted an older brother. Maybe I would be bullied and hoped to have an older brother to protect me."
Dada said that on and off screen she grew up in a single parent family, but in the film due to childhood trauma she did not like children. Although they had similar family backgrounds, her views were very different from her character's. She said, "During the performance I would add or subtract, then put some of my own experience into it. Adding some of the director's ideas on top, sometimes I would play how I feel. Thus with the childhood memory part, I remember my past and feel like the knot in my heart has been untied. I am very happy to have this chance to relieve the pain in the film."
First time in a leading role, Chu Kam Yin said that he sensed the pressure because he was opposite a charming co-star in Dada. In addition his role was very heavy, as this time he played a good husband and a father to be. During the shoot he received confidence from the director and the actors though. As a former Hong Kong swim team representative, Kevin said that in the film he played a basketball player and revealed that through the director he met a group of basketball players with children. From them he got an understanding of their state of mind and sympathy to help with this performance. He said, "I felt their pain, they are athletes. On top of that a life is about to arrive, this pressure is rather heavy."
Because Kevin and Dada in the film played a couple, they had intimate scenes. He even gave his first on screen kiss to Dada. Dada jokingly asked if she needed to give him lai see and explained that only after the shoot did she find out that this was his first on screen kiss. She said, "After shooting this scene someone said to me that it might have been Kevin's first on screen kiss. I didn't know at all, but he performed very well! Haha!"