courtesy of on.cc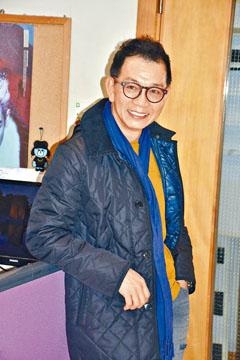 courtesy of singtao.com
courtesy of mingpao.com
Ben Yuen Fu Wai yesterday appeared on Commercial Radio. This year's Hong Kong Film Awards due to the outbreak has canceled its physical award show. Yuen Fu Wa said, "First and foremost is the outbreak development. Forget everything else, health is the most important. Health affects all different levels of operation, as soon as it becomes a problem, a lot have to stop. The Hong Kong Film Award has such concerns, and I feel it is a wise decision."
He was not nominated for Hong Kong Film Award Best Actor with SUK SUK. He admitted that he was disappointed, "I have disappointed people who supported me. They feel that since I was nominated for the Golden Horse Award, I should be nominated for the Hong Kong Film Award. However the two awards have different standards and systems, I can only say that I am sorry for disappointing them. However I am very happy that SUK SUK has 9 nominations. Although I wasn't nominated, I am even happier to help with assisting the advance because I still have many good friends like Cheung Tat Ming, Chu Pak Hong and Au Ka Man, who were nominated. The film industry needs impact, heart to heart. Last year I had a chance to be nominated and everyone was happy for me, so now why wouldn't I be happy for them?"
He said that the outbreak has affected work, but health was the most important. He hoped that the outbreak will soon pass. "I have no channel to find medical masks, I can only do my best in prevention and try not to become a burden. (Do you have enough masks?) I have one box. On the Lunar 3rd a friend gave me a box. I have been saving their use and not going out. For now I have enough. Actually there is no need to fight, I might as well save them for high risk personnel. Now I try not to go out, cancel all the gatherings. However I would take the bike to strengthen my body, which can reduce the risk of infection."