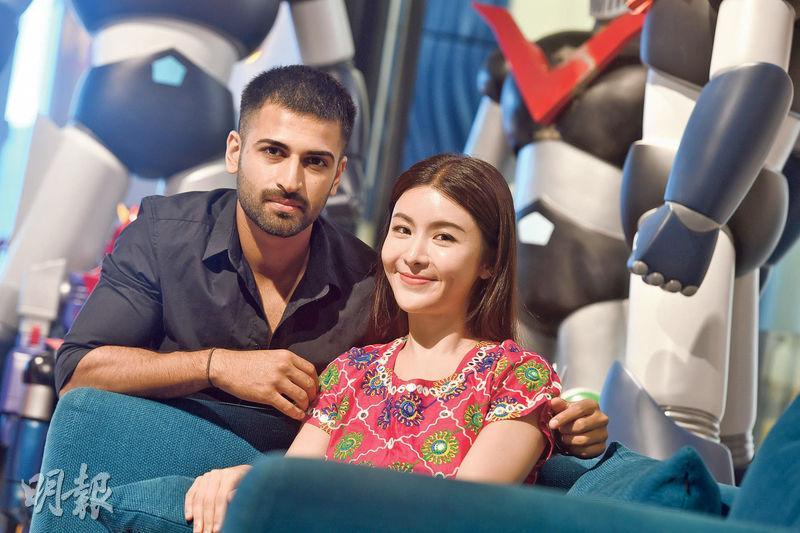 Shirley Chan reveals that Karan Cholia is shy. In order to keep the intimate scenes from getting awkward she takes the initiative to get him to talk and try more familiar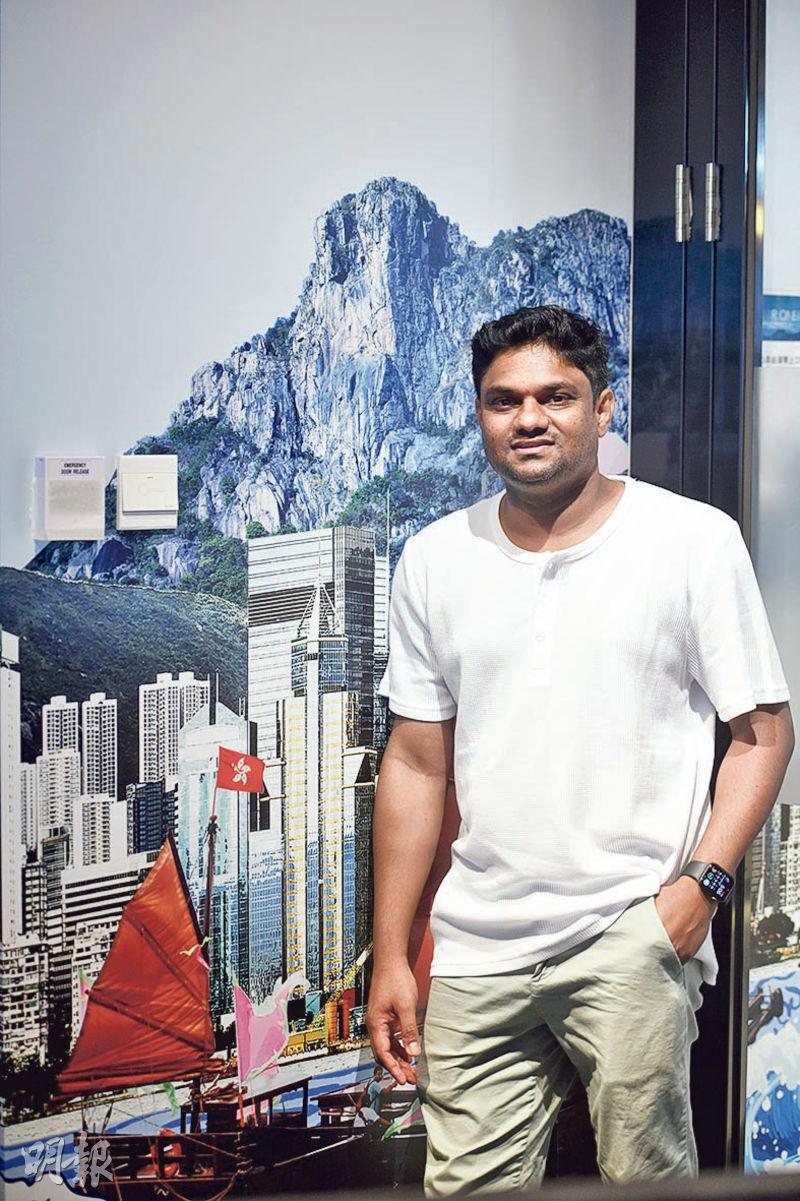 Director Sri Kishore met his wife in Hong Kong, which inspired him to make the first Hong Kong Bollywood movie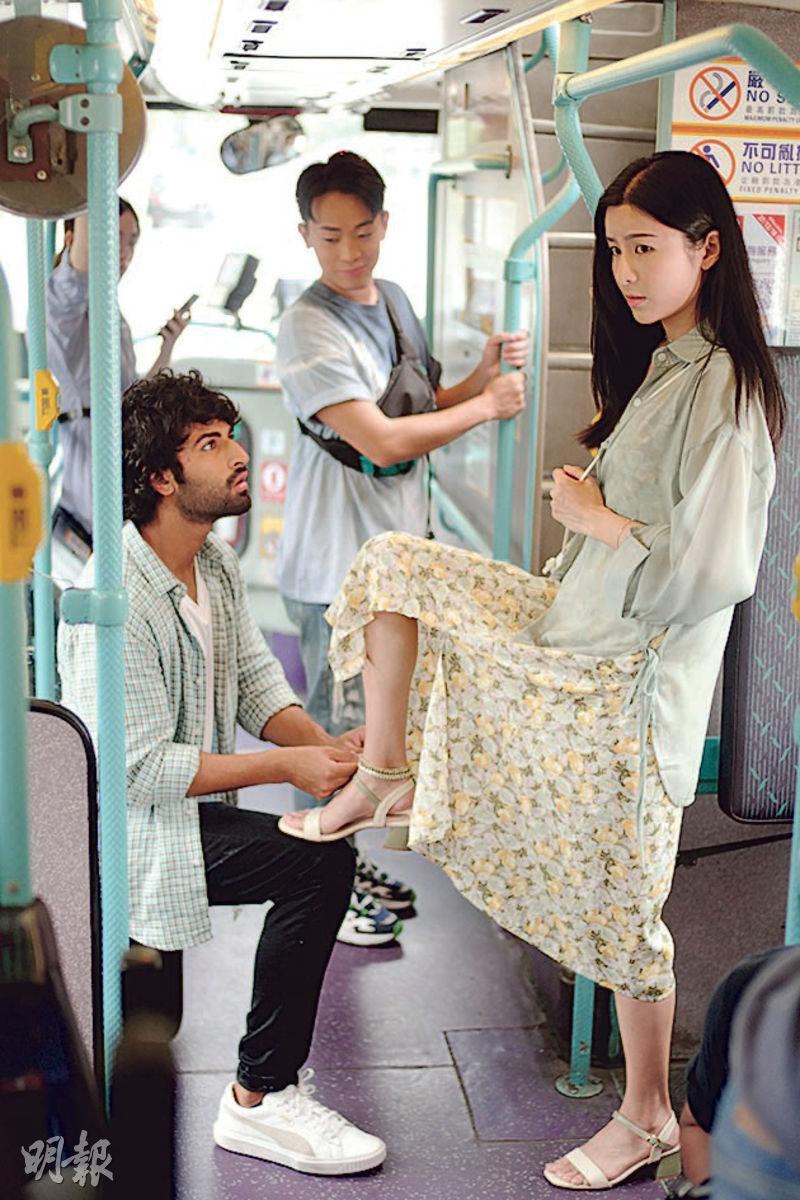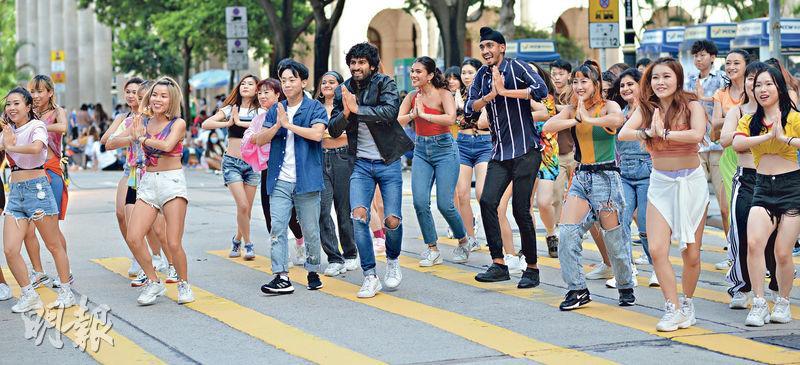 The film had many musical numbers on the streets. The shoot ran into the pandemic social distancing restrictions. The cast tried to maintain their distance and put masks on while not in a shot
courtesy of mingpao.com
Indians are minorities in Hong Kong, some have lived in Hong Kong for years or even born and raised there. They merged their lives and cultures of two places together. From India, Sri Kishore has lived in Hong Kong for 14 years. He met a Hong Kong woman, got married and had a son. He has family, career and friends in this place and already sees Hong Kong as his home; with the same tough and willing to take risk spirit as the Hong Kong people, he is inspired to direct the first Hong Kong Bollywood romance MY INDIAN BOYFRIEND. Starring Shirley Chan Yan Yin and Indian Hong Konger Karan Cholia, the film was in production at the peak of the pandemic. Everyday they would face many problems that arise and have to learn to improvise, which absolutely is a huge challenge for them in their first collaboration.
Dance teacher Sri directed 3 movies in India. Using his own real Indian Hong Kong love story for creative inspiration, he made his first Hong Kong Bollywood film MY INDIAN BOYFRIEND with Karan Cholia and Chan Yan Yin. As the real portrait of an Indian Hong Kong marriage, Sri breaks through cultures, backgrounds, religions, living habits' differences and gaps. They maintain a good relationship completely due to he and his wife's mutual respect.
Sri says, "Our parents are very happy to become a family. Despite their numerous differences, the most important is to learn to respect and understand each other. For example during the Lunar New Year my wife and I would pay New Year visits and give away lai see. On Indian important holidays, she would also go to worship at the temple with me. My wife knows how to cook Indian dishes, every year we would bring our son to visit relatives in India and would return to Hong Kong after Diwali. My son is already six years old, studies in a traditional school, can understand, write and speak fluent Chinese. He would teach me Cantonese."
As for the pandemic in India, Sri can only call his parents everyday to see how they are doing; because cinemas are closed there, his parents would have to wait until next year for the film's release in India.
With his Bollywood experience, Sri deliberately connects the song and dance numbers that are often seen in Indian movies with famous Hong Kong landmarks, injecting comedy, colors, love, family and other elements into the film. With Indian and Hong Kong actors teaming up, the task seems simple but actually they run into many difficulties for it to happen. He says, "At first financing is an issue, because whether in Hong Kong or India, investors have no confidence in a Hong Kong Bollywood film. Understanding that they would not dare to take risks, I prepare a proposal and talk with at least 10 investors. They wait for a very long time before turning it down. Later I bring it up with a Hong Kong friend at dinner, he actually is interested in the script and is willing to invest. It truly is very surprising and I am very grateful."
Another difficulty Sri faces is last year the production ran into the peak of the pandemic in Hong Kong. Planned locations due to social distancing restrictions needed to be canceled or changed. The situation was like guerilla warfare. He says, "I wanted to shoot one scene on the streets of Central. Originally 150 people were to dance together, but due to the restriction the number was reduced to 55 people divided in teams of four. After every shot everyone would put on their masks right way. Luckily no one on the team got sick. During the shoot people complained, so we could only finish it fast." He has never seen places like Tsim Sha Tsui, Causeway Bay or Central quiet and empty, which made the shoot very smooth but also had a chilly feeling.
Leads Karan Cholia and Chan Yan Yin worry that the film would not be able to shoot as scheduled. Everyday at work they would face many problems that arise and have to learn to improvise. Chan Yan Yin says, "Everyday no one knows whether the next scene would be completed successfully. Like at the photo hot spot Sai Wan swimming shed, we have to finish before sunset. We need to explain and communicate with a long line of photographers, luckily they understand and let us shoot first. Everyday is a challenge, but the more challenging it is, the more I realize that the team is very ambitious, very united."
In the film the Karan Cholia played Krishna immigrated to Hong Kong from India with his father. Due to discrimination he dislikes Hong Kong. In real life the Indian heritage Karan Cholia is born and raised in Hong Kong. Speaking fluent Cantonese, he has never been discriminated. He has many Hong Kong friends and they even treat him very well.
With how serious the pandemic is in India now, his friends are very concerned about his relatives in India. However he dislikes being called "Ah Cha". Karan Cholia says, "Not my friends, while playing soccer some people I don't know call me 'Ah Cha'. I know many people call us that, but it isn't considered discrimination. The title feels respect. Actually you can say 'friend', but not with an accent. (Does hearing it upset you?) I don't want to hear it, because it's like they are making fun of us. I would be mad."
Chan Yan Yin and Karan Cholia in the film give their first onscreen kiss, both say that it is very memorable. Chan Yan Yin, in order to get familiar with Karan Cholia so intimate scenes would not be so awkward, would take the initiative and try to get him to talk. She asks about their romantic history and breaks through the gap with it. She even reveals that Karan Cholia is already dating in secondary school.
Karan Cholia reveals that his first love is a Hong Konger. They break up after 5 years. His current girlfriend is of Indian descent as well. Was he like in the movie, break up due to cultural differences? He denies that and says, "We weren't compatible. Love has no border. I live in Hong Kong and have choices, unlike old fashioned Indian families; t the suitable age parents would arrange the marriage. When I love someone, I would get married when I want to."