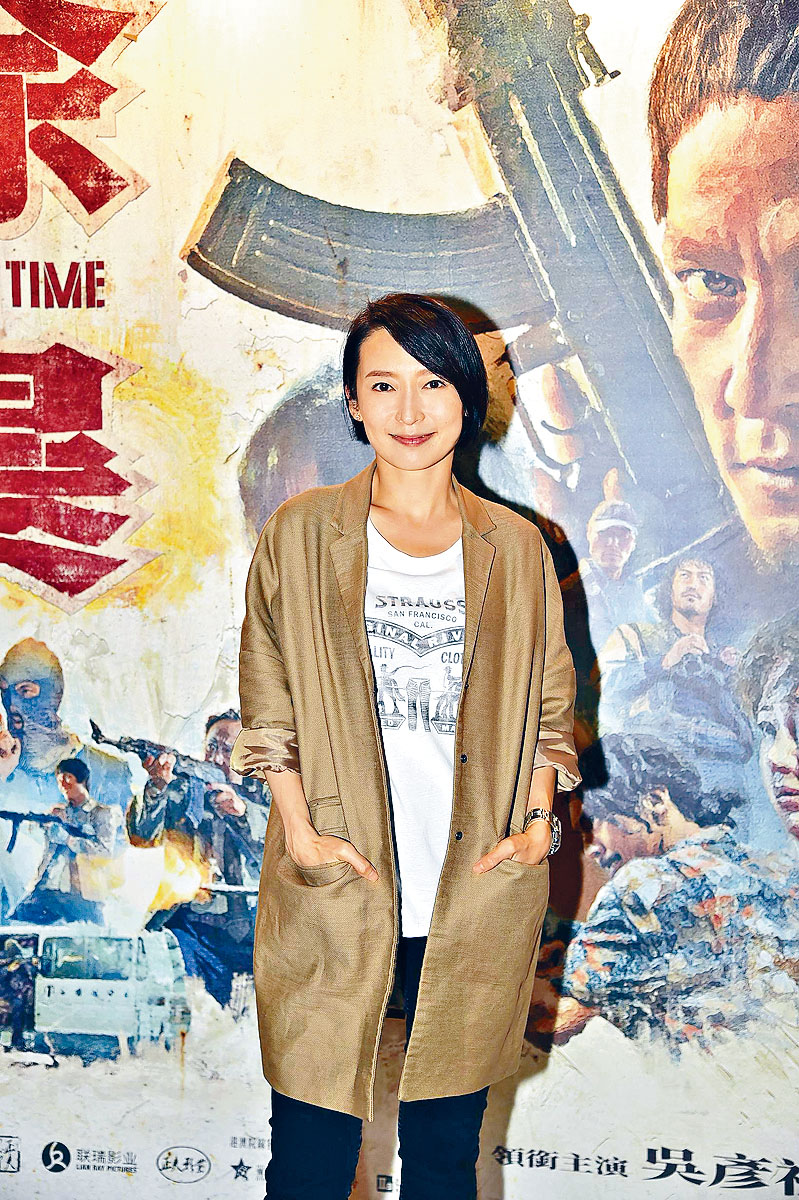 Catherine Chau says that Tony Leung Chiu Wai is a great elder
courtesy of singtao.com
Vincy Chan feels that she has potential for action films
Daniel Wu shaves his head for the role
Catherine Chau, Elly, Vincy Chan, Angus Yeung and Tsang Lok Tung
courtesy of on.cc
The Lau Ho Leung directed, Daniel Wu (Ng Yin Cho), Wang Qianyuan, Michelle Wai Sze Nga and others starred CAUGHT IN TIME (CHUI BO) will be released today. Two nights ago a special screening was held. Catherine Chau Ka Yi, Vincy Chan (Wing Yi), Angus Yeung Tin Yu, Tsang Lok Tung and Elly attended. Ka Yi, Lok Tung and Elly agreed that they wanted to support their good sister Wai Sze Nga. Playing the villain, Ng Yin Cho even shaved his head. Ng Yin Cho looked forward to the film's Hong Kong release very much. Both Wing Yi and Yeung Tin Yu agreed that Ng Yin Cho's look was attractive to them, and they wanted to try playing a villain.
The film CAUGHT IN TIME two nights ago held a special screening at the iSqaure Emperor Cinema in Tsim Sha Tsui. Chau Ka Yi, Wing Yi, Yeung Tin Yu, Tsang Lok Tung and Elly got a first look. Ka Yi, Lok Tung and Elly all said that they came to support Wai Sze Nga. Ka Yi said, "I know in one scene, her head had to hit the floor with a 'bang'. She really is very tough, I really want to watch her performance!" Lok Tung also was rather excited, "We have a chat group that keeps saying that this movie is great, so I am really looking forward to watching it!" Like Wai Sze Nga not holding anything back for CAUGHT IN TIME, Ka Yi said that as long as the director yelled "action", actors would be 100% focused and not consider the issue of getting hurt. "That is what being an actor is like, after the director yelled '3, 2, 1' I would feel that I can do anything. Yet after I heard 'cut', my legs would go numb like I had to drop down!"
CAUGHT IN TIME was based on a real case. In the 90s, a police officer was assigned to capture the armed robbery group "the hawk gang". Its leader even taunted him numerous time and targeted him directly. Ng Yin Cho in the film shaved his head, and his appearance sent chills to people's hearts and was memorable. As for the film's Hong Kong release, Ng Yin Cho was very happy. "The entire team including the director, the producer, the actors and all of the crew gave the greatest effort. I hope the Hong Kong audience would like this film!"
Ka Yi and Lok Tung both took part in the super heavyweight class big production ONCE UPON A TIME IN HONG KONG (GUM SAU JI). Sharing the set with two great Best Actors Tony Leung Chiu Wai and Andy Lau Tak Wa, were they so nervous that they were weak at the knees? Ka Yi admitted, "When I learned that I had a part in ONCE, I started to become nervous. Yet when I really got to work at the set, I really enjoyed it. Because the two great Best Actors are great elders, and director (Felix) Chong Man Keung is also great, they try to make the atmosphere on the set light. They would make actors nervous."
Lok Tung could not agree more. "Actually everyone asks, wouldn't you be nervous about working with two great Best Actors -- like we have to be very nervous! However on the day when we started work, after we put on our costumes we naturally hope to play our parts to their fullest. We wouldn't think about who we are working with."
Wing Yi has not go to the movies for awhile. This night she was excited about watching CAUGHT IN TIME (CHUI BO) and had great expectation for Ng Yin Cho in particular. "Seeing Ng Yin Cho's look in the film, I guess he is playing the villain? Actually I really want to play the villain too. Just like Ng Yin Cho, I look very frail. With my previous guest starring roles, they are closer to my appearance. If I have another chance to act, I would like to play a character that is very different from me. Aside from villains, I feel I have the potential to get into shape for an action film."
Yeung Tin Yu has played mostly nice guys or positive characters. Seeing Ng Yin Cho's breakthrough performance in CAUGHT IN TIME he naturally wanted to give it a try. "An actor's biggest responsibility is to shape that character, live his life. Whatever helps me getting into the role and make the audience believe that character even more, I am willing to do. Shaving my head of course would be no problem!"