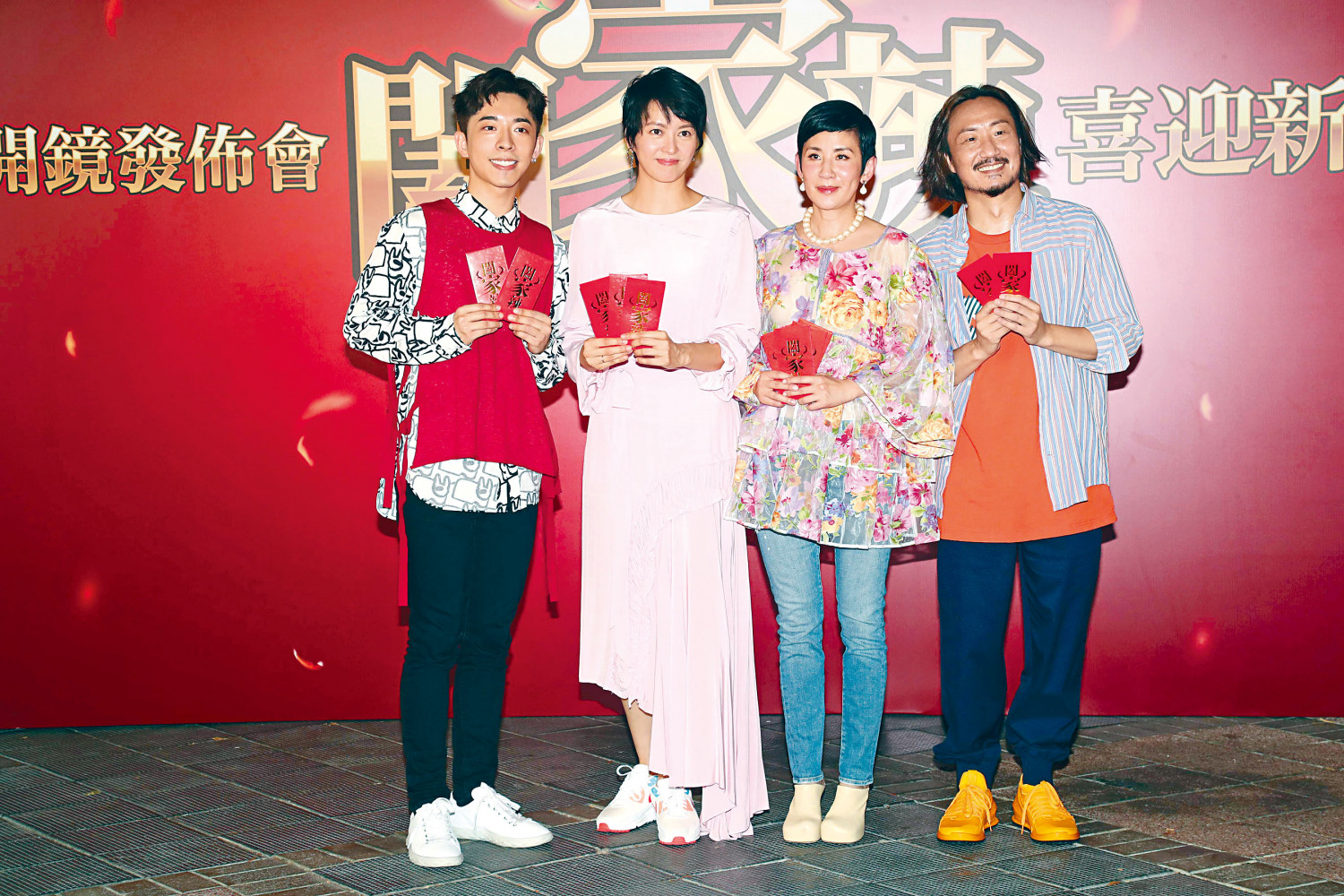 Edan Lui, Gigi Leung, producer and star Sandra Ng, and Ronald Cheng will make a pandemic Lunar New Year film
courtesy of singtao.com
courtesy of mingpao.com
The Sandra Ng Kwan Yu produced and starred Lunar New Year film that was based on new director Cheng Chun Hin's real life story, HAP GA LAT (SPICY WHOLE FAMILY) yesterday held a production start ceremony. Artists Gigi Leung Wing Kei, Edan Lui Jeuk On and others attended. Peter Chan Ho Sun also attended to show his support. Lunar New Year food were on hand, Kwan Yu also gave away lai see to the team and experienced the Lunar New Year atmosphere in advance. Kwan Yu revealed that she wanted to ask Gigi to perform long ago, because she thought that she was pretty and had comedic cells.
HAP already applied Hong Kong Film Development Fund. Kwan Yu said that before its approval she would not have idea how much assistance the film would receive, but she stressed that it was a big production. She joked that making HUM came from a turkey dinner. "I was invited to a turkey feast, originally I didn't want to go. My husband said that he has not returned to Los Angeles to have turkey for two years, so he really wanted to. I tag along and ran into Cheng Chun Hin. He talked and talked about his experience with his family during the pandemic. The story was very funny, so I suggested for him to make it into a movie. I thought the story was full of inspirations and very relatable, which could be said as the spirit of Hong Kong film."
As for actors, Kwan Yu said, "She has to know how to act and has the comedic gene, and pretty too, she has to be Gigi. Because we haven't seen each other for years, when I saw her she still was naturally beautiful. I was at peace right away, because in recent years many people's appearances changed. After Gigi got the script, that night she already replied that the story was funny and signed the contract the next day." Kwan Yu also pointed out that no one paid too much mind on salary, as long as they got to work they agreed right away without any haggling. Gigi said, "It's a happy price." Did she have to apply to her daughter to perform? She said, "I do, she would miss Mommy. However before the pandemic I didn't make any movie. I am very happy to see everyone at work, the entire team is very happy to work together."
Due to the pandemic, Leung Wing Kei were like other parents. Children stopped going to school and went to class over zoom. Since work stopped for Leung Wing Kei as well, she aside from studying along with her princess also became her daughter's personal computer technician. Each class zoom had different link, different room, different pass code. Sometimes turning on the microphone turned it off instead, which drove the computer novice Gigi crazy.
Kwan Yu and young fresh meat Edan would have an intimate scene. Kwan Yu had her reservation. "Don't you worry about me, intimacy has many levels. Our relationship is a family of four, there is just us, everyone can take a guess." Edan after the audition got the role. Kwan Yu said, "He is pretty good, willing to play any role. He is different from the young fresh meat before. He is the most worried about not being able to handle the crying scene. I told him to relax, because many masters would be on hand. He wouldn't have to worry."