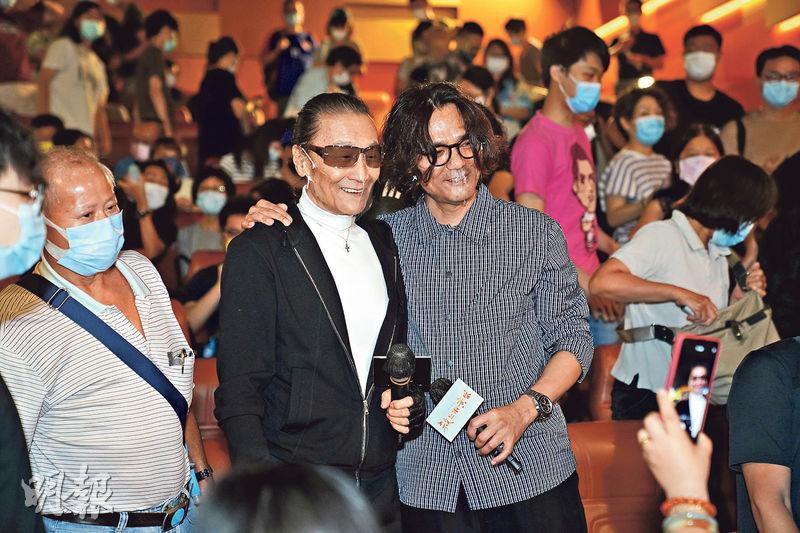 Patrick Tse and producer Gordon Lam interact with viewers at a TIME audience appreciation event
courtesy of mingpao.com
The Patrick Tse Yin (Sei Gor) starred film TIME (SAK CHOOK GOR WONG fuN) will open on July 15th and has held 5 sold out advanced screenings over the past two weeks. Sei Gor on Father's Day visited the Diamond Hill cinema with producer Gordon Lam Ka Tung and director Ricky Ko Chi Bun. When the audience saw Sei Gor's appearance, the entire crowd roared as they fought to shake hands and take pictures with Sei Gor. the response was overwhelming.
That day fans even held banners to welcome their idol. A viewer asked Sei Gor to perform the film end credit song TIRED live, but Sei Gor joked, "Save it for the next one, then I would sing the theme song. If I don't sing it you can end our friendship! Haha!" For his first audience appreciation event, Sei Gor said that the applause belonged to everyone. He excitedly expressed, "Many viewers grew up watching me, they have watched me until today. I thank them for their embrace."
When asked about working with many new generation actors in this film, did they have any generation gap? Sei Gor joked, "I am younger than them, really! What I do they are afraid to, sometimes with joking around, talking a little more crass, they wouldn't dare to. You know? They see me like a teacher, so I really take good care of them." He even revealed that during this shoot he has not taught new actors how to act. "Acting comes from the heart, which has been my experience for years. Because in my lifetime I haven't done anything else, only making movie!"
Speaking of throwing punches and shedding tears for "granddaughter" Chung Suet Ying in this performance, he greatly affected the audience. Was he confident about competing for the Hong Kong Film Award next year? Sei Gor humbly answered, "I hope so, let's see how to use our heads to win the award!" Sei Gor pointed out that the most unexpected was after a year and a half of the completion of the production, the film finally reached the big screen. He even joked, "I thought Ka Tung dumped me!"