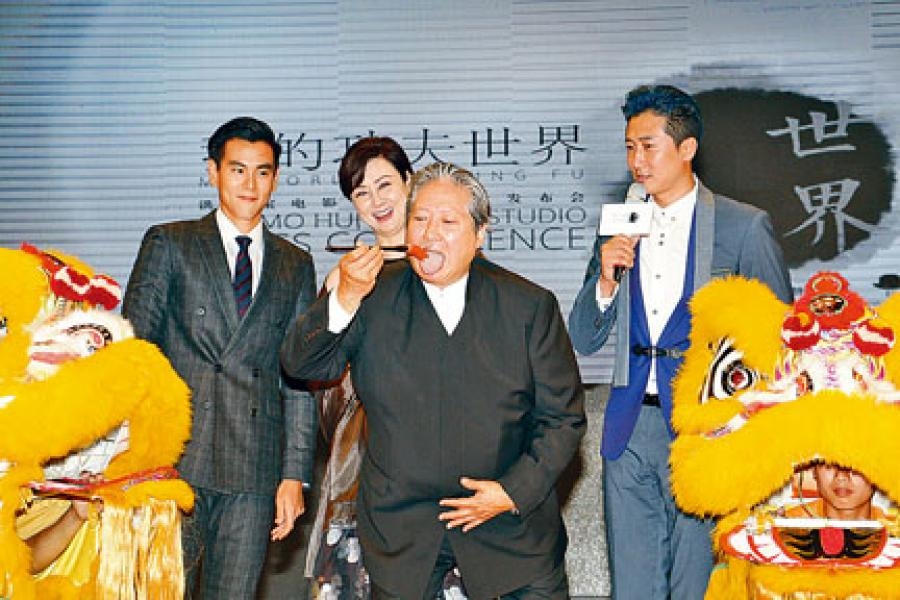 courtesy of singtao.com
When Sammo Hung says he wants to discover new martial art stars, Timmy Hung and Eddie Peng fight for a spot
Eddie Peng takes a knee to show his sincerity to Sammo Hung
Sammo Hung has the support of his family
Jackie Chan, Sammo Hung, Joyce Godenzi
courtesy of on.cc
During the 19th Shanghai International Film Festival, Hong Kong film industry "Big Brother Big" Sammo Hung Kam Bo yesterday announced the opening of his own film office and said that he would actively search for new martial art stars. Jackie Chan, Eric Tsang Chi Wai, Yuen Biao, Yuen Wah and others flew to Shanghai to support him.
Hung Kam Bo yesterday announced the establishment of a film office. He said, "I want to give young people a hand to seriously make movies with a bang. Although the office will be in Shanghai, it won't be limited to Shanghai. It will be global!"
Hung Kam Bo's wife and children attended. Eric Tsang Chi Wai, Raymond Wong Pak Ming, Yuen Biao, Yuen Wah, Yuen Ting, Michael Miu Kiu Wai, Wu Jing and other friends appeared on the stage. Son Timmy Hung Tin Ming and god son Eddie Peng Yu-Yan personally host the event. Near the end of the press conference, Hung Kam Bo suddenly said that an "uninvited guest" appeared in the end. Before he finished, Jackie Chan made a surprise appearance and caused a stir.
After the event ended, Hung Kam Bo revealed that the office has been under preparation for awhile. He chose Shanghai because the local government has been very supportive and provided him with a lot of perks. Hung Kam Bo wanted to discover new martial art stars through this. "I feel that in recent years fewer new kung fu stars have appeared. Actually the world has many martial artists who are waiting to be discovered. Now in Hong Kong no one really dreams and Hong Kong government hasn't been too supportive! Instead the Mainland still has a lot of opportunities, because many people study martial arts but kung fu films still are being overlooked. Over the years I have been making action films, I want to discover new martial artists." He also stated that he would first train Peng Yu-Yan. He praised this god son for being hard work and willing to put in the effort.
As for working with Jackie Chan and Tsang Chi Wai again, Hung Kam Bo said, "For decades we have been working together countless times, when we are together to make movies we have a lot of fun." Chi Wai also supported Hung Kam Bo in making more martial art action films and continuing to spread kung fu films. Chi Wai said, "Kung fu films can really represent Hong Kong. They may not be able to make them well overseas, so it can't be lost!"