Kathy Yuen and Hedwig Tam went to the same school
courtesy of on.cc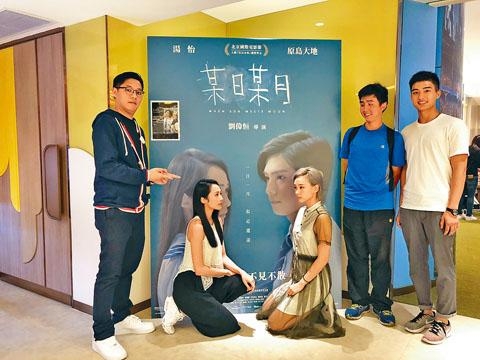 Kathy Yuen and Hedwig Tam reenact the poster
courtesy of singtao.com
The film WHEN SUN MEETS MOON will open on the 31st. The film since the end of last month began its advanced screenings. The response has been overwhelming without many shows sold out. Director Benny Lau Wai Hung led lead actress Kathy Yuen (Tong Yi), Hedwig Tam Sin Yin, Wong Cheuk Lun and Tam Chi Yeung on an audience appreciation tour to thank the audience for their passionate support!
Benny and Kathy appeared at all the advanced screenings to thank everyone. Playing Daichi's classmates, Tam Sin Yin, Wong Cheuk Lun and Tam Chi Yeung also joined the group. Coincidentally, in real life Kathy and Hedwig really went to the same school. Hedwing joked, "Kathy is a few years ahead of me. My impression of her is very memorable. The most invaluable is she looked exactly like she did in school in WHEN SUN MEETS MOON!" Hedwig even revealed that once they ran into each other in the bathroom and Kathy suddenly gave her a bag of cookies. The crowd roared with laughter. Why did she gave cookies in the bathroom? Hedwig said, " didn't know why either, but strangely, we rarely ran into each other at the canteen, the library. Instead we would run into each other in the bathroom." Kathy tried hard to remember but had no recollection of the bathroom cookie incident. However she enjoyed cooking and started to study how to make cakes and cookies.
In addition, lead actor Daichi Harashima's handsome yet rebellious aura had many female fans under his spell and hoped to catch a glimpse of him. Benny explained, "Daichi is studying in Japan. That school is extremely strict and demands students to have perfect attendance. We are fighting for him to come to Hong Kong and may have a chance for him to join the team in the final stage for audience appreciation and other promotional activities."