The ailing Michael Tong shows his support
Aimee Chan spends Mother's Day on the beach
courtesy of on.cc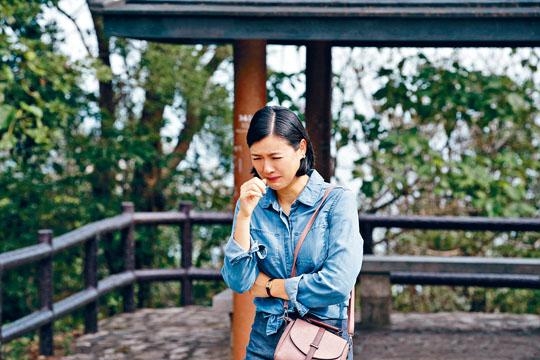 courtesy of singtao.com
The film WHEN SUN MEETS MOON (MAU YUT MAU YUET)'s advanced screenings had overwhelming responses, almost all shows on Mother's Day were sold out. Director Benny Lau Wai Heng and lead actress Kathy Yuen (Tong Yi) were glad to receive a shot of confidence at an audience appreciation event when they realized that Michael Tong Man Lung took time to watch the film! The ailing Michael gave a big thumbs up. "It's great! The movie is a rare school romance, very simple, very human, at the same time it reflected a contrast between then and now. Everything in the 80's and the 90's were very hard to attain, so we would be determined. Now information technology is developed, everything instead becomes the norm. The film is about emotions that are hard for young people to believe. It's a must see!"
Playing Ms. Lo in the film, Aimee Chan Yan Mei also was touched by this determination. Thus soon after giving birth to her third child she decided to make this film. Aimee said, "I have always had the acting bug, the director asked to meet me to discuss the script. He was very passionate. I really like Ms. Lo's determination to pursue romance. The director's previous film WONG KA YAN also had this flavor, as long as it meets my children's schedules I definitely would take the role. I deliberately booked my flight back to Hong Kong early to start work." Aimee stressed that she still was passionate about acting and would try to maintain balance between family and career. "Hubby (Moses Chan Ho) is very supportive of my career. When I get a good role, I would first try to make time with Hubby. At least one of us has to be at home to take care of the children. Ours is teamwork."
Speaking of Mother's Day, Aimee took the children to the beach. Her eldest and elder sons were full of energy, while her youngest daughter very cutely wished her "Happy Mother's Day" and kissed her. As for her extremely outdated and not sexy costume, Aimee did not mind at all. She even wanted no one to be able to recognize her, which would bring the audience a sense of freshness. She played how to protect a long distance romance in the film, actually in reality she had a similar experience. She felt the loss and the helplessness from the other half not being around. When she first came to work in Hong Kong she had to face the same four walls alone, she could only fill her schedule with work.