courtesy of on.cc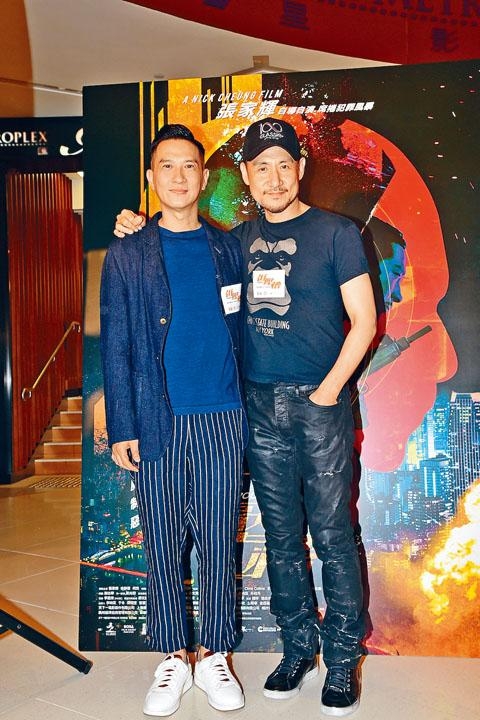 courtesy of singtao.com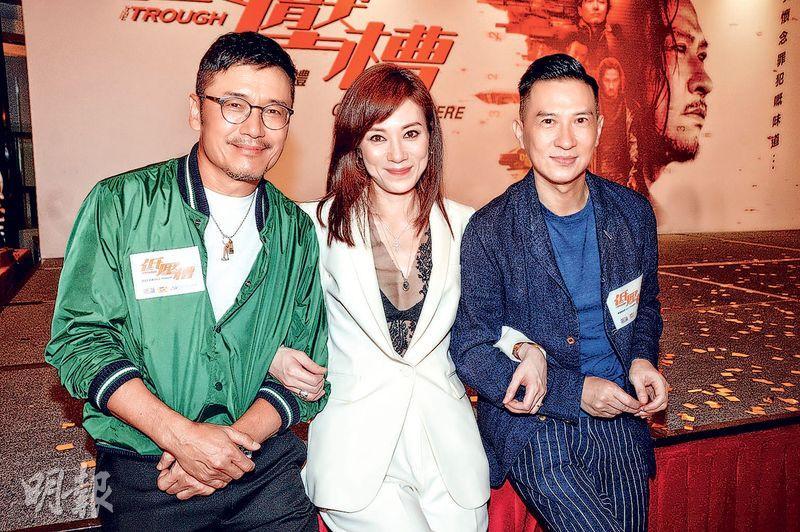 Michael Miu, Maggie Cheung Ho Yee, Nick Cheung
courtesy of mingpao.com
Nick Cheung Ka Fai's third film as a director, THE TROUGH (DAI NGAK CHO), two nights ago held a premiere at the Kowloon Bay International Trade and Exhibition Center. "Older brother" Jacky Cheung Hok Yau, Kelly Chen Wai Lam showed their support in person. Stars Michael Miu Kiu Wai, Maggie Cheung Ho Yee, Lam Suet, Yuen Wah, Louis Cheung Kai Chung, Philip Ng Won Lung and two ch8ld actors Wong Sze Nga and Lee Wing Shan attended as well. Hok Yau praised Ka Fai's directing improvement, and even joked that after he became a director he turned very serious. He wanted to call him "Big Brother"!
Just finished his Taiwan concert tour, Hok Yau two nights ago arrived earlier and was interviewed with "little brother" Ka Fai. Ka Fai said that he did not expect Hok Yau. "I know he has to fly all over, if I am not in any trouble I would rarely contact him. In the past few days I talked with him on the phone. He happens to be in Hong Kong so I ask him to come! (Are you talking about a collaboration?) How can he? He is on tour for years, like he is on patrol."
Hok Yau said that he has already seen the film trailer and praised Ka Fai's improvement, especially in his use of the camera. He was more mature that the movie that Hok Yau was in. Ka Fai humbly said that he still had room for improvement and thanked the investors very much for spoiling him and the team for trusting him. If he would have a chance next time he would continue to try, but he has not thought of a subject yet.
Performing in Jiangxi yesterday, Hok Yau joked after Ka Fai sad that he would wait for him. "My tour will go until January next year, you won't start production so soon? Ka Fai after becoming director speaks differently, when he spoke before he had no point like me. Now he is very stylish and very serious, which scares me a little. I want to call him 'Big Brother'!" Ka Fai joked, "Don't be scared, little brother." Earlier Eric Tsang Chi Wai and a group of friends went to Taiwan to support Hok Yau. Hok Yau said, "They and Chi Wai happened to go there for a birthday and came by to watch my show. I booked a room for them thinking it would be very secret, but they all posted photos instead."
Ka Fai earlier introduced himself in the Mainland as "Jar Jar Fai" due to his poor Putonghua. Thus it became his nickname. Ka Fai said that he did not mind. "The tag is very popular now, very familiar, without any negative connotation. I won't encourage everyone to call me that, they like to and are having fun with it. I can't stop them anyway." Hok Yau said, "I heard it was because of your Mandarin problem, you should go and practice. Maybe when you and I talk we should use more Mandarin."
Ka Fai said that Hok Yau made fun of him many times for not improving in his Putonghua, but he knew that many Hong Kong artists even with fluent Putonghua still needed dubbing when working on a movie in the Mainland. The Mainland had a standard, he joked that it was not biased toward him. Did that mean he would not learn Putonghua? Ka Fai joked, "I am loyal to myself, and I am rebellious." Would he ask his wife Esther Kwan Wing Ho to perform when he directs? Ka Fai stated that the chance would be slim because someone needed to be at home. He was more selfish and would not let his wife to.
Cheung Ho Yee was dressed rather provocatively. When suggested that she should not hide her figure, she said that she did not want to be too deliberate. Working with Sam Gor and Ka Fai again, Ho Yee during the photo opportunity said that both have played her husband. Sam Gor said that Ka Fai came up with his look in the film. Ka Fai said that as soon as he saw Sam Gor he would think of a refined mob boss. In addition Sam Gor was dubbed the "lucky charm" when his web drama received 1.8 billion hits. He joked that it was just a number, not money.
Kelly appeared in furry heels. She joked, "Ka Fai asked me why I brought two dogs. I said they were wings." Last time Kelly guest starred in the Ka Fai directed film. She hoped that Ka Fai would tailor a character for her. She could play a villain.
Speaking of her friend Leon Lai Ming becoming a father, Kelly said that she has not seen the baby girl. She said, "I am not so nosy, but I want to see some photos. If I run into him I would ask him for them." Has Kelly shared any parenting tips with Leon? She said, "You have to be mentally prepared for many people taking pictures. I really understand how he feels, but children will have to go to school sooner or later. How much can you protect them? You have to adjust mentally." She said that other parents often took her photo then posted on social media. Thus each time she would dress neatly.