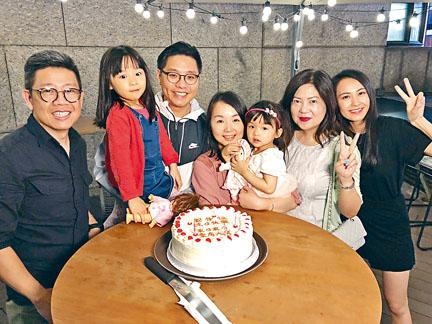 courtesy of singtao.com
The Emperor Motion Pictures WHEN SUN MEETS MOON (MAU YUT MAU YUET)'s director Benny Lau Wai Heng and actress Kathy Yuen (Tong Yi) continued to visit two advanced screenings earlier, met with viewers and showed their appreciation. May 6th was Lau Wai Heng's birthday and he brought his wife and daughters to the audience appreciation event. Tong Yi teamed up with the crew for a surprise birthday party and presented a retro cake to the birthday boy, which made Lau Wai Heng very happy.
Lau Wai Heng said that it was the first time in his life that he watched his own movie and celebrated his birthday with the audience, the cast and the crew. In particular his wife and daughter came along, as well as his mother who lives in the U.S. "Mama has never seen my movie at the cinema and in the same place as me. When I see tears streaming down Mama's face after watching, I was very touched. So it was a very special birthday." His birthday wish was for more viewers to show their support at the movies and comment after watching.
After several audience appreciation shows, Lau Wai Heng admitted that most viewers liked the film so he was very happy. He discovered that Hong Kong actually had those happy days, which had this nostalgia. Love could also be so simple. In addition nostalgic items in the film like pagers brought back a lot of memories. I am very happy to see that people can see this thoughtfulness and hope that it can bring everyone back to an innocent time for the people of Hong Kong."
As for the film's East Wind Film Festival's Audience Award, first time lead Tong Yi admitted that she was very grateful and encouraged to receive the audience's love, but she did not dare to think about individual awards; Lau Wai Heng said that this award was the best birthday present. He stated that his films have won awards before and most were from juries, yet this time the festival audience voted for it. He was very happy to see the reviews because the audience felt it was a very innocent and sweet film. He said, "This award came from England, this film's unique in that it talks about Hong Kong people's immigration or studying aboard. Coincidentally one of the study aboard hot spot of that era was England. When the English audience saw this film, they would feel that when Hong Kong people migrated, boyfriend and girlfriend had to break up. They got it and liked the Hong Kong style story."
The film's premiere will take place on the 30th and officially open on the 31st. Would he invite goddess Charlie Yeung Choi Nei? Lau Wai Heng said, "I invited her first, I even joked that I need to bother you again! Because last time I had a huge Yeung Choi Nei poster, this time the record store had you again! She and I are great friends. Because she has to take care of the children in Singapore, she would not be able to attend the premiere. She stated though that if the film will open and participate in a film festival in Singapore she definitely will be there." Tong Yi said that aside from Yeung Choi Nei, she wanted the most to invite 90s star Vivian Chow Wai Man to attend the premiere. She has been her idol since childhood. She grew out her hair because of her. She also said that she once played a "young Gigi Lai Chi", although back then they did not share any scene she would like to invite Lai Chi.