courtesy of on.cc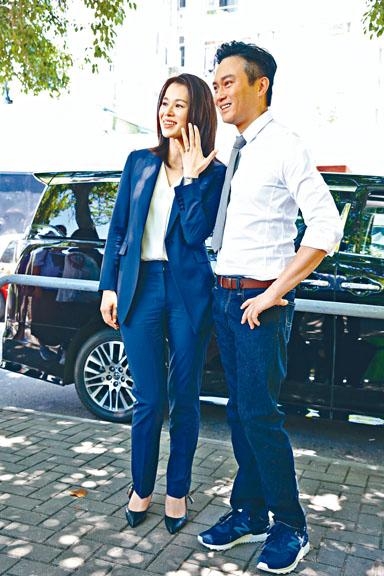 courtesy of singtao.com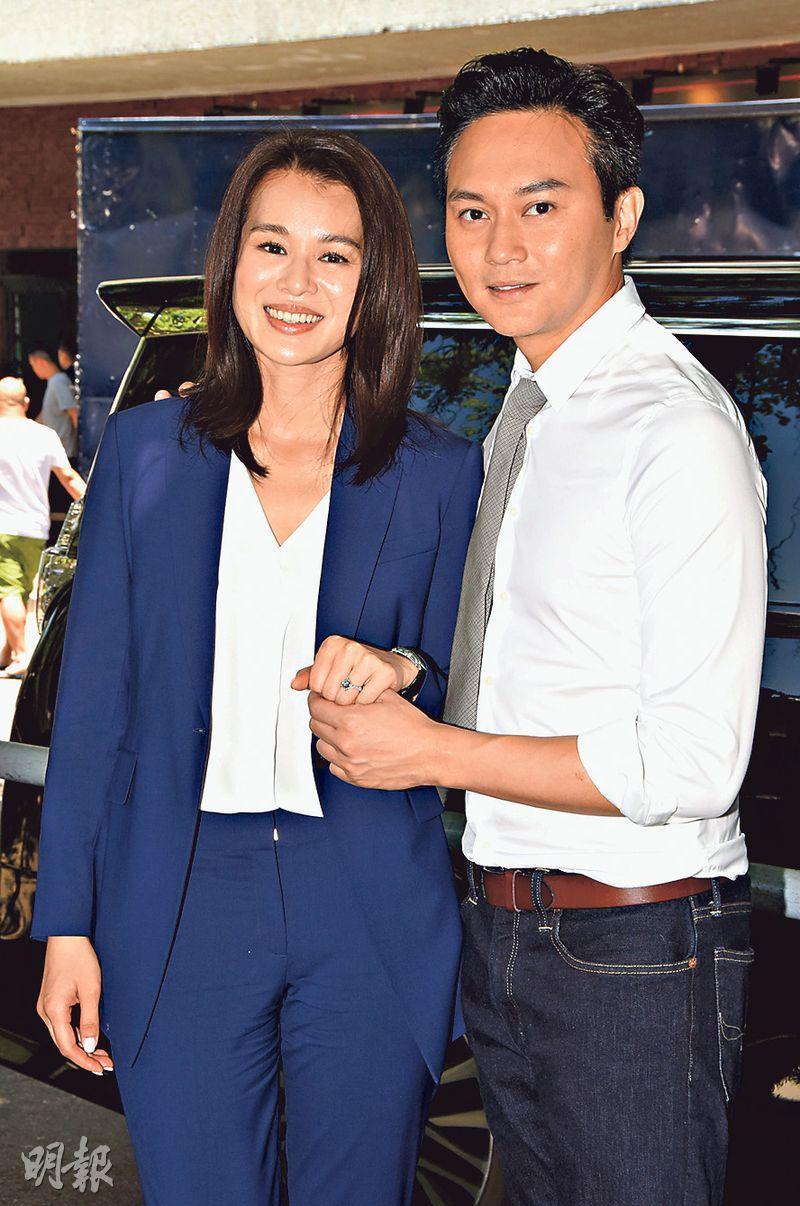 Julian Cheung forgets to put the ring on Myolie Wu's left or right hand
courtesy of mingpao.com
Julian Cheung Chi Lam and Myolie Wu Hung Yi yesterday worked on a marriage proposal scene for their film DEATH NOTIFY (SEI MONG TUNG JI DAN UM HAK JEH: SAU BO KUK SEUNG HUNG WUI). They recalled their own actual proposals. Chilam said that men's knees were golden and when he proposed to his wife Anita Yuen Wing Yi he did not kneel; Hung Yi regretted that when her husband proposed, she told him to get up too soon since it was only once in a lifetime. Chilam chimed in, "As long as no one messes up!" Chilam also said that when he proposed he also gave a pair of earrings, but now he felt dumb because so far he still has not seen his wife with them on.
Cheung Chi Lam and Wu Hung Yi during a photo opportunity played their proposal scene again, but Chilam refused to kneel. He was obviously clueless about which finger the ring would go. Although it was just a film shoot, Hung Yi's diamond ring was eye catching. Chilam boasted, "I am very sincere, the diamond ring is legit -- over 2 karats big. (Did boss Stephen Shiu Jr. loan it from his personal stash?) Product placement, the sponsor provided it. After the shoot it might be given to Hung Yi." Hung Yi chimed in, "I would like it to be."
Why did Chilam not kneel to propose? He said, "Kneeling or not it's not important, the most important is size. When I saw it I jumped, how could it be so huge." Chilam talked about when he proposed to Yuen Wing Yi. "At the time we were in Singapore. I pretended to be amazing and told Len Len in the hotel room I had a gift for her. She thought it was a ring, when she learned they were earrings she was a little disappointing. I said, "There's more'. Now I feel dumb, why did I get an extra pair of earrings? So far I still haven't seen her with them on. (Did you kneel to propose?) No, men's knees are golden, but I already gave her an extra pair of earrings to her. (Because Len Len agreed immediately you didn't need to kneel?) We were in love, without too many mumbo jumbo."
Hung Yi revealed, "When he proposed, my husband of course knelt, but he didn't kneel too long. My natural response was to tell him to get back up after several second. I regret very much that I should have told him to kneel longer so I can properly remember this moment. It may be once in a lifetime." Chilam joked, "The next time he kneels would probably for messing up, I hope it's once in a lifetime. So my knees are golden, I would never kneel. As long as I don't mess up I am fine."
Her friend Mandy Wong Chi Man was rumored to wed this year and now is choosing a date. Would Hung Yi sponsor the wedding gown and help with the date, Hung Yi's lips were sealed. "You have to ask her." Chilam joked, "Are you kidding? You can't even talk about it a little?" Hung Yi said, "The sooner the better, she has to check her schedule." Chilam kept going. "Something is up, that means the date is set?" Hung Yi ignored him and joked that she had to keep it a mystery.