courtesy of on.cc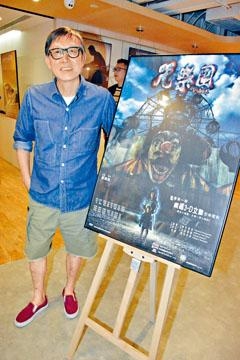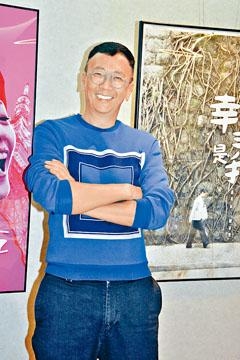 courtesy of singtao.com
Director Andrew Lau Wai Keung and Lawrence Cheng Tan Shui yesterday attended that the "Lau Wai Man film poster exhibit". Lau Wai Keung revealed that he is working on the post production for his film WHEN ROBBERS MEET THE MONSTER (MO LUM GWAI SAU). Next week he will scout location in the Mainland for the new film KWAN TIN DAI BAU JA, based on the Great Dalian Explosion. The new film will star Mainland and Hong Kong actors.
Speaking of Shawn Yue Man Lok becoming a father, Lau Wai Keung happily said, "I already congratulated him. I have seen the baby's photo. He told me not to reveal it. However the baby is very cute, its fingers are very long. Sons mostly don't resemble Papa and resemble Mommy more. You can tell from looking at them. The baby is very big and tall." As for a present, Lau Wai Keung said that the baby was born with a silver spoon in its mouth. Thus he would give love and told Lok Jai to spoil his wife a little. He even shared parenting tips. Lau Wai Keung said, "You have to be a little more brave with a baby. You can't be too scared. Children are actually very strong. Three month olds are stronger than us."
Ah Tan's YUPPIE FANTASIA 3 (SIU NAM YUN JAU GEI 3 ji NG GA YAU HEI) received good reviews. Shaw talked to him about another sequel so he has been planning the screenplay in the past half a year. Ah Tan recently opened the "Lawrence Cheng Workshop" and signed a 19 year old Sichuan girl Liu Yichen. Ah Tan said that because the musical STORM's Mainland tour earlier, he ran into this intern receptionist in Guangzhou. She asked about her future at the celebration. Ah Tan said that if she was not afraid of not being able to make a living from signing with him, she could give it a try. Finally she signed a 10 year contract.