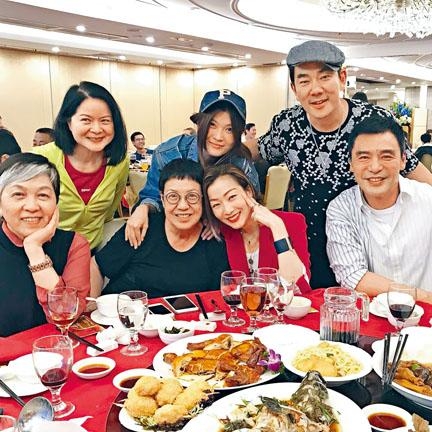 courtesy of singtao.com
Sammi Cheng Sau Man recently worked on the Ann Hui On Wa produced, Heiward Mak Hei Yan directed new film FAGARA IN MARA (FA JIU JI MEI). Yearsl ater she teamed up with Richie Jen (Yam Yin Chai) again. Kenny Bee (Chung Chun To) also starred.
Two nights ago Sammi shared a photo from their dinner, which actually was the production wrap banquet. She joked that the focus of the photo was Siu Chai, praised how amazing he was as he kept gaining weight and working out for his next film. After a month apart he looked much bigger. Sammi also said that the photo already Siu Chai looked thinner, as it covered up his "solid" belly and thick "thighs". She even joked, "I touched his belly, which was firm and swollen." She admitted that gaining weight in a short time did not rely on eating like crazy. He required a supervised diet as sh revealed that Siu Chai worked very hard on eating. In addition Sammi also posted a photo from when she, Leon Lai Ming and Vivian Chow Wai Man performed at the New Talent singing contest. She and Chow Wai Man both played princesses and sang with Lai Ming.