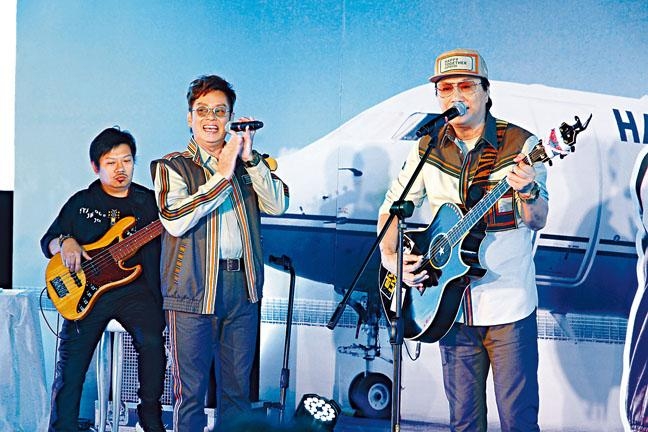 courtesy of singtao.com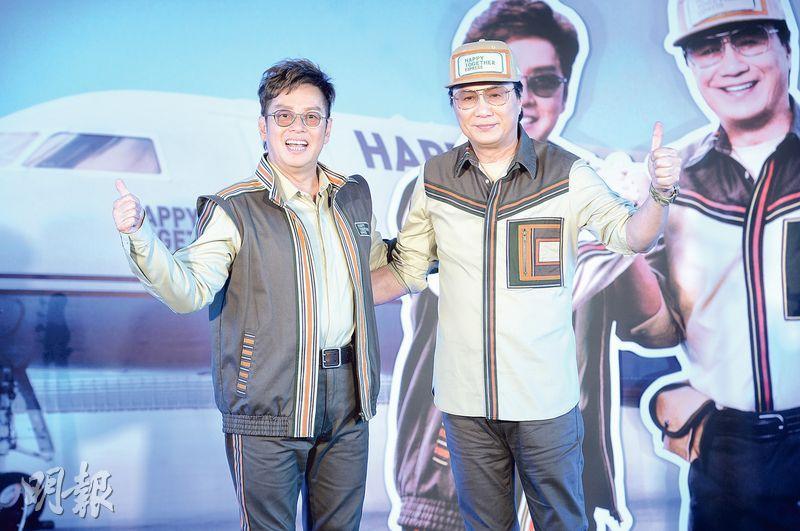 courtesy of mingpao.com
SAM AND TAM HAPPY TOGETHER PART II concerts will take place between August 5th and 12th. Yesterday at the press conference, Sam Hui Koon Kit and Alan Tam Wing Lun appeared in courier uniforms and performed a preview. Sam played his guitar and performed WORLD LIKE CHESS, Beatles hits and FRIENDS. Sam even suggested to Sunny Wong for a sexy choreography at the concert. Would Alan dance? He asked, "Do I pole dance?"
The host asked Hui Koon Kit and Tam Wing Lun if they owed a lot of tickets. Alan joked that Sam has many relatives in Hawaii. Sam said that he would give his all because this time part II would be different from part I. Alan said, "Last year Sam only used 1/3 of his hits, he still has 2/3. This time will truly be a hit open archive. To sing them all though would take more than a week!" Sam said, "I would say the other 2/3 of the songs, some old songs would have new lyrics. I hope the audience would get a sense of freshness!" Alan said, "Sam's songs are very philosophical, heartwarming and inspirational!" Today tickets to the 8 shows would go on sale. Would they add more show? Alan joked not to add day shows as he wanted Sam to have time for his grandchildren. Sam said, "If it's fun I would add as many shows as I can!" Then they received gold microphones from the event and cut the delivery plane cake.
Alan said that part II would have different hits from last year's. Every night would have different songs. Was he afraid of not remembering lyrics? He said, "Don't be silly! Remembering lyrics? Science is so advanced now, if I have to remember I won't perform!" How many songs would they sing? He said that he and Sam prepared 200 songs, but Sam said that because of too many songs, many would only be half a song. Alan also said that this time would have a lot of choreography. Sam even asked Sunny Wong to make it hot. Sam said, "Yes, more hot choreography. I like to move, more action would be more entertaining!" Would Alan be a dancer? Alan asked, "Do I pole dance?"
Two months away from the concerts, Sam's goal was to lose 10 more pounds. Alan said that Sam keeps fit, while he keeps fat. However earlier when he performed outdoors in the Mainland, his underwear was all wet just from him getting on and off stage. At night he went to celebrate and had seven bowls of pepper hog maw soup and lost 10 pounds in a day. He also said that Sam was already in great shape 3 months ago, he did not need to lose anything and only had to tone because he was already good looking and sweet sounding. Sam said, "My mouth is very sweet, haha! Actually I just kept going to the gym and didn't deliberately drop any weight!" Would Sam ask his colleague to get into shape? Alan said, "He is my idol, if he asks I definitely would. He hasn't though, so I let it go. Everyone is better that way!" Sam also protected Alan, "Actually he doesn't really need to lose anything, after one show he could already lose several pounds!"
As for additional shows, Alan said that it would depend. At most they could only add a few shows and probably no day show. Mainly he did not want to keep Sam from his grandchildren. Alan joked, "It would depend on whether Sam would lose his pants, whether he would lose his pants from being chased!"