Friends like Fiona Sit and Eric Tsang show their support
Hanna Chan later will head to Paris for a fashion show
The ailling Gordon Lam feels better when he talks about his new film
Peter Chan and Sandra Ng
courtesy of on.cc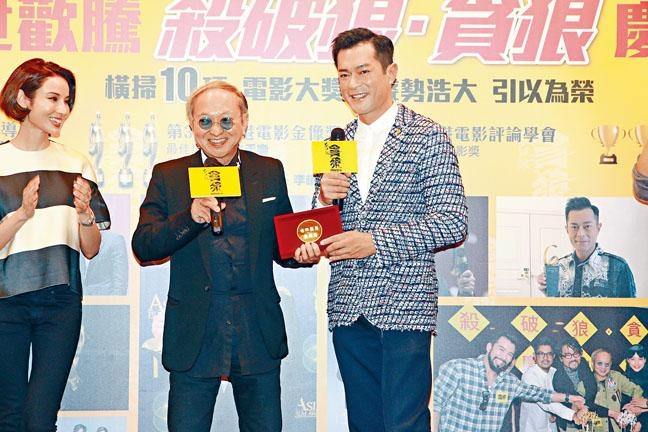 courtesy of singtao.com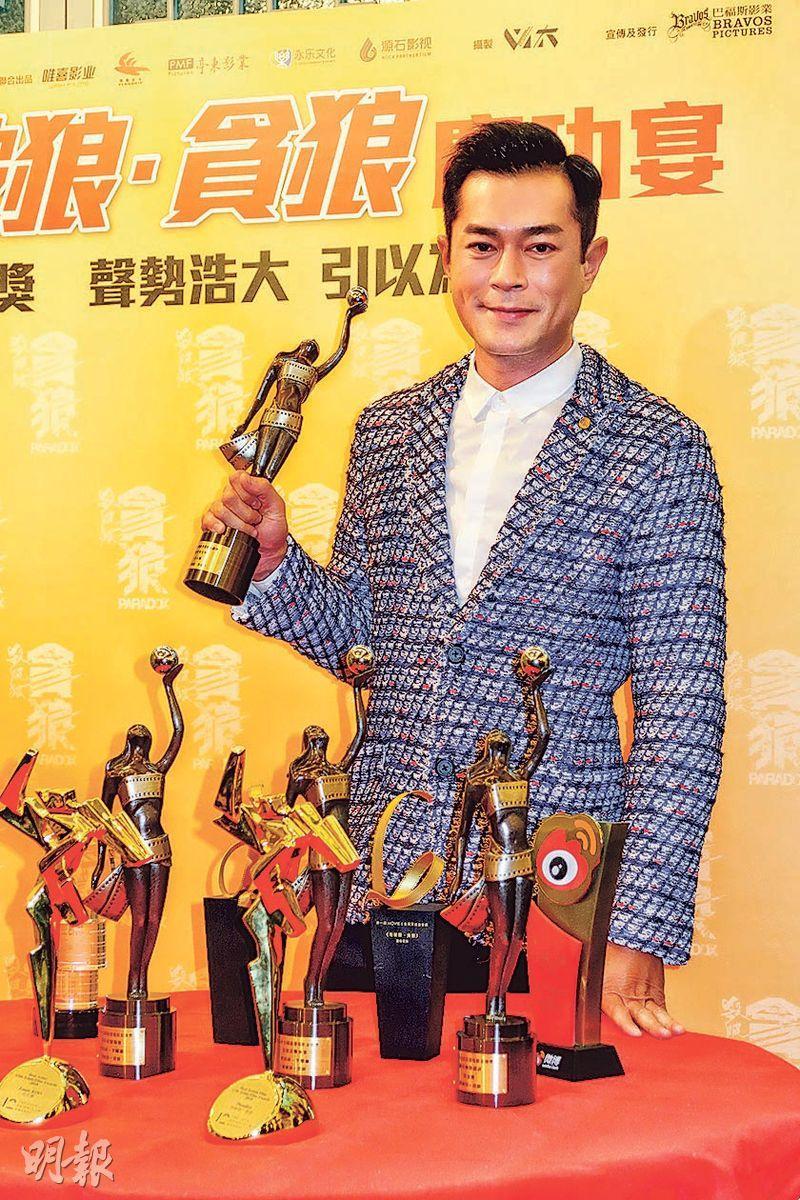 Louis Koo poses with ten awards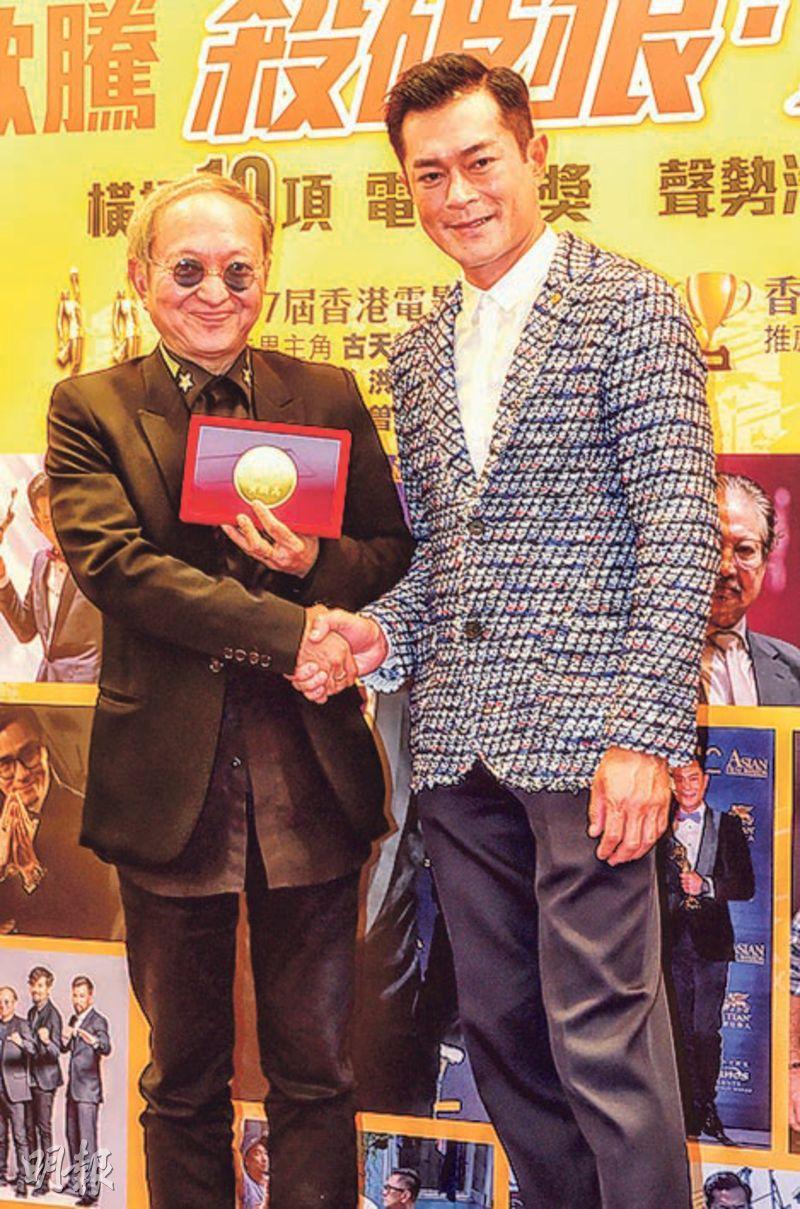 Louis Koo "pays his debt" with a gold plaque he promised to Paco Wong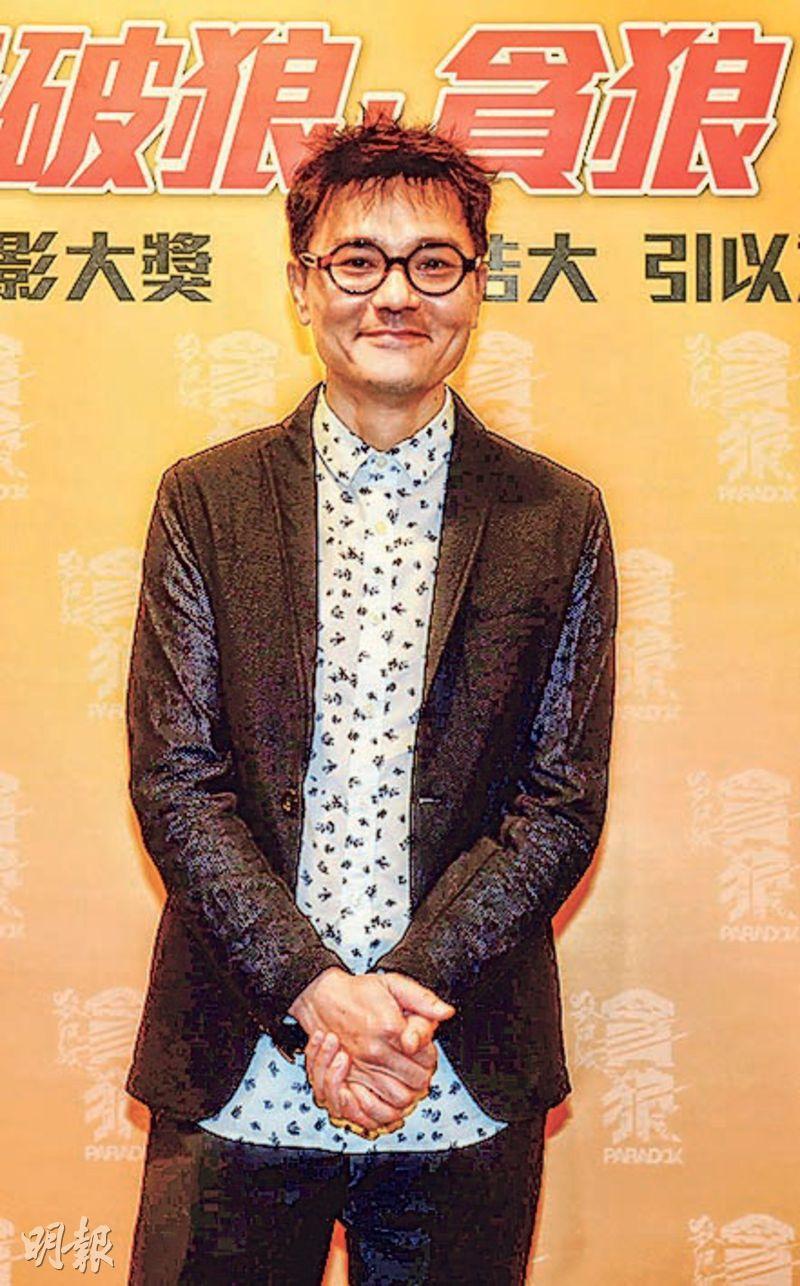 Gordon Lam plays a cop again
courtesy of mingpao.com
PARADOX (SAT POR LONG TAM LONG) two nights ago held its celebration. The film won ten awards, lead actor Louis Koo Tin Lok also won six Best Actor awards with the film. Two days ago he added the 7th Hong Kong Salento International Film Festival's Outstanding Actor award. Producer Paco Wong dubbed Goo Jai "Lord Koo" and Goo Jai fulfilled his promise as he presented a gold plaque with the words "Gold Label Producer Paco Wong" to Paco.
Actors Koo Tin Lok, Gordon Lam Ka Tung, Wu Yue, Michelle Saram (Suet Yi), boss Alvin Chau Cheok Wa and producer Paco Wong attended the celebration. A ten tier champagne glass tower was constructed as everyone filled it with champagne to celebration the film's good performance. Paco even hoped that "Lord Koo" would have time for the PARADOX sequel. Later Goo Jai presented the "Gold Label Producer Paco Wong" gold plaque to Paco. Goo Jai said, "When we flew to promote, Paco gave me a gold dragon and told me to put it in my pocket. If I won an award I would give him a gold plaque in return. Now I am fulfilling my promise!" Paco happily said, "I sincerely wish Lord Koo well. Our connection started when SPL started, when the film in an emergency needed to a famous actor of substance. I really thank him for lending a hand. The appreciation always remained in my heart. I also hope that when Cheang Pou Soi and Yip Wai Shun have another good script, he would win Best Actor again."
Goo Jai said that two nights ago was the fourth celebration dinner since he won Best Actor. Speaking of winning in Italy again, he admitted that he was very happy. Would he feel like he has reached international status? He said, "I would humbly continue to learn, but I am very happy to be able to make a good movie and win so many awards." Winning Best Actor with an action film, would he like to return to romantic drama? Goo Jai said that his two upcoming releases happened to both be action films, in one of them he even had to fight against 50 like in THE MATRIX. Since he did not start as an action actor, his stunts naturally would a little less difficult. He would like to challenge himself, but the production time limit might not enable him to.
Would Mommy worry and stop him from making fight scenes? Goo Jai said, "Usually she wouldn't see them until the movie is out, because whenever she follows she would nag me." Earlier when he injured his eye was Mommy worried? He said that time was a "nonsense" injury, as no one would want an accident to happen.
As for Mother's Day, Goo Jai has already scheduled dinner to celebrate with his family long ago. He also prepared a watch that Mommy specified this year. Why not give her a daughter in law? Goo Jai joked, "You can't buy a daughter in law!" Would his next goal be starting a family? He said, "I have no comment for anything relationship related!" Would he make an announcement when he weds? He still insisted that he would not respond to any relationship question. Would he wait until his autobiography to tell his story? He said, "I have always been low key, in addition my personality is predetermined. I have no reason to violate my principle in my old age and tell my secrets!"
Lam Ka Tung yesterday went to Macau for a month to work on the Macau government and Mainland co-funded film NOBODY NOSE (MAI GOK DIK HEUNG). In the film he played a cop again, but he waited three years to have another chance to play a hero. This time he and Jacky Cai Jie will have some relationship scenes. He had no standard and would only try to accommodate. Speaking of his daring scene with Fala Chen in the film TALES FROM THE DARK, he was only topless. Would he be willing to bare it all next time? Ka Tung said, "The most important is to have a good script."