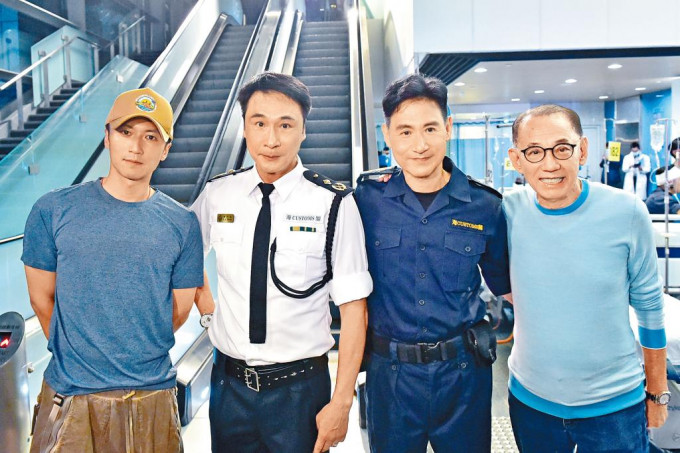 courtesy of singtao.com
Albert Yeung gets an understanding of action director Nicholas Tse's stunt shoot progress
Kenny Kwan and Michelle Wai celebrate new comer Lai Chun's birthday
Lai Chun
courtesy of on.cc
The Herman Yau Lai To directed Emperor Motion Picture HOI GUAN JIN SIN (CUSTOMS FRONT LINE) is heating up in production. Emperor Group chief Dr. Albert Yeung Sau Sing visited the set and cheered on Jacky Cheung Hok Yau, Nicholas Tse Ting Fung, Karena Lam Ka Yan, Cya Liu, special performer Francis Ng Chun Yu and others. New comer Lai Chun celebrated his birthday on the same day. Also on hand were Shek Sau, Michelle Wai Sze Nga, Kenny Kwan Chi Bun, Angus Yue Tin Yu and Chu Tin. Best Actor Ng Chun Yu hoped that he would be able to work with new directors. He even publicly called for everyone to offer him film roles, stressing that his salary was a "value".
Playing a Customs officer, Hok Yau saw Boss Yeung on the set visit and saluted him as they interacted a little. Boss Yeung could not wait to pass on a message to Hok Yau. "I just met with the Commissioner of Customs and Excise. She asked me to send his regards to Hok Yau." Hok Yau was a little surprised and thanked friends from everywhere for their support of this film.
Boss Yeung personally thanked Chun Yu for performing and caught up with each and every one about the production. He also got an understanding of the stunt progress from action director Tse Ting Fung. He was fully confident in Ting Fung and asked everyone to wait and watch a good movie!
Ng Chun Yu performed in a special performance format. On the day of the set visit over 100 extras were present, but they could not disturb his focus on familiarizing himself with the scripts. Chun Yu pointed out that this time the team arranged for ample time so the process was very smooth. However next time he would like to have a little more of a role. He said, "Of course I am very happy to be able to work with Hok Yau, Ka Yan, Ting Fung and others. Next time I hope to be able to have a little more! (This time you didn't have a chance to receive Action Director Ting Fung's stunt performance arrangement?) I can only wait for next time."
Chun Yu said that he hoped to be able to make a movie every year and be able to work with new directors on movies. "For now I haven't come in contact with this year's new directors. With the Hong Kong government's and the industry colleagues' strong support, so far no one has approached me yet. I am telling everyone, my performance fee is OK."
In addition, Emperor new comer Lai Chun celebrated his birthday on the set and received a cake from the team. Boss Yeung led the staff on the set to celebrate with him. Ka Yan gave her well wishes right away. Lai Chun said that he was very happy that this year three goddesses Lam Ka Yan, Cya Lu and Wai Sze Nga celebrated his birthday with him. "This is the first birthday I would spend at work, I believe when I get home I wouldn't be able to sleep. The rarest part is even the boss came. Almost the entire company was there." Kenny also sent his well wishes and stated that he did not know about Lai Chun's birthday until today. Kenny was asked whether he would buy a make up birthday gift? He jokingly said to birthday boy Lai Chun, "Whatever you want, if you dare you can just name it!"