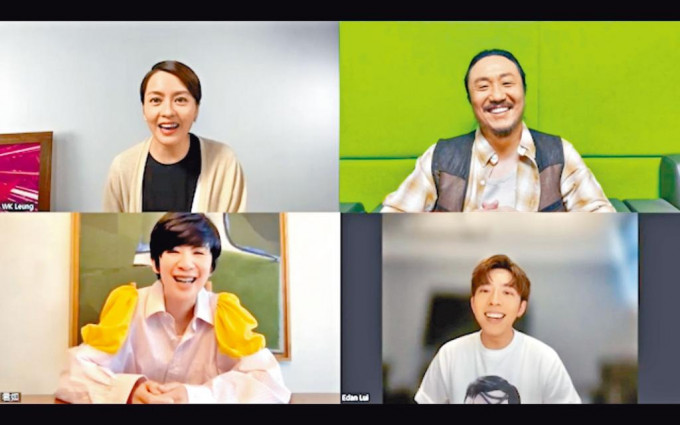 Gigi Leung, Ronald Cheng, Sandra Ng and Edan Lui discuss their excitement over video conference
courtesy of singtao.com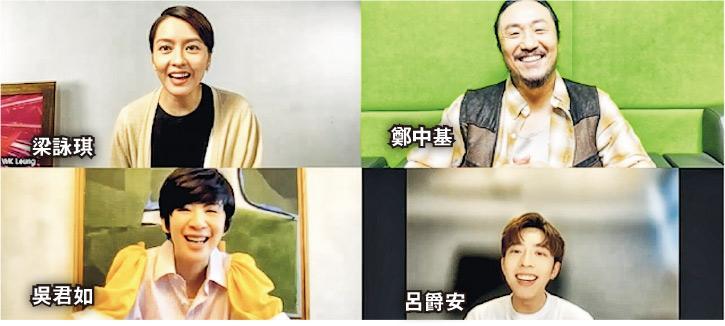 courtesy of mingpao.com
The Sandra Ng Kwan Yu, Ronald Cheng Chung Kei, Gigi Leung Wing Kei, Edan Lui Cheuk On starred film CHILLI LAUGH STORY (HOP GA LAT) originally was to be this year's Lunar New Year film, but in the end when cinemas were closed due to the government's tightening of pandemic prevention social distancing measures the release has been postponed until July 14th. CHILLI would be Hong Kong's firs summer vacation Lunar New Year film, wishing the audience an early Happy Lunar New Year this summer. When the four leads learned of the film's release this summer, they immediately had a video conference to discuss their excitement.
Gigi curiously asked, "Lunar New Year greeting during the summer vacation? When would CHILLI LAUGH STORY be released?" Edan anxiously said, "Fans, and Aunt Three next door, Soon Jai also said their necks have been stretched out from waiting. If it doesn't open soon, it won't be my first film!" As everyone chimed in, Kwan Yu officially announced, "CHILLI LAUGH STORY now has decided to open July 14th." Ronald joked, "July 14th? Aren't you kidding? Why don't you release it during summer vacation then!" Kwan Yu again reminded everyone, "July 14th, not on the Lunar calendar, not Sister Law Lan's Lunar calendar!"
During the conference, Kwan Yu took the opportunity to chase down Edan and asked him about the 100 MIRROR concert tickets she asked him to get for her. Kwan Yu jokingly asked, "I asked you to help me with getting 100 tickets, can't you get them?" Playing Edan's onscreen Mama, Gigi also chimed in, "Did you forget about your Mommy?" Edan pleaded in response, "I will do my best! No problem!"