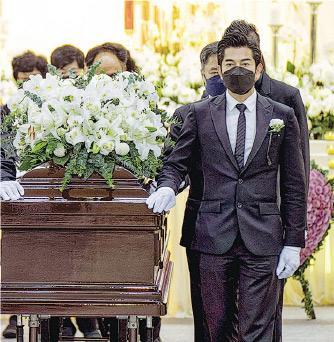 Aaron Kwok is one of the pallbearers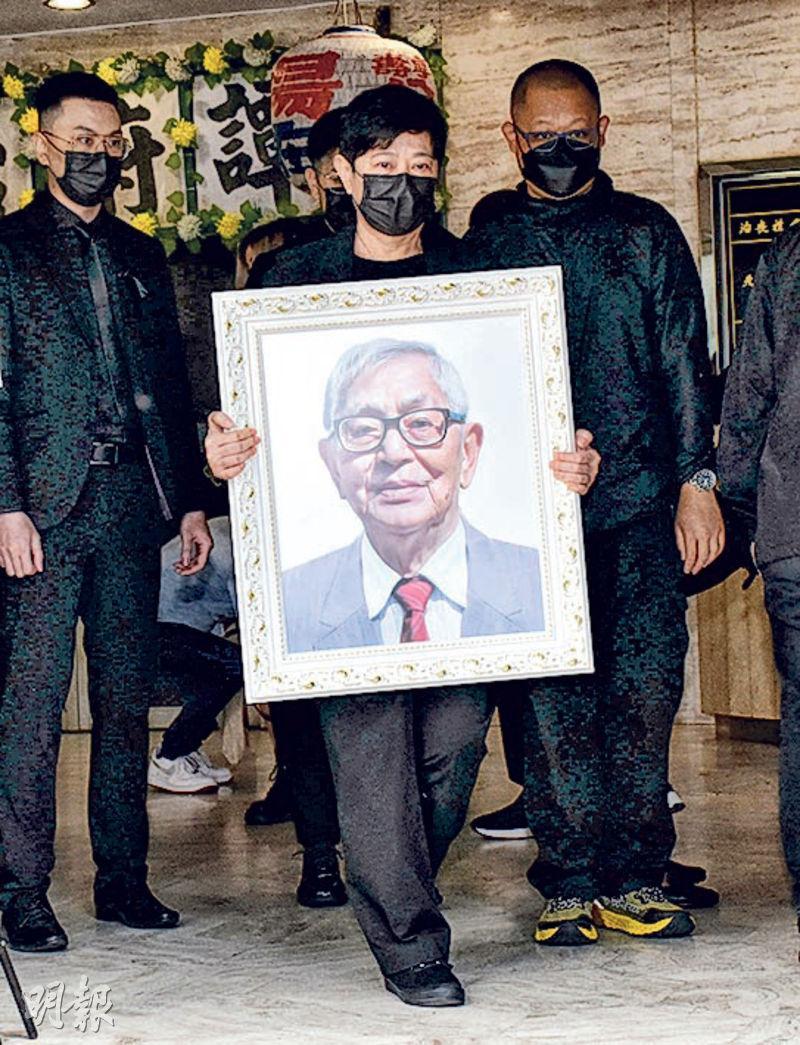 Siu Mei carries her father's photo out of the funeral parlor
courtesy of mingpao.com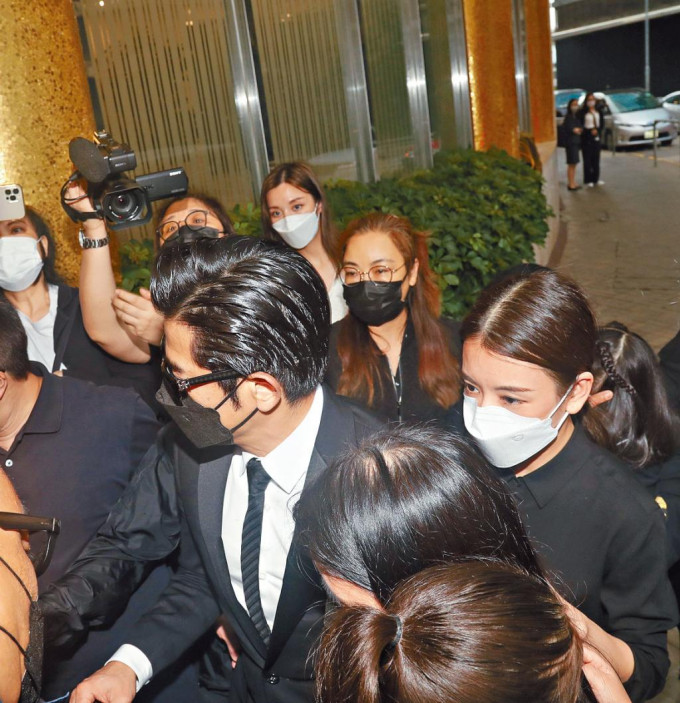 Moka Fang tightly follows Aaron Kwok into the funeral parlor
courtesy of singtao.com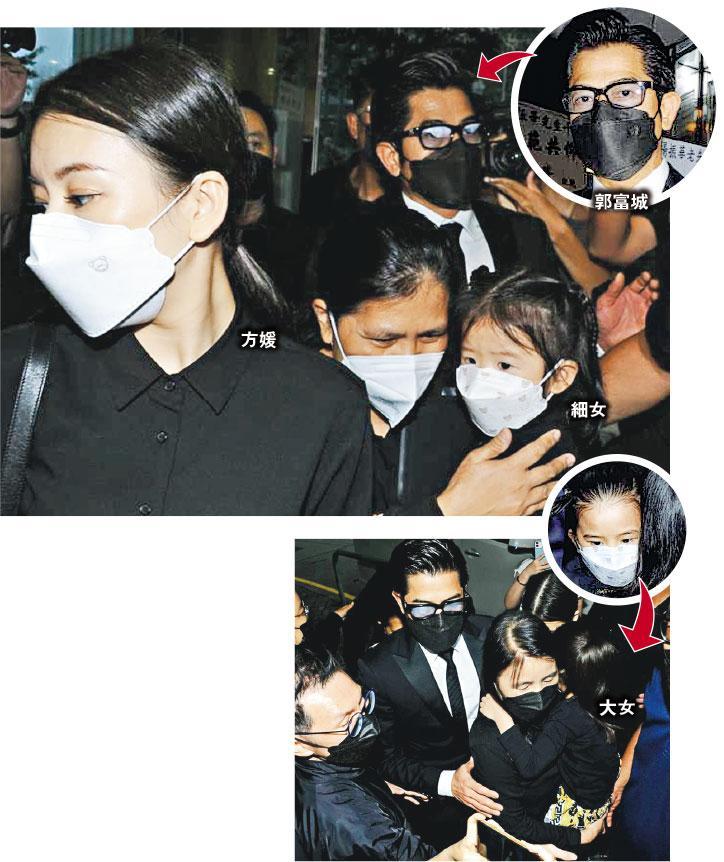 The appearance of Aaron Kwok and his family causes a stir. Aaron Kwok takes the lead and clears the way for them.

Siu Mei is grateful that her father passed peacefully, and all 3 daughter were by his side
Albert Yeung and Winnie Yu pay their respect
courtesy of mingpao.com
Aaron Kwok Fu Sing's manager Siu Mei (Leung Mei Mei)'s father Leung Kwai Wing past away on April 26th. His family began services for him yesterday at the Hong Kong Funeral Parlor with a Taoist ceremony. Today after the funeral the remains would be transported to the Cape Collinson Crematorium. Yesterday those paying their respect included Kwok Fu Sing, Emperor boss Albert Yeung Sau Sing, TVB executive Ho Lai Chuen and his wife, choreographer Sunny Wong. Many in the industry also sent floral arrangements, including Mr. and Mrs. Leo Ku Kui Ke, Mr. and Mrs. Julian Cheung Chi Lam, Mr. and Mrs. Shum Ka Wai, Charlie Yeung Choi Nei, Irene Wan Bik Ha, Vivian Lai Shui Yan, directors Teddy Chan Tak Sum and Soi Cheang Pou Soi.
Siu Mei and her family were on hand early at the altar. Dressed in black Siu Mei later went downstairs for interviews. With red eyes and tissue in hand she was sorrowful, holding back her tears as she said that due to the pandemic the funeral could not be a big event. However they were still doing Taoist ceremonies, something for Papa.
She revealed that Papa played a very important role in the promotion of basketball. She still missed Papa since his passing and also praised how great he was. Siu Mei said, "Papa with Heaven, Earth and People would have been 100, a century of life was very glorious. When Papa passed he was very peaceful, like he was in deep sleep. However this time Papa's passing was somewhat sudden, mainly it was from elderly deterioration. Last month on the 25th, Papa suddenly was unconscious and we panicked. We immediately rushed him to the emergency room. When we arrived (at the hospital his condition) was already not too ideal. As children of course we hoped that Papa would improve, but after treatment, at night we received a call from the hospital that Papa's condition wasn't ideal. The family rushed to the hospital and all three sisters were able to see Papa off on his final journey, until Papa's final second." Did her father have any wish to fulfill? Siu Mei said, "He achieved them, Papa told me to live hard, I have worked very hard in this aspect. Papa also was able to see Older sister's children graduate from universities, so he went very peaceful. Canada's grandchildren and relatives, after numerous miles and obstacles, after finishing their quarantine were able to attend the funeral."
Around 6:50 PM, Kwok Fu Sing and his wife Moka Fang arrived in a vehicle with another with his daughters, his mother in law and a domestic assistant following tightly. In a black suit Sing Sing did not stop after arriving and looked solemn. Originally Moka Fang wanted to pick up their daughters after getting off the vehicle, but due to the chaotic scene Sing Sing immediately walked up to protect his family. The domestic assistant carried the older daughter while Grandpa carried the younger one. The party under the escort of six staff members' protection went straight to first floor.
Sing Sing later spoke to the media. He said that Siu Mei's Papa watched him grew up. Normally he would call him "Uncle Leung". As everyone knew Uncle Leung was well respected in the basketball world. He also recalled that on holidays he would go and dine at Uncle Leung's home. Each time he saw him he would feel very intimate, gentle and warm, always full of smiles for the younger generations. Sing Sing also revealed that today he would attend the funeral and be one of the pallbearers.