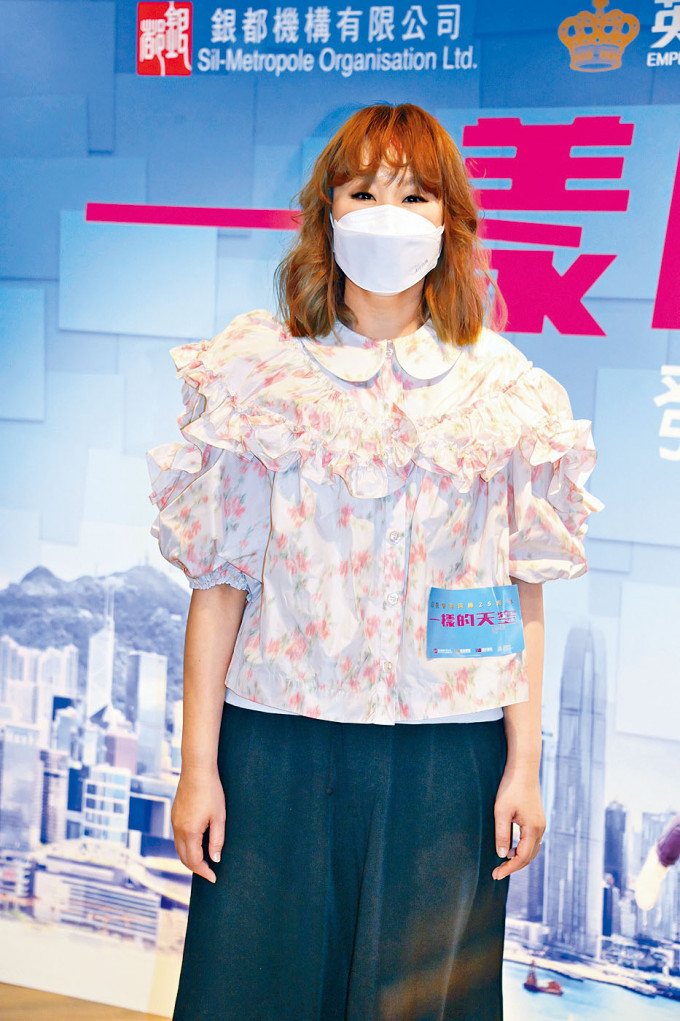 Ivana Wong was born into a classical music family. Seeing his parents' lifetime of dedication, she would like to salute them with classical music.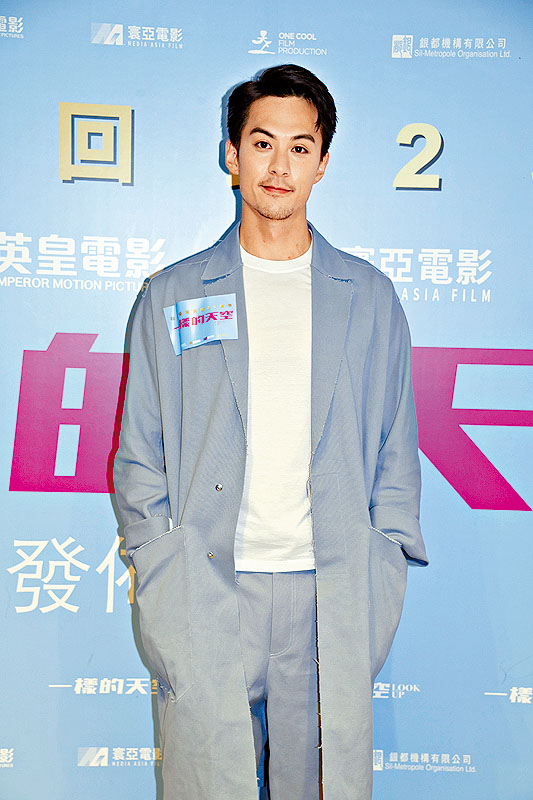 Kevin Chu jokes that the Hand Over fireworks were to welcome his return
courtesy of singtao.com
Michelle Yim and Shek Sau have great chemistry from numerous collaborations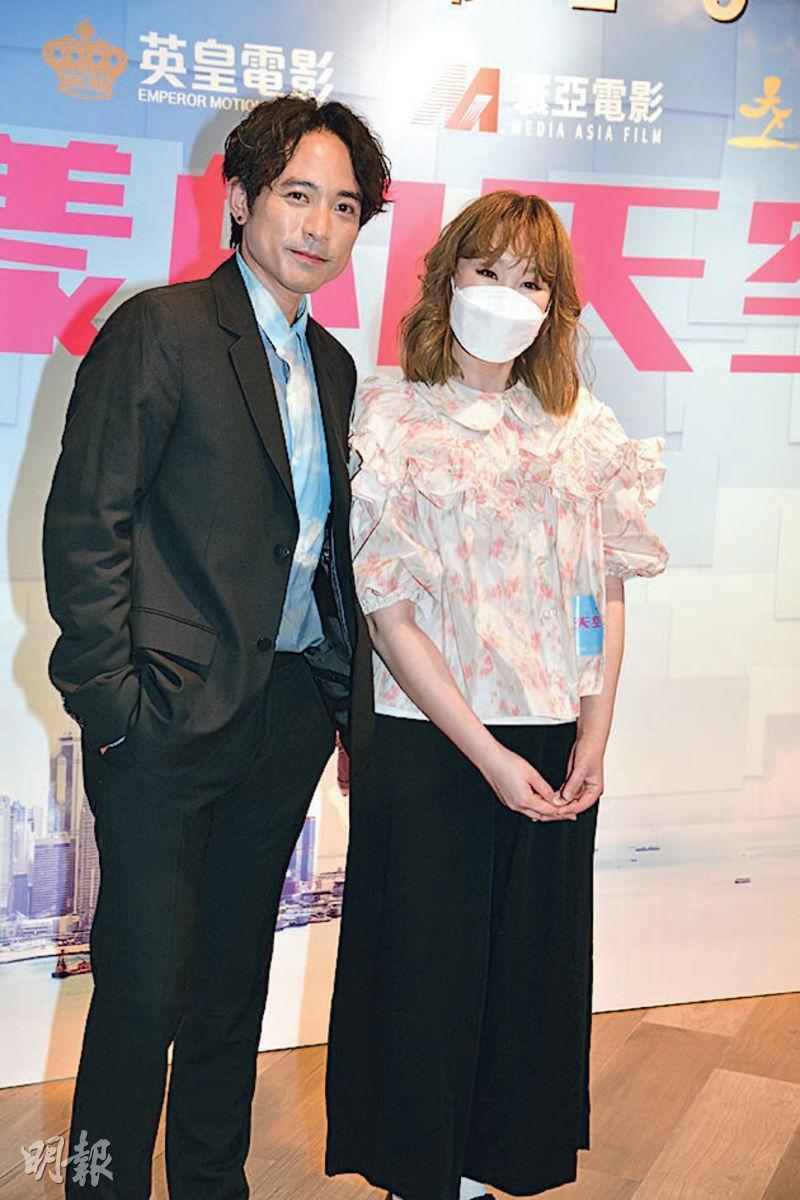 Both Alex Lam and Ivana Wong have upcoming music projects
Kevin Chu
courtesy of mingpao.com
Celebrating the 25th anniversary of the Hong Kong Hand Over, the film LOOK UP (YUT YEUNG DIK TIN HUNG) will open on June 23rd. The film would be a joint release of four Hong Kong film companies Sil-Metropole, Emperor Motion Pictures, Media Asia and One Cool Film. Sil-Metropole Organization produced it. Yesterday the film held a press conference. The cast and the crew attended and promoted the film, including chiefs of release companies Sil-Metropole Organization, Emperor Motion Pictures, Media Asia Film Production, and One Cool Film Production, producer John Chong Ching, four new directors Daniel Chan Yee-Hang, Tim Poon Chi Yin, Hau Chor Fung, and Yip Ching Hang, stars Ivana Wong Yuen Chi, Shek Sau, Kevin Chu Kam Yin, Michelle Yim (Mai Suet), Stephanie Che Yuen Yuen, Anna Ng Yuen Yi, Aaron Chow Chi Kwan, Alex Lam Tak Shun, Ben Yuen Fu Wa, Tsui Ho Cheong, Bobular Wong Sing Yui, Wong Yik Ho, Terry Zou (Chow Man Ching), Lai Chun, Buber Mak Wing Nam, Angie Sham Yat Ka, Kochun Tse , and Kumer So. Everyone wished that the Hong Kong film industry would produce talent in every generation!
At the press conference, the soul figure of planning LOOK UP, Sil-Metropole Organization chief Chan Yat Kei shared the original intent of four film companies teaming up to release the film. "This year would be the 25th Anniversary of the Hong Kong Hand Over. We are very honored to present our most sincere salute to the Hong Kong's return to the Motherland with this film. The idea of the film came from 2017 when we led nine Hong Kong film companies for the short film production project, BEAUTIFUL HONG KONG. Actually, Sil-Metropole has always kept the excellent tradition of cultivating talent for the industry. Over the years we have always provided the opportunity and the platform for young people who intended on joining the film industry. Through short film competition films, with different subjects and production methods, Hong Kong's society appearance and regional cultural characteristics are shown in an all-round and multiple perspective way, better pass on the excellent tradition and style of Hong Kong film and tap more outstanding film talents for the prosperity and development of Hong Kong film. It is very gratifying that after two short film competitions, we finally successfully put the concept of short film on the big screen, among them director Yip Ching Hang and the first year's Best Actor Wong Sing Yui also participated in the shooting of LOOK UP. The various efforts we have made have only one purpose - to make Hong Kong films continue to thrive and to have talents from generation to generation. On the occasion of the 25th anniversary of our return, I hope our film can bring you a refreshing feeling, and let us reminisce about the ups and downs of the past 25 years, and work together to create a better tomorrow."
Another soul character of this project, producer Chong Ching said that the four directors have four personalities and four styles. After they are familiar with the first one, they move on to the second one and grind together again. They work hard, but all the actors deserve the most thanks. Because each actor, without saying a word after listening to the story or how many scenes they would be in, agree without hesitation to support the new director force. This is also the spirit of Hong Kong movies. This time in making four stories to move people, he pointed out that from the creative process, he deeply realized the dedication and enthusiasm of the directors. The film can move everyone a little, which is the result of their hard work. The four co-directors are also grateful for the opportunity given by the film company, and said they have benefited a lot from their elder Chong Ching. The actors of the four segments of LOOK UP also introduced their roles and talked about the filming at the beginning of the year under the outbreak of the epidemic. They praised the team for showing the flexible spirit of Hong Kong people, working together to complete the filming as scheduled, and it can be released in the Hand Over period. They are also very happy that yesterday coincided with the relaxation of the theater occupancy rate to 85%. They hope that the theater can resume normal seating when it is released in June, so that more audiences can come to the theater to enjoy LOOK UP together.
In his first Hand Over film, Chu Kam Yin in the film played a brave young man who worked hard to fulfill his dreams and had to connect four stories. Playing the role from university graduation to his 40s, he said that because he still has not reached middle age he spent a lot of time on studying the character. In the four segments his favorite was the Chinese Opera Dream character. He played a numb and heartless manager who was a social worker for awhile. Since he has been in the business for some time was he numb? He said, "I haven't been in the business for too long yet, I would always remind myself." Speaking of his experience with the Hand Over, he said that at 8 or 9 he returned to Hong Kong from Canada with his family. It was July 1st, 1997. Papa even joked that the fireworks in Hong Kong was to welcome their return, so he had a deep impression.
Michelle Yim (Mai Suet) and Shek Sau in the Chinese Opera Dream segment played a couple again. Shek Sau said that this was already their fourth pairing but they still were just a couple, unable to go further to marriage. Mai Sue said that after working together many times they already had great chemistry. Shek Sau said, "We cultivated our relationship for 30 years in the film, but as a married a couple we would have to wait for the next one."
In addition, Mai Suet pointed out that this crossover of Cantonese opera and electronic music would be very chill, the producer would even create Chinese, English, Mandarin and other versions.
Ivana Wong Yuen Chi and Alex Lam Tak Shun spoke to the media together. They performed in different segments. Wong Yuen Chi said that she played a social worker in "90 Degree Angle World", the first time that she played a social worker. She thought it was a lot of fun, especially when working with a group of outstanding actors. Aaron Chow Chi Kwan's performance made her really wanted to protect him. She has not tried a production method like this time. The director would focus on communicating with actors, after setting goals the actors were left to achieve them and given a lot of freedom. It was the most memorable to her.
Speaking of the 25th anniversary of the Hand Over, Wong Yuen Chi said that the most memorable was the experience of chasing her dream. "Because the film was about chasing dreams, I felt closer and closer to the dream. All along I learned a lot, I really wanted to make art, at the same time also performed a lot of popular music jobs. Earlier I worked on a decorative art exhibit. Next month I would perform a classical music concert. Because I grew up in a classical music family, I wanted to salute my parents through this."
Alex said that his character was a musician who returned from Spain to chase his dream, just like him in real life when he came to Hong Kong to chase his music dream in 2010. Thus he was able to get into his character very quickly. In the story he performed, he represented electronic music and Mai Suet and Shek Sau represented Cantonese Opera in a crossover. Would he be interested in a crossover with Cantonese Opera in real life? He said, "I made several songs already, I would sing a duet with Sister Mai Suet and add in Cantonese Opera elements."